Winter Love Island 2023 cast: Age, profession and social media details
Are you ready to know everything about this year's cast?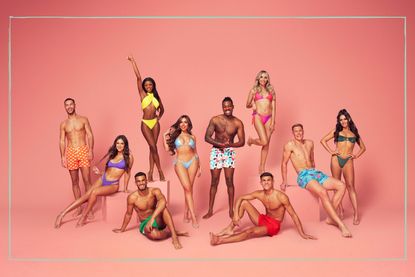 (Image credit: ITV)
Meet the Winter Love Island cast, before finding out who left Love Island (opens in new tab) most recently.
Winter Love Island 2023 (opens in new tab) was confirmed last month, we've been counting down the days until its highly-anticipated contestants were unveiled - and thankfully the wait is over. Last June, ITV confirmed that the cast for Winter Love Island 2023 would head to Cape Town, South Africa, where temperatures average around 25°C in January. TV presenter Maya Jama (opens in new tab), who succeeds Laura Whitmore as the new host, has already landed in the gorgeous nation ahead of the series launch after revealing to the Times that she accepted the life-changing job offer "straight away."
ITV has since confirmed it's working on spin-off show called The Romance Retreat (opens in new tab) which will start filming shortly after Love Island 2023 finishes (opens in new tab).
The 28-year-old will be joined at the luxurious villa by the Winter Love Island 2023 contestants - including newcomer Will Young (opens in new tab) who has already had tongues wagging. So without further ado, here's everything you need to know about this year's lineup.
Winter Love Island 2023 cast: Meet the islanders
Tanya Manhenga
Age: 22 | Profession: Student | Social Media: Follow Tanya on Instagram here (opens in new tab).
The first Winter Love Island 2023 star on our list is Tanya Manhenga, a biomedical science student and influencer from Liverpool. This 22-year-old singleton, who currently has 13k Instagram followers, is on the hunt for a boyfriend and hopes that "being in a villa with lots of different people will help me work out who it is I may want."
Manhenga also has Vitiligo, a condition that causes white patches to develop on the skin as a result of a lack of melanin.
"It's on my lip and I have a stripe on my hair," she revealed. "Not many people know that but I think it's quite cute. I don't care about covering it up all the time, I think it's a vibe."
Kai Fagan
Age: 24 | Profession: Teacher | Social Media: Follow Fagan on Instagram here (opens in new tab).
Kai Fagan is next on our line-up of Winter Love Island 2023, and by the sounds of it, he's about to bring a competitive edge to the upcoming series.
Aged 24, this science and PE teacher plays semi-professional rugby for Burnage RFC and has previously played for rugby 7s for Jamaica. Fagan, who is a Jamaican citizen, also seems pretty sure about what he wants in a partner, revealing he's "single by choice" and has "high expectations."
"I don't feel I should commit to someone unless I'm absolutely buzzing over them, because it's not fair on them," he revealed.
Lana Jenkins
Age: 25 | Profession: Makeup artist | Social Media: Follow Lana on Instagram here (opens in new tab).
Lana Jenkins, 25, hails from Luton and works as a makeup artist. No stranger to the entertainment industry, she's already beautified "lots of celebrities" and even appeared as an extra on the British sitcom Benidorm whilst living in Spain as a child.
Jenkins has also revealed she tends to fall in love "quickly" and, if her feelings are real, will even inform the person she loves them within a week. As for her turn-offs, she hates receiving question marks as text messages if she hasn't replied for a while. "That's a really big red flag for me!" she admitted. "Also if I see a guy trip over, that's an instant turn off."
Ron Hall
Age: 25 | Profession: Financial advisor | Social Media: Follow Ron Hall on Instagram here (opens in new tab).
Ron Hall originates from Essex and promises to bring "fun and charisma" to the South African villa.
"I just want to be naturally myself in there, have good times and make memories. I think people will enjoy my company," the 25-year-old said. Hall is also blind in one eye after suffering a football injury at the age of 8, but insists the experience has only "added" to his character.
"There are so many people that are worse off than me," he said. "And if anything, losing something like that makes you realise that. It's not hindered me in any shape or form. It's a good conversation starter I must admit."

Anna-May Robey
Age: 20 | Profession: Payroll assistant | Social Media: Follow Anna-May Robey on Instagram here (opens in new tab).
At 20, Welsh Anna-May Robey already knows what she wants from Winter Love Island 2023: a relationship.
"I want a boyfriend, I want to find someone who makes me laugh," the payroll administrator from Swansea said. "I've been single for quite a while, my mother is bugging me, she's like, 'You need to find a boyfriend.' I'm just excited to try something new and I think going on Love Island is a good way to meet someone."
A self-described "chatterbox", Robey says she's "always running around singing and screaming" at home and can sometimes even irritate her family with her "energetic" personality.
"My parents are always like, 'Shut up!' I work from home all day so I don't really speak to people in person for two or three days a week, so when my father comes home, he'll want to sit down and chill out, and I'm there chewing his ear off!" she confessed.
Will Young
Age: 23 | Profession: Farmer | Social Media: Follow Will Young on Instagram here (opens in new tab).
Farmer Will Young hopes that Winter Love Island 2023 will give him the opportunity to focus on falling in love after struggling to balance his romantic and work life.
"Having grown up on a farm, it's been quite difficult juggling relationships and work. Love Island will give me time away from the farm to solely go out and find love," the Buckinghamshire native said. "I think I'm at the time of my life where I'm mature enough to go and find a wife."
Young also meditates every night for 20 to 25 minutes, having been introduced to the practice by a girl he once dated.
"It's a nice way to self-reflect, taking a minute on my day/ week. It's really nice and sets me up for a nice sleep," he said.
Tanyel Revan
Age: 26 | Profession: Hairstylist| Social Media: Follow Tanyel Revan on Instagram here (opens in new tab).
Tanyel Revan, a hairstylist from North London, has vowed to bring "energy" and "confidence" to the villa in South Africa.
"I'm funny, loud, feisty, charismatic," the 26-year-old said, before adding, "I'm also a very loyal person, what is there not to love?"
Revan's celebrity crush is Channing Tatum, whom she describes as "handsome but not too pretty."
"He's manly and he can dance," she added. "If a man can dance I'm in love with him straight away."
Shaq Muhammad
Age: 24 | Profession: Security guard | Social Media: Follow Shaq Muhammad on Instagram here (opens in new tab).
Londoner Shaq Muhammad hopes to meet his "future wife" at the villa, having not had the "best luck with previous relationships." The 24-year-old, who currently works as an airport security officer, also describes himself as "a very emotional person".
"I'm the type of person that wears my heart on my sleeve. If I find someone I click with, I fall very hard, very fast," he explained.
Muhammad also revealed that he's brought to tears every time he watches his favorite film, Dear John.
"Any time I'm with someone and they say, 'Let's watch a romantic film', I'm like, 'How about Dear John, how does that sound?'" he said.

Olivia Hawkins
Age: 27 | Profession: Actress | Social Media: Follow Olivia Hawkins on Instagram here (opens in new tab).
Hailing from Brighton, Olivia Hawkins is 27 and says she's now "really ready to settle down" despite never having been in a relationship before. The ring girl and actor, who once played a waitress in a James Bond film, says she'll bring "fun", "vibes" and "maybe a little bit of drama" to the Winter Love Island 2023 villa.
Haris Namani
Age: 21 | Profession: Salesman | Social Media: Follow Haris Namani on Instagram here (opens in new tab).
Haris Namani hopes that Winter Love Island 2023 will help him "find the right one", having struggled to find love in the past. The TV salesman from Doncaster describes himself as "different" and "unique", adding that he's "not awkward, especially with the girls."
"Anyone who meets me, I don't think they have anything bad to say about me. I don't give them that bad impression to say, 'Oh, I don't want to speak to him again,'" Namani said. He also said that he's "never taken a girl home" and would only say he's fallen in love if his partner had met his family.
Related Love Island features:
Video of the Week
News and lifestyle writer
Emma is a Lifestyle News Writer for Goodto. Hailing from the lovely city of Dublin, she mainly covers the Royal Family and the entertainment world, as well as the occasional health and wellness feature. Always up for a good conversation, she has a passion for interviewing everyone from A-list celebrities to the local GP - or just about anyone who will chat to her, really.