Why is Emma Raducanu not playing at Wimbledon 2023?
The star will sadly be absent from the tournament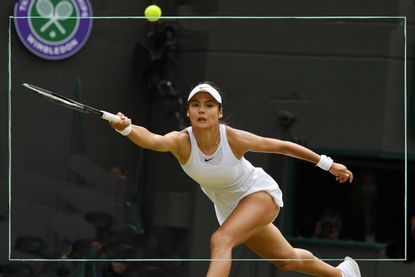 (Image credit: Roger Parker/Alamy/Future)
Goodto Newsletter
Parenting advice, hot topics, best buys and family finance tips delivered straight to your inbox.
Thank you for signing up to GoodTo. You will receive a verification email shortly.
There was a problem. Please refresh the page and try again.
Why is Emma Raducanu not playing at Wimbledon 2023? As the tennis ace pulls out of the Championships, we take a look at the sad reason why she'll be absent.
Multi-talented tennis star Emma Raducanu has confirmed she won't be taking part in Wimbledon this year. Even though she's pulled out of the tournament, that hasn't stopped the huge amount of interest following her wherever she goes; from the languages she speaks to where she is from, the public can't get enough information about the intriguing player. Even Emma Raducanu's parents don't escape the limelight, experiencing plenty of press interest themselves, alongside their famous daughter. With the storm of intrigue surrounding why Emma won't be taking to the famous SW19 courts, we reveal why she won't be taking part this year.
Questions have been raised about Nick Kyrgios playing Wimbledon this year, with him needing to wait until the last minute to confirm his appearance, while Rafael Nadal is not playing Wimbledon for the second ear in a row. Veteran star Andy Murray has confirmed his place in the competition, amid rumours it could be his last opportunity to get his hands on the Wimbledon prize money.
Why is Emma Raducanu not playing at Wimbledon 2023?
Emma Raducanu won't be playing Wimbledon 2023 due to needing surgery on her hands and ankle.
In a post shared to social media on May 3, Emma could be seen smiling from her hospital bed post surgery, with her right hand heavily bandaged. She wrote "It is safe to say the last 10 months have been difficult as I dealt with a recurring injury on a bone of both hands. I tried my best to manage the pain and play through it for most of this year and end of last year by reducing practice load dramatically, missing weeks of training as well as cutting last season short to try and heal it, unfortunately it's not enough."
She continued "I'm having a minor procedure done on both hands to resolve the issues. I'm disappointed to share that I will be out for the next few months and while I am at it, will have another minor procedure that is due on my ankle."
She concluded the update by saying "It pains me that I will miss the summer events and I tried to downplay the issues, so I thank all my fans who continued to support me when you did not know the facts. Looking forward to seeing you all back out there."
Emma's issues came to a head when she announced her withdrawal from the Madrid Open recently, citing the injuries as the reason. This blow for the tennis ace means she will also miss the Roland Garros, and be unlikely to be able to defend her title at the US Open in August. She has been beset with injuries over the last couple of years, and is likely hopeful to see the back of them and be back on full form once recovered from surgery.
What world ranking is Emma Raducanu?
Emma Raducanu is currently ranked 138 in the world, with her injuries pushing out of the top 100.
Beginning the season ranked at 78, continuing losses and withdrawals from injury meant that pulling out of the Madrid Open pushed her down to 138. This is the first time she has sat outside of the top 100 since September 2021. Her US Open win that year saw her race up the rankings and reach the top 25 in the world, seeing a career high of world number 10 in July 2022.
The US Open victory also saw her sail to the British number 1 spot, although she now currently sits at number 3. Katie Boulter has taken over the British number 1 title, with Jodie Burrage at number 2. Emma sliding out of the rankings peak, left the door open for 26-year-old Katie Boulter to rise back into the top 100 for the first time since 2019.
Why did Emma Raducanu split from her coach?
Emma Raducanu split with coach Sebastian Sachs due to the difficulty in working with him while in recovery from her surgeries.
Sharing the news to Twitter, Emma wrote "I have really enjoyed Seb's coaching and working with him, it's unfortunate that circumstances made it unfeasible for both of us to continue right now and we have decided to part ways. I wish Seb all the best moving forwards."
I have really enjoyed Seb's coaching and working with him, it's unfortunate that circumstances made it unfeasible for both of us to continue right now and we have decided to part ways. I wish Seb all the best moving forwards. 🦾 pic.twitter.com/wrewLWVDVSJune 1, 2023
See more
Emma has worked with, then ended relationships with a plethora of coaches over the last couple of years, including Nigel Sears, Andrew Richardson, Torben Beltz and Dmitry Tursunov. Her split from Andrew Richardson as coach just after her US Open win, came as a shock to fans.
Despite guiding her to victory at the tournament, Emma is thought to have dropped Richardson due to his inexperience in top-level coaching. Speaking to the Guardian, Emma said at the time "After Wimbledon, I was ranked around 200 in the world. And, at the time I thought Andrew would be a great coach to try and I went to the States."
"Never did I even dream of winning the US Open and having the run I did, and now I'm ranked 22 in the world which is pretty crazy to me. It's tough to have that conversation with anyone, but I need someone who's had that professional tour experience, and has been through it, and seen players in my situation for many years, going through the same because it's going to take a lot."
Emma Raducanu: Net worth
Emma Raducanu's net worth is thought to stand at approximately £10 million.
Around £3 million of that is thought to come from prize money earnings, with the rest coming from sponsorship deals. The star has deals with the likes of Dior, Tiffany & Co., Evian, British Airways, Vodafone, HSBC, Nike, and has become a brand ambassador for Porsche.
According to Tennis 365, Emma's deal with Nike saw her receive $1.5 million to wear their kit during tournaments and appear in advertisements for the brand. Similarly, both Dio and Tiffany & Co. reportedly paid £2 million for their sponsorship deals with the star, seeing her net worth sky rocket.
You might be wondering why Wimbledon began late in 2023, and we reveal the reasons for the change in schedule. With just as much interest in players' personal lives as their court appearances, some have been asking how many kids does Andy Murray have, and who he's married to. Keen interest arose surrounding who is Naomi Osaka dating, when the announcement came she'd be missing this year's season due to expecting her first child.