Christmas Eve Box ideas for kids and adults 2021
Looking for Christmas Eve box ideas for this year? Take a look at our list of present ideas to fill the box with alongside some of the cutest boxes about.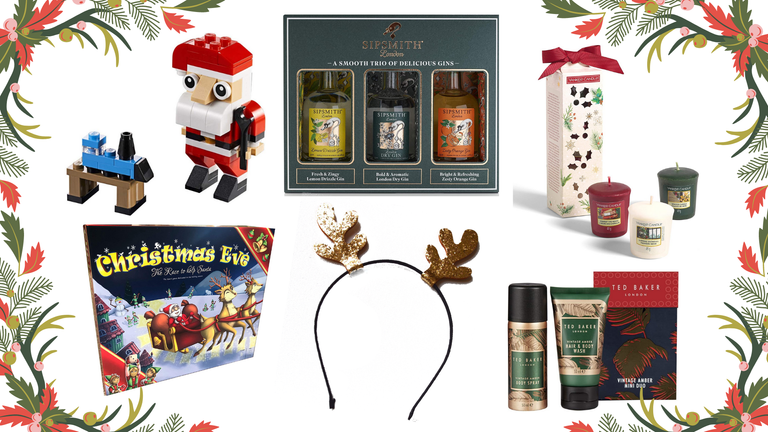 These inspired Christmas Eve box ideas are sure to get the festivities started (and the whole family smiling too!)
Christmas Eve boxes are traditionally given on 24th December as a special treat to get kids feeling as festive as possible before Santa arrives. The idea is to fill it with things that get your child (and other half) excited for the big day, that can even have some use on Christmas Day itself (hint: matching family Christmas pyjamas (opens in new tab) to wake up and unwrap presents in).
But before you start panicking about the thought of a whole other load of gifts to get, these ones aren't meant to be anything fancy. Rather small somethings to commemorate the night before and a whole new Christmas tradition to keep for years to come. Be it a homemade Christmas wreath (opens in new tab), some festive food and drink or some tiny Christmas kids toys (opens in new tab) to entertain them for a few hours - we've rounded up 35 of the best Christmas Eve box ideas to help you fill yours fully.
- Christmas Eve box ideas for kids - Christmas Eve box ideas for teens - Christmas Eve box ideas for adults
Christmas Eve box ideas and fillers for kids:
Kids are some of the easiest people to create a Christmas Eve box for as they love all the classic Christmassy gifts like chocolate, sweets and little presents relating to their hobbies, favourite films and books. Take a look at some of these Christmas Eve box ideas…
1. JoJo Maman Bebe Reindeer Onesie
If there's one thing you can count on this Christmas, it's going to be chilly. Warm kids up with a cosy onesie in their Christmas Eve box. We love this particular Reindeer one from Jo Jo Maman, especially with its cute antler head. It's also fleecy on the outside with an inner cotton lining - making it super comfortable to laze around in too. One happy mum was full of praise for this festive onesie. She commented: "So glad we paid a bit more for this, extremely well made, top quality onesie. Its gorgeously soft, striped, lining makes this a cosy choice for the colder months. My little boy looks adorable in it."
VIEW AT JO JO MAMAN BEBE | £26 (opens in new tab)
2. Boots Hedwig Slipper Socks
Keep little ones' feet warm with a pair of slipper socks from their favourite Disney films. These adorable Hedwig ones are sure to go down a treat with Potter fans. Plus it's the perfect accompaniment to the Harry Potter advent calendar (opens in new tab) that's packed with Hogwarts themed bath and beauty goodies.
VIEW AT BOOTS | £8.50 (opens in new tab)
3. Christmas Eve: The Board Game
Keep them occupied and away from your room while the last-minute present wrapping is going on with a board game they can play with siblings or other family members. And why not make it an extra-special and topical one with this Christmas Eve: The Board Game. Father Christmas's sleigh has crashed and you must race the other players to find the lost presents and save Christmas!
VIEW AT AMAZON | £28.99 (opens in new tab)
4. Baker Ross AF808 Christmas Stampers (Pack of 10)
Kids love crafting, we know this. So let them make their own thank you cards this year with their own seasonal stamps. These Baker Ross ones come in snowman, penguin and more designs to help creativity flow. As one Amazon customer simply put it: "Lovely little stamps of Christmas themed like santa, presents, pine trees. Kids loved making Christina cards using these foam shapes, clean up easy."
VIEW AT AMAZON | £6.95 (opens in new tab)
5. The Works Bubble Wand - Assorted
A simple bubble blower is a great addition to the box and is bound to keep little ones (and adults!) entertained for hours in the lead up to Christmas. Pick one up for a pound at The Works - which are available in a wide variety of colours.
VIEW AT THE WORKS | £1 (opens in new tab)
6. Glitter reindeer antlers aliceband fancy dress Christmas Celebrations
There's plenty of festive fun to be had with these glittery reindeer antler boppers (available in gold and silver). And they're sure to make the perfect accompaniment to any Christmas Day outfit too. One happy Etsy shopper gave this 5 stars, adding: "Perfect present for my goddaughter! Thank you!"
VIEW AT ETSY | £3.49 (opens in new tab)
7. Personalised Cadbury Dairy Milk 850g
If you can handle the sugar rush, kids of all ages will love a giant chocolate bar. And of course there's nothing more classic than a Cadbury Dairy Milk bar they can tuck into. They're easily found in the supermarket. Or why not going the extra step and personalise with their name?
VIEW AT FIREBOX | £14.99 (opens in new tab)
8. Keel Toys Keeleco Polar Bear W/Scarf
Send them off to sleep on Christmas Eve in comfort with a new soft toy like this super sweet Hamley's Christmas polar bear. It comes with a cute Christmas red scarf to keep him warm. And is sure to go down a storm with your little one.
VIEW AT HAMLEYS | £7.79 (opens in new tab)
9. LEGO 30573 Recruitment Bags Santa Claus
If your child loves LEGO and is set to get plenty more on Christmas Day, why not get them (even more) excited with a small hint of what's to come? You can pick up a number of festive themed (and budget friendly) LEGO sets online for under £10 these days. Including this sweet Father Christmas 67-piece set. One Amazon customer was delighted with this purchase. They wrote: "Wasn't too complicated to build and good pieces to role play once built."
VIEW AT AMAZON | £7.79 (opens in new tab)
10. Red Robin Knitted Christmas Stocking
Whether it's the same homemade Christmas Stocking you get out every year or a brand new personalised one, if you put this in a Christmas Eve box your children can hang them up themselves, ready for the big day ahead.
VIEW AT JOJO MAMAN BEBE | £19 (opens in new tab)
11. Personalised Rabbit The Christmas Tale of - Small Christmas Gift Sack
And if a Christmas stocking isn't to your liking - what about a personalised present sack to help them get excited over the sheer number they can expect the morning after. We love this one from Etsy that features the classic Peter Rabbit. One satisfied shopper gave this 5 stars and called it "Amazing. My nephew loved it."
VIEW AT ETSY | £10.99 (opens in new tab)
12. The Snowman Paperback
Young kids will love getting into the spirit of the season with a magical children's Christmas book (opens in new tab). And we recommend reading a Christmas classic, like Raymond Brigg's The Snowman.
VIEW AT AMAZON | £7.45 (opens in new tab)
13. Personalised Santa Elf Nice List Certificate Christmas Eve Box Filler
This is a fun one. Congratulate your children for being good this year and make them a 'nice list' certificate. Take the faff out of it by ordering a ready-to-go one from Amazon. This A5 certificate allows personalisation to add your child's name and comes wrapped up in a neat brown envelope. One Amazon shopper was thrilled with this purchase. She commented: "When I received these, my heart skipped a beat, because the detail was beautifully made. For that split second it made it all feel real. I got 3 of these and I'm so glad I did. They're just the right size too, and i can't wait until I'm putting these in my kids Christmas eve boxes and looking at their faces on christmas eve."
VIEW AT AMAZON | £2.99 (opens in new tab)
14. Magical Reindeer Food Bag
Make a cute festive bag and pop in some little biscuits, carrots, hay or dog treats and pass them off as reindeer food (opens in new tab). Or equally make it extra special by ordering this magical reindeer food goodie bag. It features a sealed bag of oats and biodegradable edible glitter made from coloured seeds and aromatic cinnamon. Your child will be so excited to put it out for Rudolph and his friends.
VIEW AT AMAZON | £2.59 (opens in new tab)
15. Personalised First Christmas Photo Bauble
Getting each child their own individual Christmas ornament (opens in new tab) is a lovely tradition to start, they can hang their new one on the tree every Christmas Eve and keep them for their own tree one day. We also love the idea of a personalised photo bauble that they can cringe at as they're older. One pleased mum gave this 5 stars online. She wrote: "Very cute and special as my baby's first Christmas. Was unsure if the image was going to come out clear as photo taken from mobile gallery but excellent quality."
VIEW AT NOTHS | £10 (opens in new tab)
16. Christmas Crayon Stocking Filler
Every little one loves a colouring-in session and if they're not quite ready for colouring pencils, why not go for a new set of crayons like these fabulous Christmas theme shaped ones. You'll find five festive shaped crayons inside the box - including a Christmas star, tree and of course Father Christmas himself. And the best part? They're all handmade by a small business by the sea in Pembrokeshire, West Wales.
VIEW AT NOTHS | £9.75 (opens in new tab)
17. Mega Colouring: Christmas
What use is crayons without a festive colouring book? We love this traditional, bumper Christmas book for instance which boasts over 90 jolly pictures full of playful reindeers, mischievous elves and much more. Perfect for 2 to 4 year olds.
VIEW AT THE WORKS | £2 (opens in new tab)
18. Baker Ross Christmas Ducks Assorted - Pack of 4
Toddlers and up will have plenty of fun with these fun and bright rubber ducks that have been given the full festive treatment. Split between your child's boxes or spoil your only child with all 4! One happy Amazon customer said: "I have bought these as a stocking filler for my daughter for xmas, so haven't used them yet but they look fab in the pack. I know she will love them."
VIEW AT AMAZON | £4.95 (opens in new tab)
Christmas Eve box ideas and fillers for teens:
Stuffing your box for someone a bit older? Teens might think they're too grown up for many family traditions. But we reckon that a Christmas Eve box definitely isn't one of them! Update their box with some of these classic small presents, easily bought online or on your weekly shop…
19. Swarovski Constellation x Skinnydip Shock Case
It might be a challenge to choose the right one, so why not opt for a touch of festive sparkle that can used into the New Year and beyond. Stylish and cute with real Swarovski crystals - it's sure to raise a smile on Christmas Eve. One happy customer gave it 5 stars online and commented: "The design is gorgeous and the case provides ultimate protection whilst not being overly bulky. The camera lenses are well protected and it's has great grip on the sides. The Swarovski Crystals have stayed on (one thing I was worried about when buying this case). Definitely recommend 5/5!"
VIEW AT SKINNYDIP | £24 (opens in new tab)
20. Shine Bright Red Berry & Cedar Bath Bomb Bauble
What teen won't love a fruity Christmas bath bomb to pimp up their bath time? A lovely festive evening treat to indulge in during those chilly winter months.
VIEW AT CATH KIDSTON | £3.50 (opens in new tab)
21. ASOS DESIGN tote bag with mushroom print in natural
Whether it has their favourite brand on it, a catchy slogan or is just in their favourite colour, teens love a tote bag. There's plenty of popular ones from ASOS (opens in new tab). But we think this mushroom one in particular is cute and fits the bill perfectly.
VIEW AT ASOS | £8 (opens in new tab)
22. Cadbury Dairy Milk Chocolate Gift Bar 850g
They might be growing up but kids of any age love chocolate! And what teen can resist this giant chocolate bar from Cadbury's. Perfect for nibbling on at night or in between courses. Well it is Christmas!
VIEW AT AMAZON | £9.44 (opens in new tab)
23. Ted Baker Spritz & Go Gift Set
Some of the smaller fragrance gift sets make for perfect Christmas Eve box ideas. Boots stock two mini scent sets by Ted Baker - like this opulent duo set for men. The Ted Baker Spritz and Go Gift Set (opens in new tab) is also perfect for girls too, and only £10.
VIEW AT AMAZON | £8.99 (opens in new tab)
24. Buyagift Cinema Tickets with Popcorn Gift Experiences Box
Whether it's renting the latest film online from the likes of Amazon Prime or iTunes or actually going to the cinema in some places, a film or cinema voucher is a lovely idea to see the latest and greatest films from Hollywood over the festive season. Pick this one up (with popcorn) to use at any 85 VUE cinemas across the country. One Amazon customer wrote: "My 12-year old grandson is hard to buy for. This was perfect. He and his Dad enjoyed watching a film together in comfortable seats and with a big box of popcorn."
VIEW AT AMAZON | £24.99 (opens in new tab)
25. Amazon.co.uk Gift Card in a Greeting Card
Still can't find anything else to include in a teenager's Christmas Eve box? That's fair enough – try a gift card from Amazon. They're sure to find something they like in no time.
VIEW AT AMAZON | From £10 (opens in new tab)
Christmas Eve box ideas for adults:
Kids don't have to have all the fun with Christmas Eve boxes. Which is why we've racked our brains and come up with some touching small pressie ideas to fill you and your partner's own night before offering. From beauty to food and drink and festive clothing, these are sure to go down a treat with both mum and dad.
26. Santa Paws Family Pyjama Set
Get in on the matching family Christmas pyjamas trend with this wacky design from Marks and Spencer. It features cute cartoon animals modelling a festive hat or two. And has proven so popular that M&S have even added it to their Christmas bedding (opens in new tab) collection. Pick up the women's Santa Paws set (opens in new tab) and kid's Santa Paws pyjamas (opens in new tab) and find the link for the men's below.
VIEW AT M&S | £19.50 (opens in new tab)
27. Barley Lane by Totes Robin Slipper Socks
Reindeers, snowmen or cheeky elves, a pair of Christmas socks (opens in new tab) to wear on Christmas Eve or at lunch on the big day are sure to be a winner. We think any female will be particularly fond of these sweet robin ones in a punchy pink.
VIEW AT BOOTS | £6 (opens in new tab)
28. Sipsmith London Mini Trio of Gins, 3 x 5cl
Adults will love raising a small tipple to the incoming festivities, be that a mini Gin set like this one for Mum or a Talisker whiskey taster set (opens in new tab) for Dad. One satisfied Gin shopper gave this 5 stars on Amazon and commented: "Perfect little inexpensive gift for a gin lover. Nicely presented in little box. Bought as a gift and I will definitely buy again for another lucky recipient."
VIEW AT AMAZON | £9.99 (opens in new tab)
29. Love Actually [2003] DVD
Most Christmas films (opens in new tab) are relatively old and can be picked up on DVD for a few pounds, plus you can start a tradition of watching a new one every Christmas Eve. Can you believe this Richard Curtis classic is nearly twenty years old?!
VIEW AT AMAZON | £3.75 (opens in new tab)
30. Whittard Luxury Hot Chocolate
A festive mug, with some mini marshmallows and hot chocolate is the perfect accompaniment to your Christmas film viewing. And because it's Christmas - go for the very best like quality brand Whittards. You won't regret it.
VIEW AT WHITTARD | £9 (opens in new tab)
31. Personalised Text Upload Cadburys Milk Tray
There are lots of Christmas-themed goodies around, especially a fancy Christmas chocolate selection box (opens in new tab) - which is super easy to pick up from your local supermarket. But then again, why not make it extra special - with their name on the front via Firebox?