John Lewis predicts these are the 10 must-have toys for Christmas 2023
These are the toys John Lewis expects to see flying off the shelves ahead of Christmas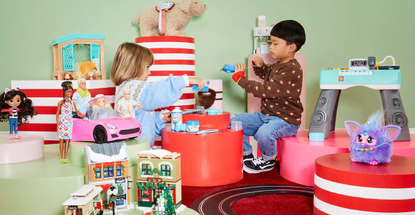 (Image credit: John Lewis )
If you're in need of some toy inspiration for Christmas 2023, then look no further than John Lewis' pick of this year's must-have toys.
As families begin to search for top Christmas toys to treat the children in their lives this festive season, there's no doubt that the list from John Lewis will be super helpful. Whether it's toys for two years olds or toys for ten-year-olds that you're after, the much-awaited list includes a wide variety of toys for all ages and interests, with prices ranging from £10 to £160 so there's something to suit everyone's budget, and taste.
Hot off the back of Argos revealing its Christmas toy predictions of 2023, John Lewis' list features familiar favorites such as LEGO, Pokemon, and Barbie, plus picks from popular kids TV shows like Bluey, PAW Patrol, and Gabby's Dollhouse, as well as plush toys, bath toys, and toys to help learning and development.
If John Lewis says these are the hottest and most-wanted games little ones are wishing for under their tree - we listen. So, 'sleigh' Christmas and make sure you get your hands on these toys in plenty of time for December 25. Happy shopping!
John Lewis must-have Christmas toy list for 2023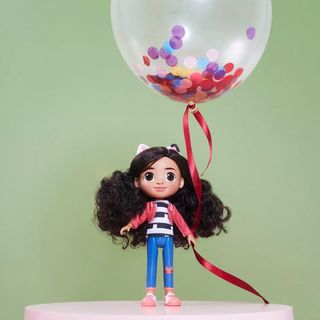 1. Gabby's Dollhouse Girl Doll
Specifications
Age: 3+
Batteries needed?: No
Got a fan of Gabby's Dollhouse? Of course you do! The animated TV series sees Gabby and her preschool pals explore the world around them in a fun, creative and compelling way. So it's no wonder why this 20.3cm tall toy doll has made it onto John Lewis' top Christmas toy list.
The doll is a replica of the loveable main character Gabby, including her iconic cat-ear headband, brown hair and clothing. It's the ideal present for imaginary play.
---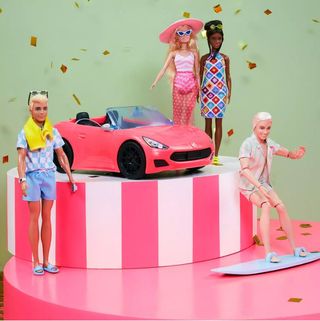 2. Barbie Convertible Doll Car
Specifications
Age: 3+
Batteries needed?: No
Everyone's favorite pink-powered doll needs some form of transport to get around. And, if you ask us, only a bright pink ride will do, just like this super cool convertible. Coming with enough room for two, your little one's Barbie can leave zoom off and leave Malibu behind in this super sweet ride.
Saw Barbie and loved the movie? You (and your gang) might also be interested in the best Barbiecore buys for all the family.
---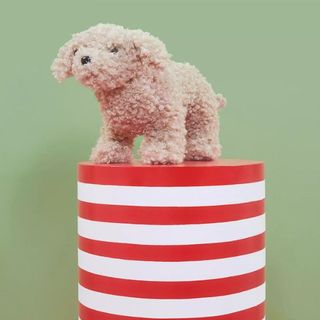 3. LeMieux Puppy, Cockapoo
Specifications
Age: 3 years
Batteries needed: No
Looking for the paw-fect present for those dog-obsessed? Treat them to this loveable cockapoo that's bound to make their doggy dreams come true. The super soft and plush toy is kitted out with its own reversible cardboard kennel that when turned inside out is transformed into a dog park.
Pretty impressive, right? So pet lovers can enjoy looking after their pooch and playing with their dog day in, day out. After all, a dog isn't just for Christmas!
---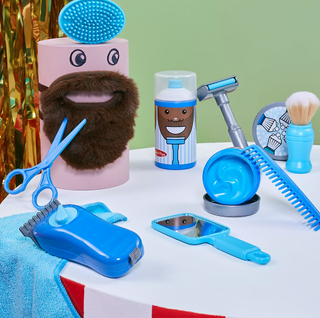 4. Melissa & Doug Barber Role Play Set
Specifications
Age: 3+ years
Batteries needed: No
Melissa & Doug fans: assemble! The loveable duo has launched a barber kit that's a cut above the rest thanks to its ability to enable little ones to 'trim', 'shave' and 'style' hair at their own imaginary salon.
Maybe you're preparing them for their first haircut, or they have an interest in 'perfecting' yours, this set will help them explore the world of hairdressing one strand at a time.
It comes with pretend razors, brushes, shaving cream, combs and even a fake beard, Plus, you'll be pleased to know that everything stores away safely and tidily in a zipped bag.
---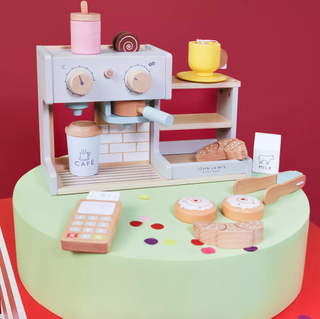 5. John Lewis Wooden Café Set
Specifications
Age: 3+ years
Batteries needed?: No
We'll take a pumpkin-spiced latte to go, please! Who doesn't love playing make-believe? Especially when this beautiful wooden cafe set is on offer. The best wooden toys last (and last) so it makes sense why John Lewis has placed this pretend barista set-up in their best Christmas toy round-up.
Ideal for sensory development and imagination-fuelled play, this wooden wonder is kitted out with a fake coffee machine, takeaway cup, teabags, a card machine and pastries. Yum!
---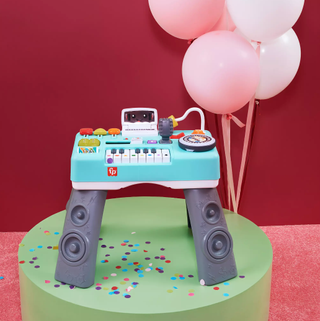 6. Fisher-Price Mix and Learn Music Table