Best Black Friday and Cyber Monday kettle deals for 2022 LIVE: Breville, Bosch, Russell Hobbs and more
Black Friday and Cyber Monday are great opportunities to upgrade you essential kitchen appliances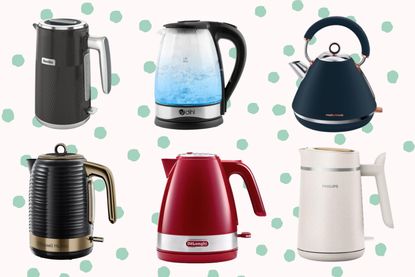 (Image credit: Future)
Black Friday and Cyber Monday both offer the perfect time to find a bargain, and these kettle deals are some of the best we've seen - with savings on popular brands such as Bosch, Morphy Richards and more.
From Amazon to Wayfair and from Argos to Currys, here's our pick of the best Black Friday and Cyber Monday kettle deals for 2022. These essential kitchen appliances always receive heavy discounts across the sale event, but its something many of us forget to replace. If your kettle is on its last legs or you're due an upgrade, you'll want to check out these deals, with prices starting at just £16.
And if you're looking to kit out your kitchen with a whole new set of discounted products, you might want to check out our Black Friday microwave deals, Cyber Monday coffee machine deals and Black Friday air fryer deals too.
Best Black Friday / Cyber Monday Kettle Deals 2022
The best live kettle deals this Black Friday and Cyber Monday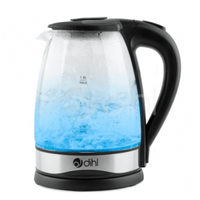 Dihl LED Illuminated 1.8L Glass Electric Kettle - was £39.99, now £20.44 (SAVE 49%) | Wayfair
Save nearly £20 off this LED illuminated kettle. It features an automatic switch-off, 360-degree swivel base, and 1.8L capacity.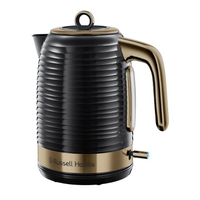 Russell Hobbs 24365 Inspire Electric Fast Boil Kettle - was £47.99, now £30.04 (SAVE 37%) | Wayfair
Perfect for a busy household, the Russell Hobbs Inspire boils one cup of water in just 45 seconds, while the 360° base allows you to place the kettle back in place from any angle.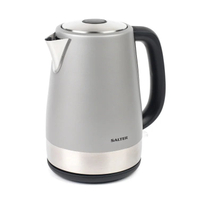 Salter Metallics Polaris 1.7L Stainless Steel Electric Kettle - was £54.99, now £43.06 (SAVE 22%) | Wayfair
This kettle features a removable and washable anti-limescale filter, a boil dry sensor, and auto-shut-off with controller technology for a safer and more advanced design.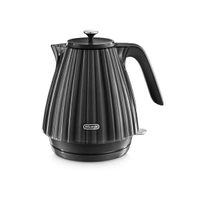 De'Longhi Ballerina KBD3001.BK Kettle - was £59, now £49 (SAVE £10) | AO.com
With this kettle you don't need to worry about flicking the switch after you've forgotten to fill, because it has boil dry protection that helps prevent the inside from getting damaged.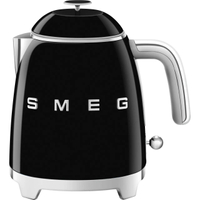 Smeg 50's Retro Mini Kettle - was £119, now £89 (SAVE £30) | AO.com
Known for its sleek style, and retro design, Smeg is for the design conscious. This kettle makes up to 3 cups in one go and the 360 degree connection means you can grab it from any angle.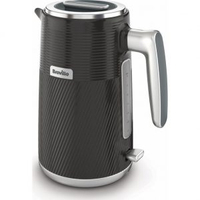 Breville Obliq VKT179 Jug Kettle - was £79.99, now £34.99 (SAVE £45) | Currys
With a 360 degree rotational base, this kettle is easy to use and we love the added anti-limescale filter. A great bargain saving £45.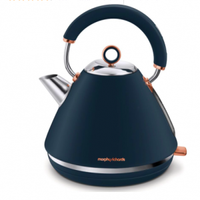 Morphy Richards Rose Gold Collection Traditional Kettle - was £79.99, now £44.99 (SAVE £35) | Currys
Save £35 on this iconic Morphy Richards pyramid kettle. Available in black, blue, and silver, this kettle has a sleek modern finish. 1.5L capacity and an anti-limescale filter.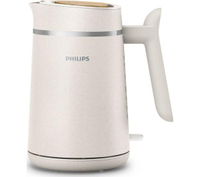 PHILIPS Eco Conscious Collection HD9365/11 Jug Kettle - was £49.99, now £39.99 (SAVE £10) | Currys
Thanks to 2200W of power, even large amounts of water are boiled quickly with this Philips kettle. It's made of 100% bio-based plastics, so it kettle helps protect the environment and saves energy too.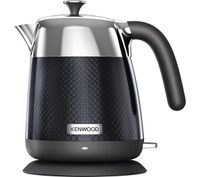 KENWOOD Mesmerine ZJM811BK Jug Kettle - was £129, now £49.99 (SAVE £79) | Currys
One of the biggest savings we've seen, you can get a huge 60% off this Kenwood kettle that comes in five colours: black, orange, purple, red and white. Not only does this kettle add a touch of style, it's been designed for effortless handling, with a comfortable grip and easy pour action.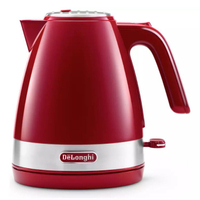 De'Longhi KBLA3001.R Active Line Kettle - was £42, now £16.80 (SAVE £25.20) | Argos
Save a huge £25 on this De'Longhi kettle. It has 1.7L capacity, rapid boil and boils and filters simultaneously, and is perfect for those who want to add a pop of colour to their kitchen.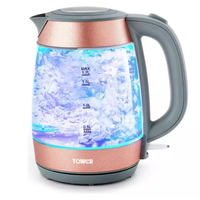 Tower T10040BP Glitz Glass Kettle - was £36, now £16 (SAVE £20) | Argos
This cordless kettle features a highly-durable Schott glass body, and the 1.7L capacity lets you make up to 7 cups of tea or coffee from a single boil. Now available for less than half price from Argos.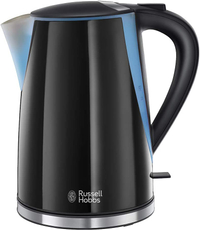 Russell Hobbs Mode Kettle 21400 - was £59.99, now £29.65 (SAVE 51%) | Amazon
This classic kettle has an easy pour spout and push to open hinged lid. Combined with the 360° base and 1.7L capacity, this model is a trusty favourite.
Best value kettles for Black Friday and Cyber Monday 2022
This year there are plenty of great value kettles on sale, but the standout brand for us is Bosch. Bosch kettles average around £50, which is pretty pricey, but with Black Friday and Cyber Monday discounts you're looking at paying nearly half that which is a great value buy.
Breville is another high-quality brand, and their kettles are often priced at around £70. Buying this brand on sale or at a discounted price is a great way to get a good value for money product without blowing the budget. Breville specialises in kitchen appliances from blenders to toasters to coffee machines, so they certainly know a thing or two when it comes to top-quality kitchen appliances.
Two more great kettle brands are Russell Hobbs and Morphy Richards. Often efficient, reliable, and easy on the eye, these kettles are always a good buy. Our favourites for the year include this bold Russell Hobbs Worcester Red Stainless Steel Kettle - currently £30 at Argos (25% off), and the Morphy Richards Hive Kettle - which is discounted by £12 also on Argos, making it just £20.
Both Russell Hobbs and Morphy Richards have been established brands for years; with Morphy Richards first starting out in the 1930s and Russell Hobbs in the 1950s, meaning they both have vast amount of knowledge when it comes to a good quality kettle - as well as other kitchen appliances too.
Electric kettles vs stove top kettles
Electric kettles are countertop devices that plug in and create their own heat to boil water using electricity. Meanwhile, a stovetop kettle gets its heat from a gas fire or electric stove.
Electric kettles boil water far faster and are also more energy efficient than stove top kettles, though they take up more space. Another reason electric kettles are better for most people is that they are significantly safer and generally easier to use.
However, if you're design-conscious, you might prefer to opt for a stove top kettle. They have designer appeal and are popular products from coveted cookware brands such as Le Creuset and Alessi. They're also much more durable than electric kettles, so you're likely to get your money's worth out of them - despite the usually higher price point.
The best stovetop kettle deals this Cyber Monday:
How to get the best Black Friday / Cyber Monday kettle deal
The best way to stay up to date with Black Friday and Cyber Monday kettle savings is to keep an eye on this page, as we'll be updating it as new deals arrive and products come in and out of stock.
You can also check out the retailers' websites, if you want to browse the offers yourself. However, it's a good idea to stay wary of Black Friday and Cyber Monday deals, as the event isn't always the best way to save money for Christmas. We've put together guides on Black Friday scams to look out for and the best money saving buys to make sure you know how to navigate the sales in your favour.
As Money Saving Expert Martin Lewis advised consumers via Twitter: "My Black Friday shopping memo...If you were going to buy it anyway and it's half price, you've saved 50%. If you weren't going to buy it, but do because it's half price you've wasted 100%."
Top tips for buying a kettle this Black Friday / Cyber Monday
Know what you want: Do you want a kettle that's quick and efficient, boiling water in just a few seconds, do you want a kettle that matches your kitchen interior, or do you just want one that has a quiet boil function so you don't wake up the kids in the morning before school? This is something to think about before you wade into the Black Friday deals, to help you narrow down your options.
Shop around: Have a look at different deals across the Black Friday sales. Look at different retailers and if you've got a specific brand of kettle or model of kettle in mind, look across a variety of retailers to find the right deal for you.
Delivery: Make sure you keep delivery in mind too as this is where some retailers can catch you out. If you want to save on delivery opt for free delivery or click and collect options. If you're in a hurry, you may want to spend a little more on delivery charges so you can get your kettle as soon as possible. The choice is yours.
---
Related features:
Video of the Week
Jessica Dady is Food Editor at Goodto.com and has over 10 years of experience as a digital editor, specialising in all things food, recipes, and SEO. From the best food hampers to cookbooks, from the best cake stands to kitchen appliances, Jessica has a wealth of knowledge when it comes to must-have food products. A passionate baker, she spends some of her time creating celebration cakes for friends and family including her two lucky children.