15 no-cook dinners perfect for summer nights with the family
No-cook dinners, including Asian-style salads, chilled soups, sushi, open sandwiches, and Greek-style loaded pittas, perfect for sunny evenings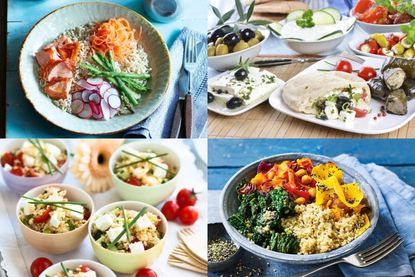 (Image credit: Future/various)
Dealing with ovens or slaving over a hot stove in the summer months is not the most desired of pastimes, so these no-cook dinners are most welcome.
From summer soups like gazpacho to homemade sushi as well as posh open sandwiches, these recipes are packed with nutrients as well as being flavoursome, and really easy to dish up. We've got some zesty Asian salads, a delicious couscous recipe, and a Middle Eastern tabbouleh, and there are Mediterranean influences too, such as Greek salad pittas and a European twist on a Buddha bowl.
"Other than whipping up one of your favourite BBQ food ideas on the grill, avoiding cooking in the heat is a must come the summer months. It's all about no-cook salads, pre-cooked pasta and meat, and prawns galore - not forgetting no-bake desserts too," says Food Editor, Jessica Dady.
These no-cook dinners are not only family-friendly but they are healthy too with an array of vegetables in each meal to bump up your five-a-day count. Most are great for using up leftover foods like cooked chicken, if you did attempt to make one of our summer Sunday dinner ideas for example. Think noodles, Buddha bowls, and more...
No-cook dinner ideas and recipes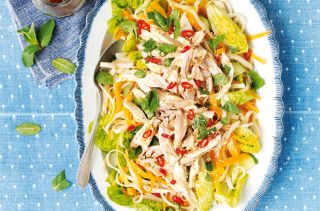 1. Chicken fusion salad
Serves: 4 | Skill level: Easy | Total time: 30 mins
An ingenious use for leftover roast chicken, this vibrant salad couldn't be fresher and more health-giving. Shred the chicken and serve with a chilli, ginger, and soy dressing mixed with veggies and rice noodles. You could also add pomegranate seeds for colour and sweetness and peanuts for crunch, as well as an extra hit of protein and good fats.
"This recipe is just perfect for using up leftover cooked chicken. You could swap for other meat too - or even try with tuna or vegetarian-friendly cooked Quorn pieces instead," says Jessica.
Get the recipe: Chicken fusion salad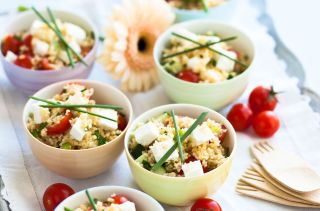 2. Couscous salad
Serves: 8 | Skill level: Easy | Total time: 15 mins
Couscous is a brilliant ingredient to keep on hand for busy nights. Instead of simmering it on the hob like rice, you simply need to pour boiling water over it, cover and leave for five minutes. Make double the amount of this salad, packed with flavoursome salty feta, spring onions, and lemon zest, and there will be enough for lunch the next day too.
Get the recipe: Couscous salad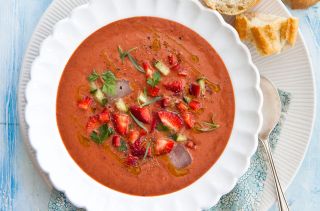 3. Strawberry gazpacho
Serves: 4 | Skill level: Easy | Total time: 10 mins, plus chilling time
The Spanish know a thing or two about hot-weather eating. We all love a classic tomato gazpacho during the summer months, but this recipe has an English twist by adding seasonal local strawberries. It's not a sweet dish, mind – the fruit is brilliantly complemented by the savoury flavours of the spring onions, peppers, and garlic.
It's also worth getting your hands on fresh tarragon leaves to elevate this dish to the next level. Serve with super fresh crusty bread. Particularly great for a summer dinner party.
Get the recipe: Strawberry gazpacho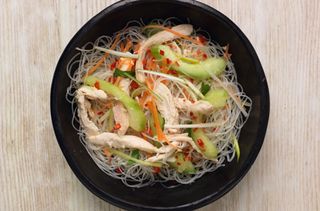 4. Gok Wan's Vietnamese-style leftover chicken salad
Serves: 4 | Skill level: Easy | Total time: 5 mins
This Vietnamese-style salad from Gok is a clever way of using up leftover roast chicken – and could equally be made with leftover pork or beef. Simply soak some vermicelli noodles and toss them with the other ingredients – the fennel especially is a clever touch that adds so much depth of flavour. The dressing, made from fish sauce, lime, chilli, and sesame oil, is super zesty and the whole thing is wonderfully fresh and health-giving.
Get the recipe: Gok Wan's Vietnamese-style leftover chicken salad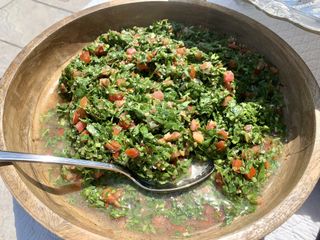 5. Tabbouleh
Serves: 2 | Skill level: Easy | Total time: 15 mins
Classic Middle-Eastern tabbouleh is the perfect filling salad for balmy evenings, and great as part of a mezze platter, served out in the garden. The bulgar wheat doesn't need cooking, just soak it in boiling water like couscous. Serve with ready-cooked chicken, lamb, or fish to turn it into a family-size meal, and serve with accompanying dips like hummus and baba ganoush, some vine leaves, and a bowl of olives. Perfection.
Get the recipe: Tabbouleh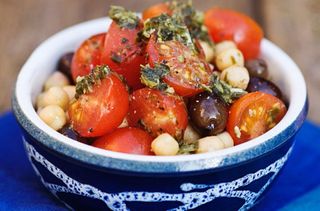 6. Chickpea pesto salad
Serves: 4 | Skill level: Easy | Total time: 15 mins
Chickpeas are packed full of protein and fiber and make a filling alternative to pasta or potatoes. Stir them together with olives, tomatoes, and ready-made or homemade pesto for a delicious and super simple dinner. Don't forget the lemon juice and zest and, a generous crumbling of feta or Parmesan on the top would also be a lovely touch.
"Delicious, flavoursome, and full of nutritional veggies. The pesto adds a wonderful fresh taste to each bite. You could easily serve this with pre-cooked pasta or pre-cooked chicken or fish too," says Jessica.
Get the recipe: Chickpea pesto salad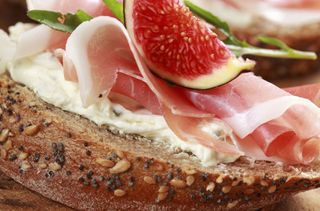 7. Prosciutto and fig open sandwich
Serves: 2 | Skill level: Easy | Total time: 10 mins
This rather posh sandwich is ideal for those busy summer nights, perfect for sitting in the garden, or even as a cheeky TV dinner. Spread soft goat's cheese onto granary or wholegrain bread and top with salty Prosciutto, slices of ripe fig, and a handful of rocket. Simple perfection.
Get the recipe: Prosciutto and fig open sandwich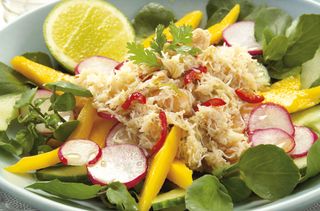 8. Crab mango and watercress salad
Serves: 4 | Skill level: Easy | Total time: 15 mins
There's no cooking involved in making this fancy salad, just use two cartons of fresh crab meat (and tinned is absolutely fine) some juicy mango, radishes, and watercress, all combined with a winner of a dressing, made with honey, lime, and chilli.
The mint is important, adding an extra layer of freshness and cutting through the sweet mango – and making sure your mango is perfectly ripe, but not overly so. Like a holiday to Thailand, in your back garden.
"I'd recommend separating all of the ingredients out if serving for kids - a deconstructed salad if you wish. Then your child can try each ingredient at a time and then if there's something they don't like it doesn't ruin the whole dinner because everything is mixed together," says Jessica.
Get the recipe: Crab, mango and watercress salad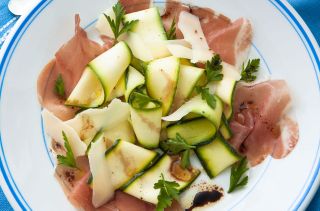 9. Courgette and Parma ham salad
Serves: 4 | Skill level: Easy | Total time: 15 mins
Courgettes are abundant in the summer months and are ever such a versatile veggie. They don't have to be cooked either, yet we don't make enough use of them raw. Use a Y-shaped vegetable peeler to cut yellow or green varieties into ribbons, then toss them together with Parma ham, Parmesan, and a balsamic vinaigrette for a fancy salad to eat in the garden with a cold glass of wine. It also makes a great low-carb, no-cook alternative to pasta.
Get the recipe: Courgette and Parma ham salad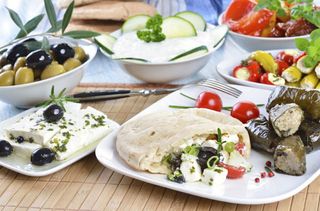 10. Greek pittas
Serves: 4 | Skill level: Easy | Total time: 10 mins
There's nothing quite like a Greek salad for transporting you to your favourite taverna in Corfu, is there? In this instance, the salty feta (it's worth forking out for the best quality you can afford here) is mixed with pitted black olives, chopped cucumber and spring onions and tomatoes (again, quality is key) and stuffed into wholemeal pittas for a nutritious and delicious dinner. Serve with a side of tzatziki and perhaps some vine leaves and other mezze-style salads.
Get the recipe: Greek salad pittas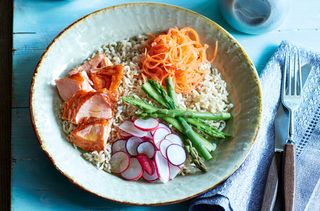 11. Sushi bowl
Serves: 2 | Skill level: Easy | Total time: 30 mins
A great use for leftover rice, this twist on Japanese fayre uses ready-cooked hot smoked salmon from the deli section of the supermarket. Like most Japanese dishes, it makes the most wholesome of dinners, with vibrant veg including radishes and pickled carrots – which are pretty easy to prep and a great one for your cooking repertoire as they're perfect with any Asian-style salads.
Get the recipe: Sushi bowl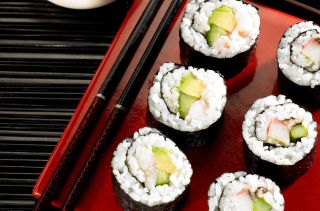 12. Avocado and prawn sushi rolls
Serves: 6 | Skill level: Easy | Total time: 45 mins
Making your own sushi is not just an excellent one for the culinary skill set, it's very fun, if a little fiddly, and getting the kids involved makes for a great holiday activity too, so win-win. You'll need a bit of kit – mostly a bamboo rolling mat, as well as sushi vinegar, wasabi paste, and soy sauce (ideally the special Japanese variety). If you don't have a Japanese store nearby, most larger supermarkets will sell all this. These maki rolls are made with prawns, avocado, and cucumber, but you can omit the prawns to make them veggie, or add tuna or salmon instead.
Get the recipe: Avocado and prawn sushi rolls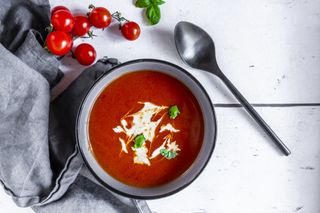 13. Gazpacho
Serves: 6 | Skill level: Easy | Total time: 15 mins
We've given you a fruity twist on the cold Spanish soup, and now here's the original, and it's a classic for a reason. It's a chuck-it-all-in-a-blender recipe, made with tinned tomatoes for ease. You could equally use fresh, especially any over-ripe ones you're struggling to use up – just skin and deseed them first. Sherry vinegar is a key ingredient for sharpness, and add plenty of herbs, like fresh thyme and basil.
Get the recipe: Gazpacho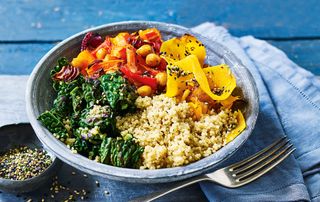 14. Vegan Buddha bowl
Serves: 4 | Skill level: Easy | Total time: 45 mins
This one does use quinoa, but you can buy it ready-cooked, or use couscous instead, and make use of any leftover roast veggies, as well as adding a selection of raw ones – basically, a Buddha bowl is your license to freestyle. Use tinned chickpeas that don't need cooking for a protein hit, and keeping things raw will only make them even more nutritious.
Get the recipe: Vegan Buddha bowl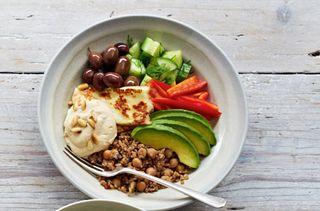 15. Greek-style Buddha bowl
Serves: 2 | Skill level: Easy | Total time: 15 mins
A great spot of fusion here with a Greek take on an Asian way of eating. Plenty of good fats from the olives, avocado, and protein-rich hummus and lots of vitamins from the other veg. This one does have halloumi in it, which is best eaten grilled, but you could switch it out for feta, or even goat's cheese, to save you the faff of getting the pan out. Summer in a bowl.
Get the recipe: Greek-style Buddha bowl
Related Features
We've got 50 filling salad recipes for more no-cook inspiration. There's also a selection of picnic food ideas and our best potato salad recipes for when you're having a BBQ – or even when you aren't!
Parenting advice, hot topics, best buys and family finance tips delivered straight to your inbox.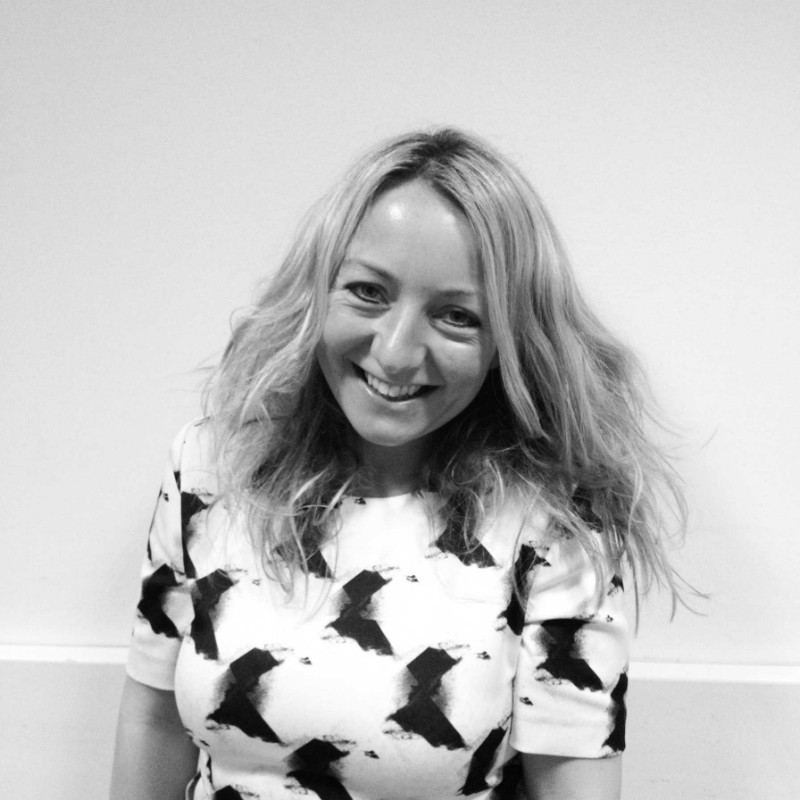 Lara Kilner is a writer and editor with two decades of experience in national newspapers, magazines, and websites. She writes about food, lifestyle, travel, health and wellness, and entertainment, and regularly interviews celebrities and people with interesting life stories and experiences. Her foodie content has included interviews with Jamie Oliver, Rick Stein, Queer Eye's food expert Antoni Porowski, the Hairy Bikers, Hugh Fearnley Whittingstall, Raymond Blanc, Andi Oliver, Paul Hollywood, Prue Leith, and Nadiya Hussain.