Stir Up Sunday: Tips, tricks and traditions for making Christmas pudding
Everything you need to know about Stir Up Sunday including when it is, what it is and lots of Christmas Pudding recipe tips too!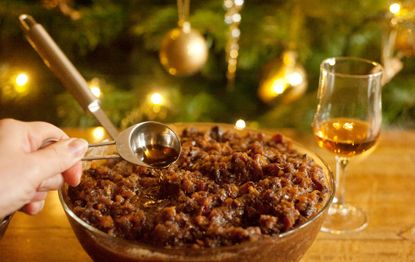 Traditionalists will know to make their Christmas pudding on Stir Up Sunday. However, if you've never heard of the long-established festive occasion, let us bring you up to speed!
Stir Up Sunday is a joyous day, especially for those who love to be organised when it comes to Christmas (opens in new tab)! It's the traditional day to make your Christmas pudding, (opens in new tab) and below we have everything you need to know from where it started and what you need to get involved.
While you might want to avoid the thought of Christmas shopping until you turn to December in your calendar, making your pudding ahead of time not only saves you a lot of hassle on the big day, it will produce a tastier pudding too.
We have lots of tips on how to add flavour to your pudding, the best way to store it and much more. Even the biggest sceptics will struggle to resist starting their Christmas baking (opens in new tab) journey after finishing this jolly festive read!
When is Stir Up Sunday 2020?
Stir Up Sunday always falls on the last Sunday before advent. In 2020 this means it will be celebrated on Sunday the 22 November 2020.
What is Stir Up Sunday?
Stir Up Sunday started back in Victorian times, and was a tradition where families would come together to get their fruit puddings stirred up, steamed and stored ahead of Christmas. Each member of the family would take a turn to give all the ingredients a good mix and help tick off the first task of the festive season.
It is thought that the name Stir Up Sunday comes from the opening line of the Book of Common Prayer that was read at church on the Sunday before advent which said, 'stir up, we beseech thee, O Lord'.
READ MORE: How to make Mary Berry's classic Christmas pudding
Christmas puddings can be made weeks in advance, which is handy during the busy Christmas period and makes Stir Up Sunday a useful reminder to get this bit of prep down and out of the way early on. It's also a good reminder if you haven't already bought or prepared your advent calendars. If you need some inspiration we've picked out the best chocolate advent calendars (opens in new tab) and the best alternative advent calendars. (opens in new tab)
Once you've made your pud store it in a cool place away from the light. Keep the pudding topped up with a splash of booze every week to keep it moist. If you want to freeze the pudding (check the recipe to see if you can), take it out of the bowl, wrap well in cling film, then in foil, seal, label and freeze. Use within 6 months.
Christmas pudding traditions to try on Stir Up Sunday
The Christmas pudding recipe is hundreds of years old. It's sometimes referred to as figgy pudding or plum pudding and over the years many traditions have been picked up. From special ways of mixing the pudding to adding secret ingredients, here's what the traditions all mean...
Why do you stir Christmas pudding clockwise?
One of the loveliest traditions when making Christmas pudding is that everyone in the family should take their turn mixing in the raw ingredients, especially children of all ages! While mixing the pudding every person should make a wish. Stirring the mixture clockwise might be your natural instinct but it has a special significance too. Stirring from East to West, or clockwise, is a homage to the journey made by the Wise Men.
Why do you set fire to Christmas pudding?
Some people say that setting light to your Christmas pudding represents the passion of Christ. When you light a pudding, it's tradition to use brandy but other alcohol will also work. You're not actually lighting the pudding, but the vapour from heating it up. This is why your pudding doesn't get a burnt taste after lighting it!
Why do you put a coin in a Christmas pudding?
It is still common for people to hide small silver coins in the pudding mixture. Traditionally it would have been a sixpence and some families have a coin that has been passed down through several generations. It works as a fun game when the pudding is finally served on Christmas Day as everyone hopes to find the coin in their portion. It's believed to bring whoever has the coin wealth and good luck in the coming year.
If you would like to add coins into your pudding, make sure they are properly sterilised. It's also important to tell your guests if there is a coin in the pudding so that they can look out for it! Some people wrap the coin/s in small pieces of tin foil to make them more visible.
Other trinkets were also sometimes hidden in the pudding with their own special meaning. Finding a ring represents a prospect of marriage, while a thimble would mean being single for the next year! A wishbone would grant the recipient another wish, a horseshoe represents luck and a button is for bachelors.
How many ingredients are in Christmas pudding and why?
Christmas pudding is traditionally made with 13 ingredients to symbolise Jesus and the 12 Apostles. The most common ingredients are: sultanas, raisins, demerara sugar, currants, glacé cherries, stout, breadcrumbs, sherry, suet, almonds, orange and lemon peel, cognac and mixed spices. However, there are lots of variations and you can adjust the recipe to fit with your preferences or dietary requirements.
Where does Christmas pudding come from?
The dish known today as 'Christmas pudding' is thought to have descended from lots of different recipes. It started out as a sort of porridge called Frumenty which is made of beef and mutton with raisins, currants, prunes, wines and spices. Some sources say that this was eaten as a fasting meal in preparation for the Christmas festivities. Others reveal that it was eaten at the start of a meal rather than at the end like our now much-loved pudding.
Over several years the porridge became more solid and sweeter in taste and it wasn't until the Victorian era that a pudding that resembles our modern version became fully established.
What will I need for Stir Up Sunday?
To make a Christmas pudding the only equipment you need, aside from the ingredients, is a mixing bowl and spoon, a pudding basin (most recipes are to fill a 2-pint pudding basin - which will serve 6-8 people), some string, foil, baking parchment and a pan large enough to comfortably steam your pudding in. A Christmas playlist is also a good idea to get everyone feeling jolly and festive!
Stir Up Sunday Prep: What to do before the day
If you have the time, soak your fruits in the alcohol overnight to absorb the flavour. Whisky, rum and brandy are most popular but gin would also work. If you'd like an alcohol free version try an aromatic tea like early grey. You could also use a flavoured sugar syrup if you prefer. Try combining it with citrus zest and juice for a subtle flavour. Some recipes have you include more ingredients at this point for extra absorption. Make sure the ingredients are covered in a cool, dry place.
Our best ever Christmas pudding recipe to make for Stir Up Sunday
Our Christmas pudding (opens in new tab) uses all the traditional ingredients and takes just 20 minutes to prep before it's ready to steam. This is perfect if you're short on time.
To steam it you need to spoon your mixture into a prepared basin. Cover the basin with a circle of baking paper and a double layer of foil before securing with string.
Balance the pudding on a trivet or upturned saucer in a large pan. This stops the pudding from overheating and potentially cracking. Make sure the saucer is heatproof before using!
Pour enough water to come up halfway on the basin. Bring to the boil, cover with a lid then simmer for the required time, normally around 4-5hours but can be as long as 8hours. in a pan of water and steam for the required time (normally up to 8 hours). It's very important to make sure the water never runs dry so you will need to regularly top up the pan with fresh water.
Credit: Getty Images
Christmas puddings with a twist
If you'd like some alternative Christmas pudding recipes we've got plenty of options. Those with dietary requirements might prefer our gluten-free Christmas pudding (opens in new tab) recipe, while those who really don't like the classic treat might prefer our Maltesers Christmas pudding (opens in new tab) instead. It's perfect for those with a sweet, chocolatey tooth as it's essentially a chocolate cake shaped to look like the classic pudding!
For an option that's somewhere in between, try our pear ginger and walnut Christmas pudding (opens in new tab). It has a lighter texture and flavour but can be lit the same way our traditional recipe it.
How do you serve Christmas pudding?
Christmas pudding is traditionally served with a sprig of holly on top and with flaming brandy. Holly is very flammable so make sure you pour the brandy away from it, around the bottom of the pudding. Light the brandy at the table rather than carrying it in on fire. To ensure the brandy ignites, warm it slightly before igniting and pouring it over the pudding. Make sure everyone has their cameras ready to capture the spectacle!
Traditionally Christmas pudding is served with brandy butter. However custard, sweet white sauce, whipped cream or even ice cream are all tasty options. It's really a personal preference.
Holly has over 15 years' experience understanding and creating digital content that people want to read and share. Holly's has created news and lifestyle content for brands, such Now Magazine, Best Magazine and Goodto.com.