Where does Wayne Rooney live? Inside Wayne and Coleen's home
Where does Wayne Rooney live? What we know about the Rooney family mansion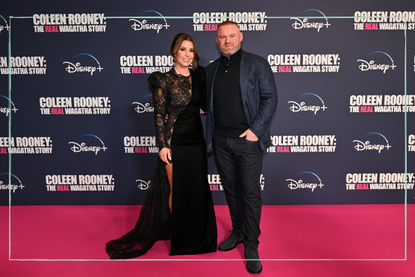 (Image credit: Getty Images)
We caught a glimpse of his "dream home" in Coleen's documentary, so where does Wayne Rooney live?
Coleen Rooney's Disney+ documentary finally put the who won the Wagatha Christie case question to rest, but after watching, viewers also couldn't help but wonder where is Rebekah Vardy now?
While telling listeners all about the Vardy vs Rooney drama, Coleen was interviewed in her stunning house – which she shares with ex-footballer husband Wayne Rooney and their four children.
Wayne also had the opportunity to share how the case impacted him and his wife's relationship, so read on to find out more about the Rooney family home.
Where does Wayne Rooney live?
Wayne Rooney lives in Cheshire with his wife, Coleen. Their mansion, which reportedly cost £20 million, is situated in Chesire's 'Golden Triangle' – an affluent area that encompasses Wilmslow, Alderley Edge, Mottram St Andrew and Prestbury.
It's reported to have six bedrooms, a home cinema, grand stables (for 14 horses, no less), an underground spa, and a snooker room, as well as stretches of land for a football pitch. The property's official name is High Lake Manor, and it sits on 50 acres of old farmland.
The couple bought the property for £4 million back in 2017, but had to delay their full-time move due to the pandemic delays, and eventually moved in at the end of 2021.
Where is High Lake Manor?
High Lake Manor is located within the 'Golden Triangle' of Cheshire in North West England. Previously, the land it occupies was known as Mount Pleasant Farm.
Developers of the Rooney family mansion named their luxury estate High Lake Manor as its gorgeous grounds and surrounding villages are thought to mimic that of historical BBC drama Downton Abbey.
It was previously reported that Wayne and Coleen Rooney had been accused of turning the picturesque area into a 'footballers' housing estate' by a nearby parish council.
The surrounding area of Cheshire's 'Golden Triangle' was also formally home to David and Victoria Beckham, Rio Ferdinand and Christiano Ronaldo.
Where does Coleen Rooney stay in Barbados?
Coleen Rooney stays in the Bajian villa (which she owns with 37-year-old Wayne) in Barbados, which is located in the exclusive Royal Westmoreland estate on the Caribbean island.
The pair bought the property in 2010 for £5m, and famous neighbours include Freddie Flintoff, Ant & Dec and Rio Ferdinand, who also own homes in the area.
The pair opened their Barbados mansion to the public in 2017, where prices start from £25,000 a week. It comes with five bedrooms, an infinity pool and breathtaking sea views.
How much is the Wayne Rooney family worth?
According to Celebrity Net Worth, Wayne Rooney is worth around £136 million and Coleen Rooney's net worth is estimated at £15.5 million.
It's no surprise that Coleen's net worth would have risen in the second half of 2023, with her documentary, Coleen Rooney: The Real Wagatha Christie Story shown on Disney+, as well as the release of her autobiography, My Account this month.
Are Wayne and Coleen Rooney still together?
Wayne and Coleen are still together, and have been married for 15 years. However, rumours about their relationship surfaced when Amazon Prime aired its Rooney documentary, in which the couple discussed their problems over the years.
In a recent interview with Vogue, Coleen Rooney addressed the rumours surrounding allegations of infidelity on Wayne's part. "It's been a battle at times. I look at [any] situation we're in and think, 'Could we move forward from that? Is it worth moving forward from that?'.
"I don't just give up."
On the cheating allegations, Coleen said during the documentary: "When you're making those decisions, you've got to focus on what you want and not other people because you have so many people saying different things to you.
"There's nothing that we can't deal with and that's my way in a situation – let's sit down and see what we can do and can we make it work? And we have. We're not the lovey-dovey type anyway, we like to have a laugh and we work well together."
The couple, who have been married since 2008, share four sons: Kai, 13, Klay, 10, Kit, seven, and Cass, five.
Where to watch the Coleen Rooney documentary
The Real Wagatha Story is available to watch on Dinsey+, following its release on the streaming platform on 18 October 2023.
Revealing the official trailer on its Instagram, Disney+ captioned the post: "Coleen Rooney speaks for the first time. Coleen Rooney: The Real Wagatha Story, a three-part documentary series, will premiere on Wednesday 18 October on Disney+."
Coleen also promoted the documentary series on her own Instagram profile, with hoards of celebrity friends such as Mark Wright, Amy Childs and AJ Odudu, commenting to show their support of the 37-year-old.
Nodding to the infamous line that's now so widely known, she captioned the post:
"Its…time for my account."
After seeing breathtaking views of our favourite celebrities' homes, you might be wondering where does Robbie Williams live and where does David Beckham live?
Parenting advice, hot topics, best buys and family finance tips delivered straight to your inbox.
Daniella is a qualified journalist specialising in fitness, nutrition and women's health. She has written for a number of consumer titles including Health & Wellbeing, Stylist, Women's Health UK, and Fit & Well.
With four years' experience in the wellness space, Daniella has tried and tested the best fitness kit on the market worth buying and has a keen eye for up and coming brands to look out for. She's also interviewed celebrities and co-produced a wellbeing podcast.