Are Gary Neville and David Beckham still friends? Inside the footballers' friendship following Netflix's Beckham documentary
The two football stars played together for years at Manchester United - we look and Gary Neville and David Beckham's friendship today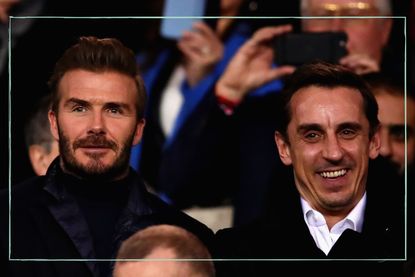 (Image credit: Getty Images)
New Netflix documentary Beckham has viewers wondering if Gary Neville and David Beckham are still friends.
A new documentary looking back at David Beckham's impressive football career - and life alongside wife and former Spice Girl Victoria - has got viewers hooked, whether they are football fans or not. The series has left viewers asking further questions about the football star's private life - including how many kids David Beckham has and where he lives - and some even want to know where Rebecca Loos is now - the woman he was rumoured to have had an affair with.
But as well as Beckhams' family life, viewers are intrigued by the friendships he forged during the career, and one man who makes a regular appearance in the documentary is Gary Neville. But are Gary Neville and David Beckham still friends? Here's what we know...
Are David Beckham and Gary Neville still friends?
Yes, David Beckham and Gary Neville are still friends. Gary is interviewed extensively about his time playing with Beckham at Manchester United in the new Netflix documentary, and he was present at the Beckham premiere in early October.
He attended the event with his wife Emma Hadfield - who he shares two daughters with - and dedicated an Instagram post to his friend. Pictured posing with David and Victoria Beckham, he captioned the post, "A fantastic night ❤️ congratulations to David and the whole team on the launch of his Netflix documentary. It's brilliant!"
The pair also met up recently for an episode of Gary Neville's podcast Stick to Football, where they discussed the new documentary alongside fellow footballing legends Roy Keane, Ian Wright, Jamie Carragher and Jill Scott
The pair have also shared sweet posts on Instagram for each other's birthdays, with Gary Neville's most recent tribute reading, "Happy Birthday @davidbeckham have a great day 👹👹❤️".
Meanwhile, Televisual has reported that Beckham and Neville are working on a Prime Video documentary about the 1998-99 season in which Manchester United won the treble: The Premier League, the FA Cup and the Champions League. It is reportedly set to debut in 2024.
What has Gary Neville said about David Beckham?
Gary Neville spoke about what it was like to play with David Beckham back when they were both on the Manchester United team, including during the early days of Beckham's relationship with Victoria and in the aftermath of his 1998 World Cup red card.
Gary was Beckham's best man in 1999 when he married Victoria, and gave a speech at their wedding. In Beckham, he recalled, "Imagine, I was only 24 and best man for one of the most famous footballers who's ever lived.
"Victoria and the Spice Girls were a phenomenon, too. I had to speak for 15 minutes in a room full of famous performers and try to be funny. I'm no standup comic so it was hard work but I think it went OK. I prepared well!"
However, despite their close bond, the pair didn't always see eye-to-eye. Neville previously told Sky Sports about the difficulty they had while staying in the same room during their time on the same football team.
He explained, "I roomed with David Beckham for about six months and then the whole rooming with players completely stopped because everybody went into their own individual rooms."
"I think they worked out that players weren't compatible with each other and that each went to bed at different times."
Neville then went on to say, "I had two big problems with Becks (well, he had with me). I used to go to bed at 9pm and wake up at 5am, he would stay up until 11pm and want to wake up at 8am, so essentially he was keeping me up from 9 until 11 and then I was getting him up at 5 in the morning, so it just wasn't working at all."
He added, "Secondly, he is the cleanest person. He gets into his room, he lights candles, he puts pictures up – everything has to be absolutely perfect, it's been the same since he was 18.
"I just throw everything everywhere, so it just did not work at all.
"I'm always talking, always arguing and he was the complete opposite of that. He would listen to music, he would want peace, he would want to be chilled and it's just the complete opposite end of the spectrum of where I was at."
When did Gary Neville and David Beckham play together?
Gary Neville and David Beckham played together for Manchester United between 1992 and 2003. They both started off as a group of young players who were coached by Eric Harrison, and helped the club win the FA Youth Cup in 1992 - alongside Ryan Giggs and Gary's brother Phil.
During their time at Manchester United, the pair were part of the team that won the historic treble in the 1998-99 season, winning the Premier League, FA Cup and Champions League. The treble had never been achieved in English football before, and Manchester United were the only team to have succeeded at it until Manchester City's 2022-23 season.
Beckham left Manchester United in 2003 when he transferred to Real Madrid for €37 million on a four-year contract. While he then went on to play for LA Galaxy and Paris Saint-Germain, Gary Neville spent his entire career at Manchester United.
However, the pair did also play together for England in two FIFA World Cups, in 1998 and 2006. Beckham also appeared in the squad for the 2002 World Cup, but Neville had unfortunately broken his foot and was therefore ruled out.
Gary Neville net worth
According to Celebrity Net Worth, Gary Neville has a net worth of $25million. Since retiring from professional football in 2011, Gary Neville began managing England as an assistant coach in 2012 until 2016 and then managed Valencia from 2015 to 2016.
Gary Neville also has had a prolific media career, joining Sky Sports at the start of the 2011–12 season, taking over as match analyst on Monday Night Football alongside Jamie Redknapp. On 8 August 2014, The Daily Telegraph announced that Neville would be joining their staff as a columnist, and he also participated as a pundit in ITV's coverage of 2018 FIFA World Cup and in the 2020 UEFA European Championship.
For more celebrity inside info, find out what we know about where Guy Chambers is now, following the Robbie Williams documentary. We've also done some digging into Ryan Reynolds lives, and his life at home with his wife and kids. We also have everything you need to know about fellow Welcome to Wrexham star Rob McElhenney, and whether he's married with kids.
Parenting advice, hot topics, best buys and family finance tips delivered straight to your inbox.