How many kids do David and Victoria Beckham have? Meet their children
The couple have a lovely brood of children to be proud of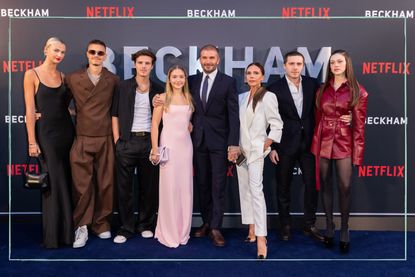 (Image credit: Still Moving/Netflix/Future)
How many kids do David and Victoria Beckham have? As the Beckham documentary airs on Netflix, viewers are wondering about the footballing legend's life at home, and the children he has with his equally famous wife.
Beckham is a four-part documentary, offering a never-seen-before glimpse into the life of footballing icon David Beckham. The series covers his humble east London childhood, to his determination to rise up as one of the most recognisable footballers of all time - even his rumoured affair will be covered, breaking years of silence over the allegations. Viewers have also asked questions about where David Beckham lives and what his property empire looks like after tuning in. His marriage to then Spice Girl Victoria - known to legions of fans as Posh Spice - cemented David Beckham's place in celebrity culture, with their subsequent life and children piquing interest around the world.
In light of this portrait of Beckham, viewers have been wondering how many children he and Victoria have - read on while we introduce the Beckham brood. Similarly, Stephen Graham's incredible career and rise to one of the most recognisable actors of his generation, has raised questions about his marriage and kids. The documentary covering the celebrity buy out of Wrexham football club also left those tuning in wondering whether both Rob McElhenney and Ryan Reynolds are married with kids.
How many kids do David and Victoria Beckham have?
David and Victoria Beckham have four children; Brooklyn, 24, Romeo, 21, Cruz, 18, and Harper, aged 12.
As a UNICEF Goodwill Ambassador, David Beckham spoke in a video shared by the charity about how it felt to become a father. "I don't think anything prepares you for the constant worry," he said, adding "Time goes by really fast. One minute you're holding them in the hospital for the first time, and the next minute, they're driving their car." Poingnantly, he concluded "But it's the most special thing, I wouldn't change it for the world."
Brooklyn Joseph Peltz Beckham, 24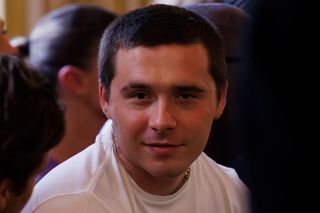 Brooklyn Joseph Peltz Beckham was born on March 4, 1999 at the Portland Hospital in London. He added the surname "Peltz" into his name when he married Nicola Peltz in 2022 - she now goes by the name Nicola Peltz Beckham.
The name Brooklyn was initially chosen simply because David and Victoria both liked it. It's significance was cemented when Victoria realised she'd discovered her pregnancy while in New York, with a suburb of the city aptly named Brooklyn. As a teenager, Brooklyn decided to try his hand at football, joining the Arsenal FC Academy. There are reports he failed to secure a scholarship with the academy and was released, although it's also been reported he left due to wanting to explore other avenues of employment.
Brooklyn went on to model professionally for a time, before pursuing a photography degree in 2017, at Parsons School of Design at the New School in New York. He did not complete the course, but still went on to release a book of his pictures, titled "What I See." The book garnered ridicule when an arts editor shared some images from it to social media platform, X, with the caption "Huge fan of Brooklyn Beckham's terrible photographs and even worse captions."
Huge fan of Brooklyn Beckham's terrible photographs and even worse captions pic.twitter.com/012PeCcED4June 23, 2017
See more
However, some were quick to defend Brooklyn, with Dazed's, Charlie Brinkhurst-Cuff writing "Not all of the pictures in the book are arguably as worthy of criticism. There's also something quite poignant about the idea that Brooklyn, who has spent his whole life being photographed by rabid paparazzi, turning the camera on the outside world."
In 2021, Brooklyn attempted to make a name for himself as a chef, with no prior training or experience. He began the online series Cookin' With Brooklyn, which aired on Instagram and Facebook Messenger. This too attracted criticism after the reveal that 62 professionals were involved to create a single episode, with many questioning his actual ability to cook.
In January 2020, Brooklyn confirmed a relationship with actress Nicola Peltz. On July 11 the same year, the pair announced their engagement. The wedding took place on April 9, 2022, in a three-day extravaganza at Florida's Palm Beach. On their one-year anniversary, Brooklyn shared a sweet snap of the pair kissing, with the caption "One year ago today I married my best friend. I am the luckiest person to be able to call you my wife… you are my everything and I am the luckiest person on this earth to be able to wake up next to your gorgeous face every morning."
Romeo James Beckham, 21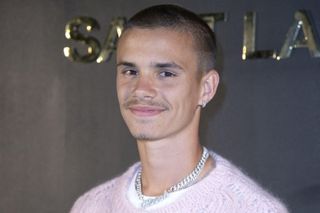 Romeo Beckham was born on September 1, 2002, at London's Portland Hospital. There was no special significance behind choosing the name Romeo, with David and Victoria Beckham simply just liking it.
Like Brooklyn before him, Romeo joined the Arsenal Academy in 2014, but was released the following year. This led to him pursuing a career in tennis, and he went to train with Andy Murray. He made the decision to return to football in 2020 after five years out of the game. In September 2021, Romeo joined Inter Miami II, making his professional debut in a match against Tormenta FC.
In October 2022, he began began training with the Brentford B team, whom he joined on a six-month loan. After 15 appearances with Brentford B during the 2022-23 season, he signed a one-year contract to remain with the team. Friend of David Beckham and former footballer Phil Neville, said of Romeo "He is a boy that is hungry. He has got a lot of pressure and expectations on his shoulders, but what he has got is he has got his feet firmly on the ground," according to Planet Football.
🚨 TRANSFER NEWS 🚨🔁 Brentford FC have secured a permanent deal for Romeo Beckham, signing him from Inter Miami! ⚽️🐝📝 The young talent joins the Bees to embark on an exciting new chapter in his football career. Congratulations, Romeo! 🙌✨#BrentfordB #NewSigning pic.twitter.com/0U9g7vknPFJune 17, 2023
See more
In 2019, Romeo announced a relationship with model Mia Regan. It was speculated the couple had a brief split in 2022, but they are currently still together. Mia attended the premiere of Beckham with the Beckham crew, and Romeo occasionally shares loved-up pictures of the pair to his Instagram account.
Cruz David Beckham, 18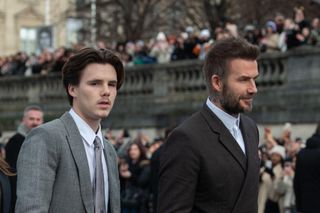 David and Victoria welcomed their third son, Cruz David Beckham, on February 20, 2005. Cruz was born at Hospital Ruber Internacional in Madrid. There was some speculation he was named after Tom Cruise, an actor David respected, although this has never been confirmed.
Like his brothers before him, Cruz initially began football training with the Arsenal Academy, but has now chosen to pursue a career in music. Teasing his talent on Instagram, the youngest Beckham boy occasionally shares pictures of himself in the studio, or covering famous songs on his guitar.
It was reported by OK! that he's been working on a project in Miami, with songwriter Poo Bear. "We've just been in the studio a few times and made some songs together," he said. Speaking about his influences, he added "My favourite musical artist has to be Frank Ocean, I really admire him. He's such a sick person. But I'm really into Billie Eilish. I love her music, I love her style and I'd love to take her on a date. So Billie, you know where I'm at."
Harper Seven Beckham, 12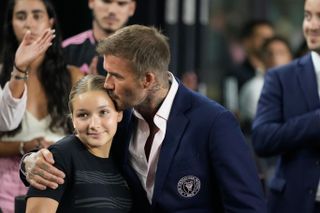 Harper Seven Beckham was born on July 10, 2011, at Cedars-Sinai Medical Center in L.A. Harper was named after To Kill A Mockingbird author Harper Lee, with David saying at the time "Victoria's favourite book is To Kill A Mockingbird, it's a very strong, passionate book and the author was Harper Lee, and that is where Harper came from."
Most people assumed the middle name Seven came from David's Manchester United shirt number, but although that played a part in the naming, David went on to explain "The main reason behind Seven was it symbolises spiritual perfection – the seven wonders of the world, the seven colours of the rainbow – and in many cultures it is a lucky number."
David and Victoria have previously shared that Harper is banned from wearing makeup outside the house, and spoken of the celebrity bootcamp they've put her through in preparation for her expected propulsion into the public eye as she gets older. Speaking to Vogue Australia about protecting her daughter, Victoria said "Harper isn't on social media, so we don't have to worry about that just yet. But seeing how cruel people can be, yes it really does [concern me]. She's at that age where her body is going to start changing, but it's about making sure that we communicate a lot as a family and she surrounds herself with nice friends. But it is quite terrifying, I can't lie."
You might also want to know who directed the Beckham documentary.