Are Laura and Arthur still together?
Are Laura and Arthur still together? Here's what we know about the MAFS couple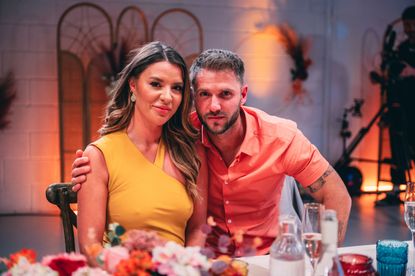 (Image credit: Channel 4 )
As the latest season of Married at First Sight UK draws to a close, it's safe to say fans are rooting for their favourite couples to go the distance.
And it's not just the 2023 MAFS UK cast that viewers are fully invested in – My Mum, Your Dad also had them wondering are Natalie and Paul still together?
Now, the attention is on another expertly-matched couple – Laura and Arthur – after their fellow brides and grooms made it clear they weren't suited for each other.
So, are Laura and Arthur still together? Here's everything we know.
Are Laura and Arthur still together?
The rules of MAFS state that viewers can't know the outcome of each relationship until the finale airs, where each couple will decide whether to reaffirm their marriage in a vow renewal.
That said, Laura and Arthur (among other couples) are fairly vocal on social media and, as he watched the events unfold on TV along with the public, the Polish-born tennis coach posted some cryptic stories to his 73k followers.
Last night, some of Arthur's stories read: "Sometimes the bad things that happen in our lives put us directly on the path to the best things that will ever happen to us" as well as, "And believe me, if it is meant for you, it will find you again. No matter how far it goes or how hopeless it seems."
Despite the conditions of the show, Mail Online reported that Arthur was spotted "passionately kissing" another woman in a nightclub while he was out celebrating his 35th birthday, seemingly confirming the end of his marriage to Laura.
Fellow bride Tasha, who attended Arthur's birthday party, uploaded a gallery of the night to her Instagram, including one photo that showed the two holding hands.
Catching wind of the speculation, Tasha was quick to release a statement to her Instagram that said: "I just want to clarify I only posted this picture because it was the only one I had of Arthur as it was his birthday celebration after all. @laurajayvaughan is one of my closest friends and I would never disrespect her.
"Arthur is also a really good friend of mine which is what you are seeing in this picture, there is nothing more to it!"
Is anyone else confused or is it just us?!
Are George and Peggy still together?
Fans are also wondering are Peggy and Georges still together? Again, it's not known whether any of the couples from this season's MAFS are still together but it seems as though Peggy and Georges have been spotted together in public as recently as 7 November 2023.
Peggy re-posted a story on her Instagram from a fan who said: "when you're catching up with #mafsuk and see @georgesbert and @peggyroseofficial driving 2 seconds from my house" with a face with hand over mouth emoji.
We'll have to wait until MAFS UK finishes to know the current relationship statuses of each couple.
When does Married at First Sight UK end in 2023?
Married at First Sight UK 2023 will finish when the final episode airs on Thursday 16 November. It will start at 9pm on E4, and will also be available to watch on catch-up on the Channel 4 website, where you can binge the whole season of MAFS if you want to.
The last episode will finally give fans the answers they've been wanting since the season began, and reveal which couples decide to reaffirm their marriage in a vow renewal. Usually, this involves the couples spending some time apart in order to decide whether they want to stay together, before reuniting and letting each other know their final decision.
Another MAFS couple in the limelight have fans wondering are Shona and Brad still together and if you love the scientific relationship show, you may be interested to know which Love Island couples are still together 2023.
Parenting advice, hot topics, best buys and family finance tips delivered straight to your inbox.
Daniella is a qualified journalist specialising in fitness, nutrition and women's health. She has written for a number of consumer titles including Health & Wellbeing, Stylist, Women's Health UK, and Fit & Well.
With four years' experience in the wellness space, Daniella has tried and tested the best fitness kit on the market worth buying and has a keen eye for up and coming brands to look out for. She's also interviewed celebrities and co-produced a wellbeing podcast.