Are Peggy and Georges still together? MAFS UK season 8 update
Are Peggy and Georges still together? We take a look following the final commitment ceremony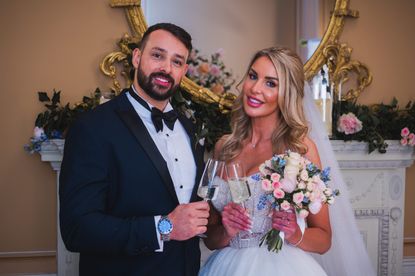 (Image credit: Simon Johns / CPL / Channel 4)
Matched by relationship experts in the latest Married at First Sight (MAFS) UK series, viewers have been wondering if Peggy and Georges are still together.
The entertaining show that raises questions such as is Married at First Sight legally binding has returned to our screens, with a dramatic 36 episodes of MAFS UK to indulge in - leaving some wondering when MAFS UK ends in 2023.
Now, the final commitment ceremony has aired and viewers have found out who is still together from the MAFS UK cast . Peggy and Georges were one of the couples who made it to the end, but given the show was filmed months ago, fans are wondering whether they're really still together. Here's what we know about the couple's relationship status.
Are Peggy and Georges still together?
Peggy and Georges are still together, and they confirmed the news when appearing on the Channel 4 show Steph's Packed Lunch. Chatting to host Steph McGovern, they spoke about their experience on the show, and Peggy showed that she was still wearing her ring.
The pair appeared to be loved up, with Georges arm firmly around Peggy's shoulders, and also mentioned that they had been talking about moving in together, after deciding to continue their marriage at final vows.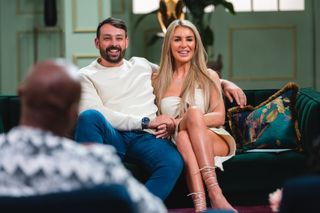 In the final episode of the unorthodox dating show, Georges told his bride he'd found an instant connection with her, adding, "I entered this experiment with one sole purpose, to find love. Looking for something you've never felt before seemed like a huge ask, but then I met you."
He added: "I've had time to think back and reflect on what's been the best decision to make for me and my future, Peggy the future does not work without you, being apart from you over the last few days has really made me realise I've got very strong feelings for you, the outside world is where our journey truly begins and we'll take it on together as a team. Looking towards the future, I see a successful marriage, a family, two kids, and happiness."
Meanwhile, Peggy touched on the challenges the pair had faced in their vows, acknowledging that her family didn't feel Georges was the right match for her. However, she finished her speech by saying, "I may not trust easy, but I trust myself and I also trust that you'll prove everyone who doubts you wrong."
What happened between Peggy and Georges on MAFS UK?
Peggy and Georges haven't had a smooth journey on Married at First Sight UK, with Peggy even voting to leave the experiment at one point. However, the couple had managed to work out their differences by the time final vows came around.
The pair began arguing just days after their wedding while honeymooning in Thailand, with Peggy upset that Georges said he wouldn't mind her having an OnlyFans account. She said: "The fact that you said you'd be okay with me doing it, that doesn't bode well with me."
Peggy was also shocked to find out about how Georges makes money by squatting in front of a webcam on his online gaming channel. Later on in the series, Peggy watched the video for herself and stormed out of the apartment, describing it as "embarrassing, humiliating, degrading".
Shortly after, Peggy revealed in a commitment ceremony that she wanted to leave the experiment, but chose to stick it out for longer after Georges expressed that he wanted to stay.
After this, things seemed to go well for the pair - although a grilling from Peggy's father momentarily threw their relationship into doubt once again.
Was Peggy on Take Me Out?
Peggy was on ITV's Take Me Out in 2012 when she was just 19-years-old. Eagle-eyed fans recognised Peggy as a familiar face from the dating show, which could explain why fans are quick to jump to her defence.
According to the Kent contestant's Instagram, she was watching the show in real-time with viewers on Tuesday 10 October and posted fans' reactions on her stories.
Some were shocked with the explosive dinner party scenes and commented, "feel so sorry for @peggyroseofficial tonight" and "not our pretty @peggyroseofficial keep shining".
Elsewhere, we've revealed the fates of many other MAFS UK couples. Find out if Matt and Adrienne are still together, if Ros and Thomas are still together, whether Laura and Arthur are still together, if Luke and Jay are still together and whether Ella and JJ are still together too.
Parenting advice, hot topics, best buys and family finance tips delivered straight to your inbox.