Did Def Leppard play for Bank of Dave? Real story behind the band's appearance in the Netflix film
Did the Rock legends appear at Dave Fishwick's charity concert?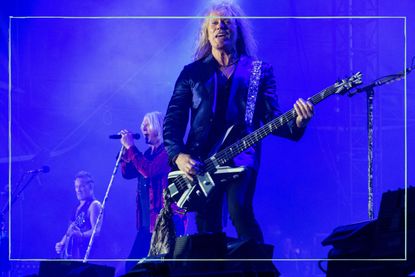 (Image credit: ZUMA Press Inc/Alamy/Future)
Audiences watching Bank of Dave were surprised to see Rock legends Def Leppard make an appearance in the film, and are wondering whether they really knew the Burnley man with the big heart.
When Dave Fishwick began lending money to customers of his minibus business when they were denied loans during the 2008 credit crunch, it's unlikely he ever thought a major Netflix film would be made about his life. Now, audiences are watching the heartwarming Bank of Dave in their droves, and Dave has become a worldwide inspiration. Seeing local businesses and people suffer during the recession, Dave decided he'd open his own bank - where people are at the centre, and not huge bonuses for the bosses. Not realising what a struggle this would be, Dave embarked on a journey to tackle the London elite banking system, and is still fighting - and thriving - to this day. Viewers were delighted to see Rock legends Def Leppard make an appearance in the film, during a scene where Dave holds a charity fundraiser for the bank. Did he really know the band, and did this really happen? Read on to find out.
For a full lowdown on exactly what Dave Fishwick did, and the real Bank of Dave true story (opens in new tab), we have all the intel you need. Also on Netflix, viewers are asking is Dog Gone based on a true story (opens in new tab)? Gonker the dog needs life saving medication regularly, and it's a race against time to find him when he goes missing along the Appalachian Trail. Elsewhere on the streamer, viewers want to know when is Wednesday season 2 coming out (opens in new tab)? The renewal has been confirmed, and we have all the news and speculation about when we can expect it to land.
Did Def Leppard play for Bank of Dave?
Def Leppard did not perform at a charity fundraising concert for Bank of Dave. Dave Fishwick is a fan of the Sheffield band, and this storyline was imagined purely for the film.
Def Leppard hinted on March 8, 2022, that the band would be taking part in the film. Intriguingly, they posted a picture to Twitter depicting the stage set with their Def Leppard logo in the backdrop. They captioned the photo "Fun time this past weekend! #Tempo_productions #NetflixUK #bankofdavefilm." A stage was built for the band's cameo at a film studio near Leeds, which was made to replicate Burnley F.C.'s Turf Moor football ground, Dave's local club. Dave Fishwick shared the post, writing "This was Amazing, Thank-you so much @DefLeppard You were Brilliant!! It was great to meet you all!"
Fun time this past weekend! 🤘#Tempo_productions #NetflixUK #bankofdavefilm pic.twitter.com/7XGyBjHVlFMarch 8, 2022
See more
Later in March 2022, Def Leppard singer Joe Elliott, spoke to Planet Radio (opens in new tab) about Def Leppard's involvement in the film. He said "Bank of Dave is kinda like the new Full Monty, the new Amongst Giants, the new Brassed Off. It's one of those classic British low budget but really cool movies. A true story about a gentleman in Burnley, who was not having much joy with a bank, so he decided to start his own bank. It's only like 12 years ago that this happened and he's a bit of a Def Leppard fan."
He continued "What they did is they kind of wrote us into the story and they've obviously enhanced the story somewhat because our part in the movie didn't really happen. One of his mates, the character of one of his friends knows me for 30 years and says, 'I think I might be able to get Def Leppard to do a fundraiser for you.' So, long story short, we do this fundraiser at Turf Moor (Burnley's football stadium) to raise money so he can start this bank and help out all the locals that were getting no help from the banks."
He concluded by saying "We got to perform three songs in this movie. I don't know how many will survive or hit the cutting room floor, but you always over film so that they've got enough. We all really thought it was a cute thing."
Is Bank of Dave a real bank?
The Bank of Dave is not a real bank, as Dave Fishwick still doesn't have official accreditation to legally call his loans business a bank. The official name for his company is Burnley Loans and Savings (BSAL).
Dave began his fight to have BSAL recognised as a bank, in 2011 - at this time, no new banks had been approved in over 100 years. The Financial Services Authority (FSA) wouldn't even meet with Dave, unless he kept millions of pounds in a protected account with them. Despite profuse arguments his bank would be small and never need that much security, the FSA would not budge.
Dave remains committed to this day, to get his company approved as a bank. The BSAL website states "Currently BSAL is applying to become a UK regulated bank; "The Bank of Dave"; a bank for the community, run by the community, offering an expanded range of products to an expanded audience." Dave is well known for once saying in an interview "The big banks dislike me with a passion, but I quite like that."
How did Bank of Dave make his money?
Dave Fishwick made his initial fortune selling minibuses in his home town of Burnley.
However, life before this had been hard for the Burnley native. He was born to mill workers Tony and Christine, and his childhood years were spent living a "two up, two down" with "only had an outside toilet", according to The Sun (opens in new tab). Dave said "We come from a very poor background. The house has been knocked down, it was so bad."
He left school with no qualifications at the age of 16, and began a Youth Training Scheme to gain skills as a builder. With very little money at this time, Dave would ask local car dealerships if they'd let him have a part-exchange car, that he'd restore. He offered to give them the original price of the cars once sold, and keep any profit for himself. He later opened his own garage garage in Nelson. Still very poor, Dave said of this era in his life "But there's always a way. You have to just think through it. It's either go under it, over it, round it. You must never give up."
Selling minibuses made Dave the fortune he has today - despite BSAL thriving, he refuses to take money from its profits. Profits go to charities, and locals that need it the most. Dave said "We've lent over £30 million to thousands of people and businesses across the UK, but recently I got a letter from Park School and they said: 'Dave, unfortunately we don't need a van or a bus, but we need you to help as kids are coming to school starving. We need this big industrial toasting machine and we need food and we need it fast.' I said no problem. So with profits from the Bank of Dave we went over, we bought the industrial food machine, we bought a year's supple of food for the kids. I said: 'Three months before you run out, ring me again and I'll buy you another year's supply of food.' This is what's needed."
Bank of Dave: Reviews
From available reviews, it appears the general consensus is that Bank of Dave is uplifting and entertaining, but does have some flaws.
Ian Sandwell from Digital Spy (opens in new tab) said "What you get with Bank of Dave instead is his story told through classic underdog tropes with a liberal helping of creative licence. So Dave's battle ends up involving a boo-hiss villain in elite snob Sir Charles Denbigh (Hugh Bonneville), a dramatic court battle and a last-minute fundraising concert featuring actual Def Leppard.
If there's any complaint to be had, it's that the movie doesn't spend as much time with Dave as you'd want. Instead, the focus often shifts to Joel Fry's solicitor Hugh, who gets swept up into Dave's world, fighting for his cause with the London bigwigs and falling for Dave's niece Alexandra. Bank of Dave won't be the type of movie that'll trouble any best of year lists, but as an entertaining and well-performed biopic, it effectively raises the spirits in these bleak January days."
Andrew Murray from The Upcoming (opens in new tab) only offered 2 stars to the film. He said "Kinnear is infectious as local hero Fishwick – his chipper grin and dedication to belting out karaoke rock anthems make it difficult not to root for his success. This likability extends to the rest of the supporting cast, which includes Bridgerton's Phoebe Dynevor and Jo Hartley. The central ensemble gives this flick a degree of charm that makes the various contrived plot beats somewhat palatable.
Despite the upbeat tone, though, the script sleepwalks through its scattering of narrative beats, darting from a courtroom drama to setting up a charity rock concert, without making much of an impact in either. Bank of Dave is an underdog story that's been made with all the best intentions. The core cast likewise do a splendid job in creating a lighthearted atmosphere. However, this is the problem: the commitment to creating an overly familiar rom-com consequently trivialises Fishwick's story (that being the small part of the script that is based on fact)."
Cath Clarke from The Guardian (opens in new tab) was also unsure of the film, offering 3 stars. She said "It's a film with a decent bit of charm, and it's hard to argue with the greed-is-bad message. (The end credits tell us that the Bank of Dave has lent 30 million quid; all profits go to local charities.) There are some funny moments too, particularly in a courtroom drama sequence set in Burnley magistrates court, when Hugh goes "full Perry Mason". But an artificial taste ruins a fair few scenes – and had me straight on Google afterwards. Did the real-life Fishwick really give a rousing speech on stage with Def Leppard at Burnley's Turf Moor stadium? No, he did not."
Related Netflix Features:
Video of the Week
Lucy is a multi-award nominated writer and blogger with six years' experience writing about entertainment, parenting and family life. Lucy has contributed content to PopSugar and moms.com. In the last three years, she has transformed her passion for streaming countless hours of television into specialising in entertainment writing. There is now nothing she loves more than watching the best shows on television and telling you why you should watch them.