Does Mel lose her baby? Virgin River season 5 ending explained
It was the most emotional season yet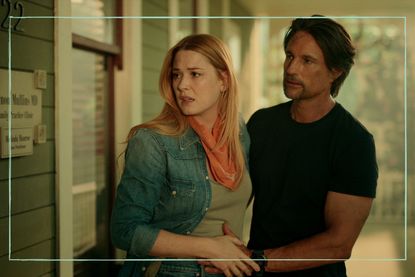 (Image credit: Netflix/Future)
Goodto Newsletter
Parenting advice, hot topics, best buys and family finance tips delivered straight to your inbox.
Thank you for signing up to GoodTo. You will receive a verification email shortly.
There was a problem. Please refresh the page and try again.
Does Mel lose her baby in Virgin River season 5? The latest series certainly ramped up the drama several notches, along with some sensitively handled scenes of loss and grief.
Viewers who thought Virgin River season 4 brought plenty of emotion, hadn't seen anything yet - season 5 sent several arrows through the heart. While the season 4 ending teased some future happiness for our favourite characters, there were plenty of secrets left to come out. When the skeletons in the cupboard came crashing out in season 5 the results were explosive, especially the reveal of the father of Charmaine's twins.
Mel's grief over her baby loss and attempts to conceive have been an ongoing underlying theme in the show, with her pregnancy announcement in season 3 leaving viewers rooting for her to finally find happiness. Unfortunately, our heroine appears to have several more bumps in the road until she reaches her happily ever after - Virgin River filmed against some peaceful backdrops, but Mel and the other residents are yet to feel that zen. Read on for an analysis of key season 5 dramatic moments.
Does Mel lose her baby in Virgin River season 5?
Mel sadly loses her baby during Virgin River season 5. Returning to the clinic to help during the wildfire outbreak, she discovers she is bleeding and a miscarriage is later confirmed.
Virgin River Season 4 saw Mel resign from her job at Doc's surgery, initially in an attempt to prevent new Doctor, Cameron, from leaving. Cameron had developed feelings for Mel, and realising they weren't reciprocated handed in his notice. Mel then resigned, in a bid to get him to stay. She also felt this would be a good way to prioritise her pregnancy, by relieving some of the stressors that came with her job.
However, when local wildfires harm some Virgin River residents in season 5, Mel can't resist the pull of her natural urge to care for others, and returns to the clinic to help the wounded. Feeling that something is wrong while undertaking patient care, she excuses herself to the toilet and discovers she is bleeding. She performs an ultrasound on herself, and realises the truth - the baby has been lost. Mel then bravely returns to tending the injured, until she can be reunited with Jack to break the devastating news.
"I felt like it was an important story to tell," Alexandra Breckenridge told Netflix Tudum. The actress continued "Not everyone gets their miracle baby. And so, talking to a friend of mine who had dealt with fertility issues, it seemed as though we were going to be talking about it in an honest way that would be appreciated by women who have experienced that. It was very hard for me, though. There was a lot of crying. It's a really sad storyline, but in the end, I think Mel comes out of it on the other side in a better way."
Virgin River season 5 ending explained
Virgin River season 5 part 1 begins with a confrontation between Jack and Brady, where Brady attempts to convince Jack that Melissa is actually very bad.
This point is quickly backed up, when Melissa then turns up and pulls a gun on Brady, while Jack witnesses proceedings in the caravan. Jack calls Mike for help, before stealthily following Melissa who is marching Brady away at gunpoint. While Brady is under interrogation, Jack dives in to help like the hero he is, getting Brady to safety as Melissa flees.
Mike shows up to help, and they all go in pursuit of Melissa. Just as they catch her, Gene appears from nowhere and shoots Mike, who luckily doesn't sustain any significant injury and is taken to hospital for assessment.
While Mel is pitching the idea of a birthing suite to the clinic team, Brie is at the hospital delivering the good news that Melissa is now in custody. She also uses this moment to break up with Brady - she is angling for time alone with Mike so she can ask him on a date instead.
Meanwhile, the FBI are all over Jack's glamping site, which is being used by those made homeless by the fires - but all is well, as Nick offers to house them at his B&B. While housing is being sorted out for displaced residents, the most unlikely romance of the season plays out over at the clinic - Muriel and Cameron are now together, with Cameron having moved on from his unrequited love for Mel.
Love is also in the air for Preacher, as all the misunderstandings he's had with Kaia come to an end, and she returns to Virgin River to be near him. In more surprise news, Ava has a conversation with Mel at the carnival about having a hysterectomy, but would freeze her eggs to future proof her options to have a family. She also has plans to sell Lily's farm and land, and build a golf course.
While Muriel and Cameron announce their relationship at the carnival, Lizzie has a surprise for Denny - she thinks she might be pregnant. This potentially scuppers plans he had for the pair to go travelling, and has serious implications due to his impending death by a genetic illness that could be passed down.
In further carnival festivities, Doc has been accepted onto a clinical trial that could save him from going blind, and imparts this news to Hope. Kaia is also in attendance at the carnival, and gets the news from her fellow firefighter friends who are working in the nearby forest, that a body has been found. Could this be the body of Wes, hidden there by Preacher when he'd killed the man to save Paige?
Then comes the big reveal we've all been waiting for - the father of Charmaine's twins! Although she is still pregnant and has been for ever (time moves slowly in Virgin River,) she is now near the end of her pregnancy. Struggling to her car she bumps into Calvin, who everyone thought was blown up in season 4. Clearly not dead, Calving tells her he wants to be in "his" boys lives, meaning he is the father.
Mel and Jack visit Lily's farm - the conversation Mel had with Ava at the carnival has given her an idea - she wants to buy the land and build a home together on it. Jack immediately agrees with this, and even wants to have their wedding there. A quick time jump forward to Christmas follows, with Mel and Jack decorating their new home, and Mel getting a phone call from her sister, Joey.
Joey wants to deliver the news she's found a series of letters between their mother and a mystery man in none other than Virgin River itself. Joey believes this man could actually be Mel's real father, while the series comes to a close with Mel's face a picture of shock. The trailer for the remaining two episodes set to drop in November, tease Mel telling Jack "We did it, we found my father." As Jack looks stunned and asks where, Preacher adds "Still right here, in Virgin River." Oh my goodness...
Who does Brady end up with in Virgin River season 5?
After his surprise split from Brie, there is a budding, although unconfirmed romance between Brady and Lark in season 5.
Single mother Lark is one of the camp dwellers, those distrusting of others who aren't camp members. When Jack and Brady are helping those from the camp during the wild fires, Lark's daughter Hazel is momentarily lost in the woods. When Brady finds her and reunites the pair, a spark of interest in one another occurs.
This comes after what was a fairly passionate romance between Brady and Brie came to an end. After struggling to keep their hands off each other during season 4, Brie has had to deal with her abusive ex turning up, and the ensuing fallout from the rape charges she pressed against him. Increasingly frustrated with Brady's life of crime, Brie began to feel drawn to Mike, choosing to pursue a relationship with him instead. Time will tell whether Lark will become a permanent fixture in the now-single Brady's life.
However, the very festive season 5 part 2 trailer teases Brady and Brie meeting at the tree decorating contest, with Brady asking her "are you following me?" She doesn't reply, but simply eyes the mistletoe conveniently hanging above them. Is this another misstep, or will they get back together? We can't wait to find out.
How many episodes are there in Virgin River season 5 part 2?
There are only 2 episodes in Virgin River season 5 part 2, which are released on November 30.
Of what to expect from the final episodes of the season, series Producer and writer Richard Keith told Netflix Tudum that "the characters do go through some pretty terrible things, but there's always a happy ending."
He continued "It may not be the happy ending they were expecting, but they find their way to a happy place that in some ways might be happier than if they'd ended up where they thought they would to begin with."
Virgin River season ending: Fan reaction
A portion of fans appeared to be unhappy with Virgin River season 5, and the direction of the storylines.
One fan wrote on Instagram "Season 5 was super disappointing and just not fun to watch. So much sadness and the worst part was the sadness that was just unnecessary."
Another added "Season 5 so far as been my least favourite unfortunately. The storyline with Preacher and Paige went nowhere and was completely unnecessary. Charmaine is STILL pregnant and Jack isn't the father. Also like can we write in some happiness for Mel? This season was just all over the place."
However, on a positive note, one fan was of the opinion: "Just acknowledging the writers and producers for capturing such realistic situations into the series... the miscarriage that Mel encountered, the wildfires. Love this series."
Another agreed, adding "Finished watching all 10 episodes the first day, can't wait till the end of November!!! Keep them coming! What a talented cast!"
For shows similar to Virgin River, we have the full lowdown on the Chesapeake Shores filming locations. We also reveal where the equally watchable and soapy Sweet Magnolias filmed, and whether there will be another season of the hugely popular drama.