Murder Island: When is the Channel 4 show on and where was it filmed?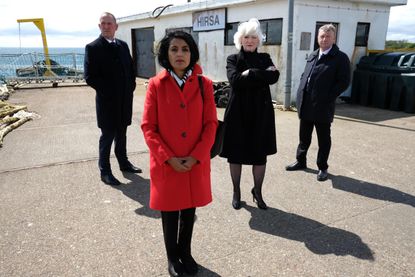 Channel 4's Murder Island is the latest crime series to have audiences glued to their seats.
We viewers love a classic 'Who dunnit?' television series to sink our teeth into. And thankfully after the end of ITV's submarine thriller Vigil, filmed in the UK, audiences have a new Channel 4 offering to play armchair detective with.
The programme, written by acclaimed crime author Ian Rankin has plenty a twist and turns in store. And with the show airing straight after new series of The Great British Bake Off, there really is no excuse not to watch it.
When is Murder Island on Channel 4?
Murder Island airs on Tuesdays at 9.30pm on Channel 4.
The new crime series has six episodes in total. And each episode is 60 minutes long with ad breaks.
Viewers who miss the show will also be able to catch up online on All4 after the programme has aired.
It joins Channel 4 shows like Married at First Sight which finishes on October 4, and new series Complaints Welcome, which are keeping us entertained this autumn.
What is Murder Island on Channel 4 about?
Murder Island sees eight members of the public split into four teams of two. They will be tasked with solving the murder of Charly Hendricks - a young woman found dead at a rented and rundown property on the Island.
During the six episodes, the players must work hard to successfully catch her killer. With the winners walking away with the £50,000 prize at the end of the show.
Watching their every move are the show's experts - three top senior investigating officers. And they will be assessing the teams, pointing out any mistakes and offering their expertise.
On hand will also be pathologists, forensic scientists and psychologists to aid the amateur detectives on solving the case.
Is Murder Island real?
No the murder committed in Murder Island is entirely fictional.
The storyline the players have to solve is written by acclaimed crime writer Ian Rankin. He is best known for his Inspector Rebus novels, which have also been adapted for TV.
The Scottish writer, who was a recent guest on The One Show, teased fans with what can be expected from the show.
"When it comes to writing a whodunit I usually call the shots, taking the reader only to the places I want them to visit and showing them only the characters I want them to seem," he said.
"Murder Island is different. The detectives can follow any strand, uncovering clues as they go and asking the suspects any questions they like. Will I manage to stay one step ahead of them? I think I've constructed my twistiest story yet – so let's see!"
Murder Island trailer
https://www.youtube.com/watch?v=jYqbwyB5a2o
Channel 4 released the trailer for Murder Island in September. And it seems that the show has already earnt a few fans.
One commented: "First episode was great, looking forward to the next one"
Who are the Murder Island police experts?
The show features experts Parm Sandhu, Simon Harding and Graham McMillan. And these three will watch over the contestants as they try to identify the murderer.
Parm Sandhu is a former Chief Superintendent at the Met Police, author and broadcaster, who will be acting as senior investigating officer.
She is assisted by her deputies - former Detective Chief Inspector Simon Harding and Detective Sergeant Graham McMillan who works within the Bedfordshire and Hertfordshire Major Crime Unit.
Parm Sandhu shared what she thinks makes a good detective. Citing someone who is "analytical, methodical, and who pays attention to detail" as a prime candidate.
"It's so easy to miss that very small clue that could open up the whole case. I see a murder investigation a bit like a jigsaw, if you miss even the tiniest little piece your picture is not going to be complete."
Where is Murder Island filmed?
Murder Island was filmed in Gigha, a remote island in Scotland.
Gigha forms part of the Kintyre coast and is a rural, green island with a tiny population of just 163 people.
Filming for the crime show took place during summer 2021, following the lifting of government coronavirus restrictions.
Whilst scenes are filmed in Gigha, the island has been renamed as the fictional place Hirsa for the show.
Giving an overview of Hirsa, Channel 4 shared:
"The island of Hirsa lies less than twenty miles off the west coast of Scotland. The population of 173 is served by one pub, one shop and a primary school. For everything else you have to travel to the mainland."
Contestants will no doubt explore many of the island's assets as they race to catch the killer.
How to apply to be a Murder Island detective:
Sadly, applications to be a detective on Murder Island are currently closed.
But we've got the inside detail on what you need to prepare if and when applications re-open.
Amateur detectives will need to sign up for an account on the STV website. And as part of the submission you're required to share the usual personal details like name, age, occupation and contact details.
After this you'll be asked to share who you'd like to team up with for the show, uploading a photo of you both plus a short video.
STV says: "The video doesn't need to be anything fancy, just you telling us why you would like to become real life detectives and solve a murder mystery."
We'd also recommend watching the first series of Murder Island to see if the experience is for you. And of course, whilst you do making a mental note of the mistakes performed by previous contestants. As this is sure to increase your chances of winning that £50,000 cash prize.
Emily Stedman is the former Features Editor for GoodTo covering all things TV, entertainment, royal, lifestyle, health and wellbeing. Boasting an encyclopaedic knowledge on all things TV, celebrity and royals, career highlights include working at HELLO! Magazine and as a royal researcher to Diana biographer Andrew Morton on his book Meghan: A Hollywood Princess. In her spare time, Emily can be found eating her way around London, swimming at her local Lido or curled up on the sofa binging the next best Netflix show.