Who won The Great British Sewing Bee? The 2022 champion revealed
Here's who won The Great British Sewing Bee last night...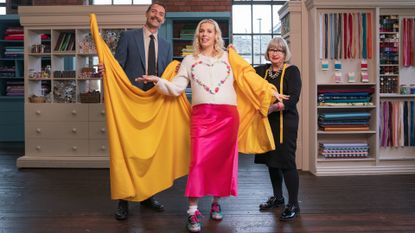 (Image credit: BBC/Love Productions/James Stack)
If you're wondering who won The Great British Sewing Bee then you're probably not alone as fans enjoyed the final episode of this crafty classic.
It's been a year since the Great British Sewing Bee crowned its 2021 champion, with the 2022 series finally drawing to a close last night, naming a brand new winner.
The 2022 season of the BBC sewing contest landed in April, bringing with it the judges' critiques on everything from hems to darts, embroidery (opens in new tab) and much, much more.
There was even a brilliant new presenter, Sara Pascoe, after previous host Joe Lycett left the Sewing Bee ranks and departing the sewing room where The British Sewing Bee is filmed (opens in new tab).
And with the final episode of the season hitting screens last night, we reveal who won The Great British Sewing Bee and how can you catch up on all you've missed if you didn't catch it.
Who won The Great British Sewing Bee?
As the last episode of The Great British Sewing Bee of the year aired on BBC One, judges Patrick Grant and Esme Young were given the huge task of deciding on the Sewing Bee champ for 2022.
After taking on the challenges of creating a party dress out of material scraps from previous weeks as well as a red-carpet worthy jumpsuit, it was a close call between finalists Brogan, Annie, Debra and Man Yee.
It was Annie who won The Great British Sewing Bee 2022, impressing Esme and Patrick with her sewing creations.
Fans rushed to social media to react to the Sewing Bee results, thrilled to see Annie take the title.
One wrote, "They were all great but pleased Annie got the win, well done!"
"Delighted for her. All four finalists were so talented and all so deserving of their place in the final. Annie just seemed to grow in confidence over the weeks and showed such an amazing eye for style and finesse. ❤️," added another thrilled viewer.
"Stunning victory - beautiful, eye catching designs. This has been the best Sewing Bee so far with the very best winner❤️," one more agreed.
Sharing what she's taken away from her time on Sewing Bee and encouraging other amateur sewers to take the leap, Annie said, "I would say to anyone who wants to apply for a future series, to just go for it, put yourself outside of your sewing comfort zone, trust the process and you won't regret it."
I'm sure I say this every year. But WOW. So much talent, so much creativity, such lovely, warm, generous, funny, brilliant contestants. What a fabulous finale and what an incredible winner. I cannot wait to start filming next year's #SewingBee pic.twitter.com/VGuWg36DVXJune 29, 2022
See more
Where can you watch The Great British Sewing Bee?
If you're looking to enjoy The Great British Sewing Bee's latest series, then head to BBC iPlayer to catch up on every episode. If you've missed any instalments (or any of the previous series) never fear! Each of the Sewing Bee episodes become available to watch via BBC iPlayer, as are series 1-7 and the 2021 seasonal specials.
Anyone who's eager to learn how to make a patchwork quilt (opens in new tab), patchwork cushion (opens in new tab), or a pretty patchwork oven glove then this show will be up your street. Take inspiration from these novice sewers as they pull out all the stops to wow critics with their new designs, using the best fabrics and attention to detail to make garments that will be remembered.
But if you've already raced through all the Sewing Bee content already, then there are loads of other creative shows on iPlayer to get stuck into as you wait for the next series. Whether it's the delicious treats in Great British Bake Off (opens in new tab), the extraordinary restoration talents showcased in The Repair Shop (opens in new tab) and new show The Speedshop (opens in new tab), there's nothing like a challenge to get viewers hooked.
Sewing Bee contestants 2022
Twelve home sewers started out the series and each week a contestant will be eliminated, but the full line up is as follows:
Angela, NHS health visitor and school nurse, from Lancashire [Eliminated Week 6]
Annie, high street fashion brand buyer, from Surrey - WINNER
Brogan, secondary school teacher, from Derbyshire - FINALIST
Chichi, research analyst from Surrey [Eliminated Week 2]
Christian, store manager from London [Eliminated Week 8]
Debra, PA, from North Wales - FINALIST
Gill, analyst, from Doncaster [Eliminated Week 7]]
Man Yee, actuary, from London - FINALIST
Marni, vet, from Devon [Eliminated Week 5]
Mitch, theatre manager, from Cumbria [Eliminated Week 1]
Richy, baker from Shrewsbury [Eliminated Week 3]
Steve, running coach from Newcastle [Eliminated Week 4]
How to apply for The Great British Sewing Bee 2023
Inspired by the amazing garments and creativity of this year's Sewing Bee contestants? Then you might just be wondering how to apply for the next series of the hit BBC competition show. Unfortunately for any new Sewing Bee hopefuls out there, the deadline for applications to appear on series 9 has already passed.
Though if you have your heart set on applying for future series and you're 16 or above and a UK resident, it might be worth keeping an eye on the BBC website's Take Part page (opens in new tab) as soon as the next series arrives.
Find out who will be crowned the Winner of The Great British Sewing Bee.The Final. Wednesday 29th June. 9pm. @BBCOne. #SewingBee pic.twitter.com/m4eGHcHd1mJune 22, 2022
See more
It's here that applicants this year were advised to head to complete the online application form for the next series, or to request an application form to be posted to them if they could not apply online for any reason.