Where is Everyone Else Burns filmed? Locations featured in the Channel 4 Simon Bird comedy
Some locations are instantly recognisable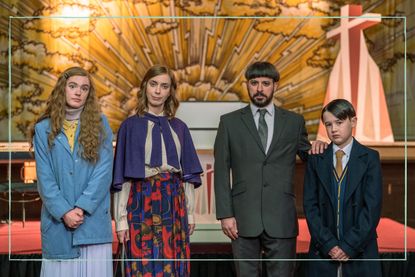 (Image credit: Channel 4)
Simon Bird heads up the cast as a family attempting to avoid Armageddon and eternal damnation, in Channel 4's latest comedy offering.
Everyone Else Burns landed on Channel 4 on January 23, to much laughter and applause. The coming-of-age comedy follows a family headed up by a bowl haircut sporting Simon Bird, and their lives in the puritanical Christian sect they are devoted to. Bird's character David is desperately trying to ascend the church ranks to become an Elder, while dutiful wife Fiona struggles to maintain her strict moral compass. Their incredibly naïve 17-year-old daughter Rachel wants to go to university but the family can't be sure she will survive if allowed into such a deviant environment, while 12-year-old son Aaron is caught in a constant battle to evade secular bullies. With chaos and hilarity ensuing, viewers have also been quick to notice some familiar background locations in the show, and have been asking where Everyone Else Burns filmed. Read on to find out, and hear what critics have to say about the comedy.
Elsewhere on Channel 4, the SAS: Who Dares Wins - Jungle Hell cast (opens in new tab) have their work cut out undertaking military training in an all-new location for the reality show. Viewers were curious about the precise location of the new course for the series recruits, and Jungle Hell filmed (opens in new tab) somewhere that is no stranger to conflict and guerrilla warfare. In other reality show news on the channel, fans are wondering is Harry Hill the new Bake Off (opens in new tab) presenter? We weigh in on the answer.
Where is Everyone Else Burns filmed?
Everyone Else Burns was filmed predominantly in Manchester, although some scenes were filmed in the town of Northwich, Cheshire.
In Manchester, a cast member shared shots of filming to Instagram, taking place outside The Beetham Tower - an iconic 47-storey skyscraper in the city centre. Formerly the tallest building in the city, The Beetham tower is now the second tallest, but can still be seen from most parts of the city. Amy James-Kelly who plays Rachel in the show, shared an image of crews set up near the building, ready to begin a night shoot. She captioned the photo "Let the night shoots commence (this was yesterday don't come looking for us we're not there)"
The actress also shared a sequence of pictures depicting filming taking place next to a tennis court, in a car, and some of the crew on the set that made up the main family's home. These pictures were captioned " Follow Sister Rachel's lead and grab your snacks: Everyone Else Burns is on All 4 for your binge-watching pleasure now! I bloomin loved this one. I hope you do too."
Aaron actor Harry Connor also shared some behind-the-scenes pictures from filming. One of his Instagram photos showed the cast eating lunch between takes, reading and eating lunch. Harry, along with Simon Bird, Amy James-Kelly, and Kate O'Flynn, were sat under an arch, with historic Manchester buildings in the background.
In Northwich, film crews were spotted in the town centre, and at The Plaza. Another photo shared by Amy James-Kelly from the town, was captioned "Turnover. Sound's 'speed. Mark it. Set. Action," with one commenter saying "I love the fact you ACTUALLY know all the terms and what they mean…"
The Plaza is a Grade 2 listed art deco building in the town. It began life as a cinema, then became a bingo hall. After standing empty for several years when it became vacant in 2011, it was recently refurbished and turned into a music venue. Locals spotted Everyone Else Burns film crews outside the venue in May 2022.
Where is Everyone Else Burns set?
Everyone Else Burns is set in Manchester, which made filming in the city feel very authentic.
A short promotional excerpt from the show reads "Meet the Lewises: your average, everyday Manchester family who belong to an ultra-religious order. Oh, and they reckon the world's going to end in the next 10 years." The show uses local singers from Chorlton Sings and Alty Voices for some scenes in the show. The two no-audition choirs are based in Greater Manchester.
According to I Love Manchester (opens in new tab), the choirs only formed in summer of 2021 as lockdown restrictions began to ease. Membership has now grown, and they perform gigs across Manchester. Choir member Michael Chambers from Ancoats, who appears in the show, said "It was a surreal and exciting experience. Being on a big production like this as a local community choir was quite scary but fun – and we had a blast filming and hanging around on set!"
Viant Siddique from Didsbury, added: 'It was such a great opportunity for the choir to be a part of! To see the creative process and be around such a talented bunch was so inspiring."
Everyone Else Burns: Cast
Simon Bird (Friday Night Dinner, The Inbetweeners) as David Lewis
Kate O'Flynn (Death in Paradise, Mr Turner) as Fiona Lewis
Amy James-Kelly (Coronation Street, Safe) as Rachel Lewis
Harry Connor as Aaron Lewis
Lolly Adefope (Shrill, Ghosts) as Miss Simmonds
Alastair Roberts (Stath Lets Flats, Year Friends) as Elder Abijah
Soph Galustian (Peck Eds, Stretching The Play) as Julia Angelie
Ali Khan (Sarfarosh) as Joshua
Kadiff Kirwan (Chewing Gum, Fleabag) as Andrew
Asher Ali (Beaver Falls, Ackley Bridge) as Elder Samson
Liam Williams (Ladhood, Back To Life) as Joel
Writers writers Dillon Mapletoft and Oliver Taylor spoke to The British Comedy Guide (opens in new tab) about how involved they were in the casting. They said "We were and we were blown away by the cast we had the opportunity to work with. Kate managed to take a character who could have been very draconian and dark on the page and make her absolutely hysterical. Amy, when we first saw just a still on the casting website, we thought that looks like the sort of timid, anxious, put-upon messiness that we're expecting from Rachel. And sure enough, she captured it perfectly.
And then Harry is our newcomer, playing Aaron, who went from being entirely new to this world, to just being so confident, so committed and smashing every one of those lines. Lines that were full of verbose stuff about the Nephilim and the prophet Elisha. And of course, blown away to have Simon Bird as David, this man cursed with a completely unfair amount of confidence that he's somehow managed to cling on to. We should shout out to Aisha Bywaters, our casting director. She was amazing at unearthing talents like Harry, as well as getting these powerhouses like Lolly, Morgana and Kate. I love Kate so much, Kadiff, Arsher, the whole group really."
Everyone Else Burns: Reviews
So far, the critical response to Everyone Else Burns, has been largely positive.
Lucy Mangan from The Guardian (opens in new tab) offered 4 stars. She said "The hyper-religiosity is used to look anew at family dynamics and dysfunction; how blind you can be to abnormalities if they are all you know; and the need to break free. Mapletoft and Taylor do this without mocking faith itself. David's unwitting hypocrisy and unshakeable selfishness (pushing a mother and her sick baby behind him in the Elders' advice queue) are the butt of the jokes; the extremity and perversion of Christianity by the Order is what they have in their sights. Beyond that, it's simply very, very funny, all the way. I'm a convert."
Vicky Jessop from the Evening Standard (opens in new tab) also offered 4 stars. She said "Sure, some of the supporting characters (Lolly Adefope's teacher, for instance) are more walking punchlines than people, but when the jokes are this good, who cares? I'm a convert of the Church of the Divine Rod, though here's hoping the apocalypse is delayed, if only so Channel 4 can make more episodes."
However, Ben East from Metro (opens in new tab)was unsure of the show. Offering 2 stars, he said "Written by Dillon Mapletoft and Oliver Taylor, the set-up is promising; a combination of Rev's gentle observational comedy about religion and – with Bird being the obvious connection – The Inbetweeners' piercing of teenage life in suburbia. But David's hit and miss one-liners – you can almost see the tumbleweed blowing across set for some of them – make him out to be a ridiculous, even irritating Partridge-esque oddball, not someone who could ever have been an overbearing patriarch."
Related Channel 4 Features:
Video of the Week
Lucy is a multi-award nominated writer and blogger with six years' experience writing about entertainment, parenting and family life. Lucy has contributed content to PopSugar and moms.com. In the last three years, she has transformed her passion for streaming countless hours of television into specialising in entertainment writing. There is now nothing she loves more than watching the best shows on television and telling you why you should watch them.