Fans think Will from Love Island is gay - here's why that's a problem
It says a lot about how society expects straight men to behave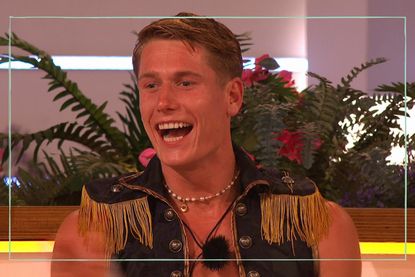 (Image credit: ITV)
Will Young made a splash when he entered the villa for this year's Love Island, but why are fans so obsessed with his sexuality?
Will Young from Love Island (opens in new tab) became a hot topic of conversation when it was revealed he would be joining the Winter Love Island cast (opens in new tab). Already enjoying a degree of fame, the farmer from Buckinghamshire has over one million followers on his TikTok account (opens in new tab).
And as the series has gone on, 'Farmer Will' has remained the focus of many viewers' attention, but it's no longer because of his short-form videos explaining life on the farm. Instead, a conversation has emerged around whether Will from Love Island is gay.
It's a strange conclusion to draw from his time on the show - not least because he is currently happily coupled up with Aussie Islander Jessie Wynter. Sure, we don't know whether Will might be interested in dating men too, but either way it's not up to us to speculate about his sexuality.
Unfortunately, that doesn't stop the Love Island viewers on Twitter. You only need to search 'Love Island Will' to find photos and videos of the guy just being himself, with a caption calling his sexuality into question.
Will when they announce his heart was raised the most by Casey #loveisland pic.twitter.com/px6ougxOOaFebruary 7, 2023
See more
will is never escaping those gay rumors #loveisland pic.twitter.com/XLtKfkabOyFebruary 1, 2023
See more
But why do so many Love Island fans seem to be under the impression that Will is gay? Well, it appears to be something to do with his flamboyant and excitable behaviour. He's often seen twerking, dancing and skipping around the villa in a thoroughly unselfconscious way, seemingly unafraid to embarrass himself in his mission to make the whole villa laugh.
He's also just so nice. And not nice in the same way that the previous 'nice guys' of Love Island were - such as Hugo Hammond and Dr Alex - who took on the title mainly because they had little luck finding love while on the show. Will Young appears to be a genuinely good person: he's sweet to Jessie, is determined to make every day in the villa a good one, and showed his soft side when comforting recently dumped Islander (opens in new tab) Anna-May.
After fellow Islander Kai told Anna-May he couldn't see their connection going any further, Will gave her a hug and said, "Have a cry, it isn't silly, it's a super tough and tense situation."
The fact that some viewers think Love Island's Will is gay says a lot more about society's expectations of straight men than it does of Will. A person's behaviour doesn't dictate their sexuality, and assuming that men who are in touch with their emotions or like to sing and dance are gay only works to exacerbate the already toxic pressures on men - such as the ideas that they must be hyper masculine, aggressive, and show no emotion. It's no wonder that so many of them choose to stray when Casa Amor (opens in new tab) rolls around. And honestly, who can blame them if the alternative is having their sexuality called into question?
It's worth saying, however, that there are many fans of Love Island who have praised Will for being his authentic self during his time in the villa. And just last year contestant Liam Llewellyn was praised for quitting the series after just six days because he didn't feel like he was being himself while on the show.
I like guys like Will, who are comfortable with their masculinity and femininity and also not afraid to express joy. I think some people are getting the ick because they are used to seeing a lot of men suppress their feelings. #loveislandFebruary 7, 2023
See more
I dont blame Liam for leaving the villa, always look after yourself first, he's seemed out of his comfort zone and I hope he's ok. #LoveIslandJune 10, 2022
See more
So while it's by no means all - or even a majority - of Love Island fans speculating that Will might be gay, it's still worth calling out. Because how else will we teach the young men and boys who are growing up watching these reality shows and engaging in the discourse on Twitter that it's okay to be sensitive and emotional, without fear of their sexual preferences becoming a subject of gossip?
Will Young may well address his sexuality after Love Island finishes (opens in new tab) - and let's hope that the response will be supportive and respectful - but unless that happens, it's not up to anyone else to diecide what his - or anyone else's - sexual preferences are.
Related features:
Video of the Week
Ellie joined Goodto as a Junior Features Writer in 2022 after finishing her Master's in Magazine Journalism at Nottingham Trent University. Previously, she completed successful work experience placements with BBC Good Food, The Big Issue and the Nottingham Post, and freelanced as an arts and entertainment writer alongside her studies. In 2021, Ellie graduated from Cardiff University with a first-class degree in Journalism.