Who is Funny Woman based on? Real inspiration behind the Gemma Arterton comedy drama
Gemma Arterton stars as a beauty queen on the hunt for fame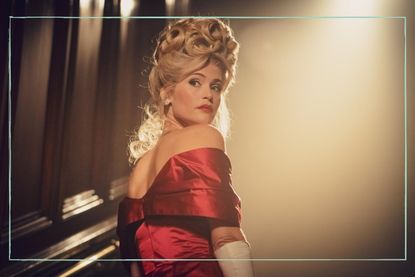 (Image credit: Ben Blackhall/Potboiler Productions/Sky Uk Limited/Future)
Gemma Arterton and a swinging sixties backdrop, bring the perfect blend of comedy and drama in Funny Woman.
Funny Woman begins airing on Sky Max and NOW TV on February 9, at 9pm. The series brings with it a journey through the 1960s as Gemma Arterton's beauty queen, Barbara Parker, ditches her Miss Blackpool Belle title in search of becoming a television sitcom star. Waving goodbye to her hometown, Barbara heads for the bright lights of London, attempting to make her dreams come true in a male-dominated misogynistic industry. The road to fame is a rocky one, and Barbara's transformation into comic actress Sophie Straw, is fraught with difficulties - these are brilliantly played out by the cast of the show. With building excitement for the episode 1 premiere, audiences are asking who Funny Woman is based on. We have answers to all burning questions about the show, that filmed (opens in new tab) in very different locations to where it's set.
Also on NOW TV, fans have asking will there be a season 5 of Brassic (opens in new tab)? We have the latest news on the BAFTA winning comedy. Brassic filmed (opens in new tab) in the North where the show is set, and we have the exact locations of the town that doubles as Hawley in the series. Also on the popular streamer, there's mounting excitement for The White Lotus season 3 (opens in new tab) - creator Mike White has hinted at where the third instalment could take place.
Who is Funny Woman based on?
Funny Woman isn't based on any particular actress, only characters from Nick Hornby's bestselling book, Funny Girl. Confusion has arisen that Barbara is based on a real person, as many real-life characters feature in the novel - she, however, is fictional.
Funny Girl is an homage to the developing era of television light entertainment, where Barbara's idol in the show, Lucille Ball, delivered comedy into the homes of those buying up television sets in their droves. The novel contains photographs within the text, alongside reviews of the show Barbara goes on to star in - Barbara (and Jim). Also featuring pages from the show's script, and a signed copy of the stage notes, readers believed they were being presented with a factual past. This was again heightened by real historical figures rearing their heads - Barbara/Sophie Straw has tea with Harold Wilson, and his political secretary Marcia Williams also features. Keith Relf from the Yardbirds has a part, and there is no discussion surrounding the division of fact from fiction. However, despite this, Barbara and her alter ego remain firmly the imaginings of Nick Hornby.
According to The Guardian (opens in new tab), Barbara formed in Hornby's mind when he wondered why there's never been a British Lucille Ball. He surmised that women were only ever just given the back seat in British comedy, saying "Even in something like Monty Python. That poor girl just stood around in a bikini most of the time. Comedy was very much a boys' club. So I wanted to put a fictional character in that gap."
As Barbara tackles to male dominated environment of 1960s British comedy, she re-defines herself, along with attitudes to women within the industry. Gemma Arterton describes the series as "A heart-warming story of an ambitious woman with a dream of making people laugh – it's going to be something special."
She continued to talk about her character, adding "Barbara Parker is very relatable to and I can relate to her a lot. She's quite silly. She's got a lot of comedy in her bones, and yet, you know, she's quite glamorous. She's a real clown, but a real working class girl. You know she's not perfect, although she's very ambitious, and sometimes it takes a lot out of her. But the audience is just going to love her. She's so very lovable."
Funny Girl book
Funny Girl was released in 2014, going on to become an international bestseller. The official blurb reads "Make them laugh, and they're yours forever... Barbara Parker is Miss Blackpool of 1964, but she doesn't want to be a beauty queen. She wants to make people laugh.
So she leaves her hometown behind, takes herself to London, and overnight she becomes the lead in a new BBC comedy, Sophie Straw: charming, gorgeous, destined to win the nation's hearts. Funny Girl is the story of a smash-hit TV show and the people behind the scenes. But when life starts imitating art, they all face a choice. How long can they keep going before it's time to change the channel?"
The Daily Telegraph describes the book as "Warm, funny, touching... winningly perceptive about human relationships and changing social trends", with The Spectator adding "Like all Hornby's best work, it is both hugely enjoyable and deceptively artful."
An audience reviewer on GoodReads (opens in new tab) said "Topical themes of the sixties feature: feminism, homosexuality and the sexually permissive society ("He was talking about the times they all suddenly lived in, and how hard it was not to be a small boy in a sweet shop with no cash register"). This is a novel in which life imitates art, but also, often, the reverse, as the writers of the show rely on what they know. This funny and moving novel is another brilliant dose of Hornby at his best."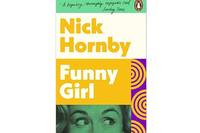 (opens in new tab)
Funny Girl by Nick Hornby £7.85 | Amazon (opens in new tab)
Read the novel now a major TV series Funny Woman, starring Gemma Arterton and Rupert Everett.
How many episodes of Funny Woman are there?
There will be six episodes of Funny Woman. When the first episode has aired on Thursday, February 9, on Sky Max, the remaining episodes will air weekly on Thursdays at 9pm.
When episode 1 has aired, all episodes will however be available as a boxset on NOW TV, for those who don't want to wait. A flexible way to view Sky Atlantic is through a NOW TV Entertainment Pass (opens in new tab), which can be purchased for £9.99 a month. Another method is through Sky TV (opens in new tab) itself, where it can be purchased as part of their Sky Signature TV packages.
Funny Woman has been adapted from the Funny Girl novel by comedy actress Morwenna Banks. Jon Mountague, Director of Comedy for Sky Studios said in a statement "With Morwenna Banks' brilliant script, this was the perfect opportunity to bring a contemporary take on this inspiring story. Funny, smart and revealing - exactly what a Sky Original comedy should be, and we can't wait."
Funny Woman: Cast
Gemma Arterton (St Trinian's, Quantum of Solace) as Barbara Parker
Rupert Everett (My Best Friend's Wedding, My Policeman) as Brian Debenham
Tom Bateman (Death on The Nile, Behind Her Eyes) as Clive
David Threlfall (Shameless, Dodger) as George Parker
Rosie Cavaliero (Hold The Sunset, Gentleman Jack) as Auntie Marie
Morwenna Banks (Shameless, Skins) as Patsy
Leo Bill (The Fall, Taboo) as Tony
Alexa Davies (Raised by Wolves, Detectorists) as Marjorie
Arsher Ali (Line of Duty, Ackley Bridge) as Dennis
Matthew Beard (Vienna Blood, Avenue 5) as Bill
Clare-Hope Ashitey (Top Boy, Death in Paradise) as Diane
Alistair Petrie (Sherlock, Sex Education) as Ted Sargent
Emily Bevan (In The Flesh, Grantchester) as Edith
Rosa Coduri (Cradle To Grave, Grace) as Polly
Kyle Pryor (Home and Away, Hollyoaks) as Aiden
Lottie Tolhurst (Harlots, Endeavour) as Jill
Funny Woman: Reviews
So far, there has been a mixed critical response to Funny Woman.
Hollie Richardson from The Guardian (opens in new tab) had praise for the show, saying "Gemma Arterton will charm your socks off in this bubbly six-part adaptation of Nick Hornby's 2014 novel, Funny Girl. She plays Barbara Parker – the beaming bottle-blonde who ditches her Miss Blackpool Belle title, jumps on a train to London, changes her name to Sophie Straw and elbows her way into the world of TV comedy. Set in swinging 60s London, there's a constant battle against the sexism and classism rife in the industry. And while it's not the funniest script, Barbara's tendency to say it how it is ("No one wants to buy lipstick from someone with a smile like Ken Dodd") along with a balance of wide-eyed optimism and determination make her a star worth rooting for."
Rachel Cooke from New Statesman (opens in new tab), was of a similar opinion. She said "The clichés – the jokes about tripe, and regional accents, and Barbara's wraparound lack of sophistication – work mostly in Funny Woman's favour, bolstering our longing for its heroine to take London and the world by storm. She's an Everywoman, albeit one with cheekbones so sharp her jilted fiancé could probably use them to slice luncheon meat."
Prudence Ivey from the Evening Standard (opens in new tab) was less than impressed. She was of the opinion that "At best, the boldness with which characters stick up for themselves against racism, sexism and sexual violence could be seen as a sort of wish fulfilment, but mostly it feels patronising both to those people who struggled then against a society that was not built for them and those who continue to be ignored, undermined, and discriminated against today. If it was that easy, why is it still happening?"
Related NOW TV Features:
Video of the Week
Lucy is a multi-award nominated writer and blogger with six years' experience writing about entertainment, parenting and family life. Lucy has contributed content to PopSugar and moms.com. In the last three years, she has transformed her passion for streaming countless hours of television into specialising in entertainment writing. There is now nothing she loves more than watching the best shows on television and telling you why you should watch them.