Where is Funny Woman filmed? Locations featured in the Gemma Arterton comedy drama
The locations aren't where you might think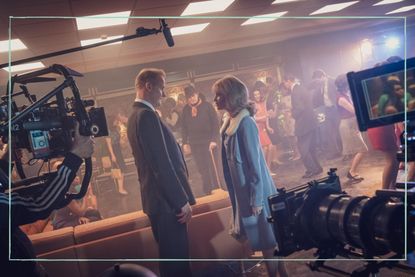 (Image credit: Ben Blackall/Potboiler Productions/Future)
Locations, locations, locations - where can you find the ones featured in Gemma Arterton's latest show, Funny Woman?
Gemma Arterton is back on our screens in the highly anticipated comedy drama, Funny Woman. The six-part series is based on (opens in new tab) the Nick Hornby novel, Funny Girl and offers nostalgia, important messages about a woman's place in television, with a great cast to bring everything to life. Along with the famous faces - Arterton stars alongside acting veterans Rupert Everett, David Threlfall, and Morwenna Banks - there are some recognisable locations featured in the show. To prevent head scratching and searching for where you've seen the places before, we've done all the hard work for you. Read on to find out exactly where Funny Woman was filmed - you might be surprised at where film crews were spotted.
We have an overview of A Man Called Otto filming locations (opens in new tab) - the Tom Hanks film is also based on a book. The Catch on Channel 5 is based on (opens in new tab) a book of the same name, and viewers are making comparisons between the novel and the TV adaptation. The Lockwood & Co ending (opens in new tab) on Netflix has fans wondering if the novels from which the series takes inspiration, offer any clues to what those final moments could mean.
Where is Funny Woman filmed?
Funny Woman filmed in Liverpool and Blackpool, with some filming taking place in Southport and Lytham St Annes.
In Liverpool, the Liverpool Echo (opens in new tab) reported seeing film crews on Hawke Street in the city centre, behind the Adelphi Hotel. A Sky sign at the hotel stated that Funny Woman was being filmed at the "Crowd Base Kensington Suite." Also in the series, Gemma Arterton's character, Barbara Parker, goes to work at Derry & Tom's. This was a real life department store found on London's Kensington High Street, until it closed in the early 70s. In the show, Martin's Bank in Liverpool stood in for Derry & Tom's. Liverpool largely stood in for London in the show.
In Southport, film crews were seen at Broughs Butchers in Birkdale, and the exterior of neighbouring Rowlands Pharmacy was transformed into a hairdressers. Rowlands regional manager Emma Scanlan Spoke to the Liverpool Echo about filming, saying "It was nice to have some attention in the local area, the local community. There were all the cameras, all the tents up, all the people eating. They had the food court."
She continued "You heard people shouting 'lights, camera, action', you know, 'rehearsal, everyone quiet'. I watched outside being nosey for a bit." On Twitter, One passerby saw crews outside a building with the sign "Liver Launderette," in Childwall. They captioned the post "'Funny Girl' filming in Childwall, Liverpool tonight. Stars are Gemma Arterton and Rupert Everett."
"Funny Girl" filming in Childwall, Liverpool tonight. Stars are Gemma Arterton and Rupert Everett#funnygirlfilming #liverpoolfilmset #gemmaarterton #ruperteverett #moviesets #skyoriginal pic.twitter.com/hSRNaGsTM0October 25, 2021
See more
Filming also took place at City Vaults Liverpool. City Vaults is a Cocktail Lounge and speakeasy, situated between Castle Street and Victoria Street in the city.
City Vaults replied to a set of pictures shared by the Liverpool Locations Twitter account, depicting filming taking place at various locations around the city. In response to the photos, they said "Thank you for filming at @VaultsCity and we look forward to watching the amazing show."
💫 #FunnyWoman out this Thursday 9th Feb 🎉 on #SkyMax 💫 #Liverpool cheated as London & Blackpool in the 60'sA huge amount of #scouting and prep went into this one! Photo credit @DaveThePapLpool @ActivateDgtl #filmlocation #locationscout #film #tv pic.twitter.com/HmzKI8OB1DFebruary 6, 2023
See more
In Lytham St Annes, the Blackpool Gazette (opens in new tab) reported seeing Gemma Arterton on the beach ,and the pier. They said "The former Bond girl, 35, has been shooting scenes in St Anne's, close to the pier and on the beach and was almost unrecognisable in a bleach blonde wig and retro-inspired costume."
Where is Funny Woman set?
Despite predominantly filming in Liverpool and Merseyside, Funny Woman is set in Blackpool and London in the 1960s.
Protagonist Barbara's story begins in Blackpool, when she wins the Miss Blackpool Belle title. Realising she'd rather forge a career on television in comedy, she immediately hands the title back - staying put would result in a year of attending events in Blackpool as the competition winner. With that, Barbara reinvents herself as Sophie Straw, and heads to the bright lights of London.
The official synopsis of the series reads: "It's the height of the swinging 60s and Barbara Parker has just been crowned Miss Blackpool – but there's got to be more to life than being a beauty queen in a seaside town, right? She wants to be… someone. The bright lights of London are calling, and our determined hero sets off to find out who that someone is.
The London she encounters is not as quite as swinging as the one she'd read about and seen on TV. However, after a series of setbacks Barbara finds herself in unfamiliar territory - an audition for a TV comedy show. Barbara's uncompromising northern wit proves to be the X factor that the show has been missing. She gets the part and becomes part of a ground-breaking new sitcom which will have an impact on British comedy for decades to come."
Is Funny Woman based on a true story?
Funny Woman isn't based on a particular true story, but on the rise of women in light comedy in the 50s and 60s. Author Nick Hornby felt the US had plenty of females in comedy roles, but was lacking in English comedy during the same era - he imagined the character of Barbara to fill the gap.
The story is in part thought to be in spired by Lucille Ball, one of the defining light comedy actresses Nick felt the UK never saw. Ball is also the heroine of the fictional Barbara/Sophie is the series. Hornby spoke to Radio Times about the lack of female comedy role models in the UK, saying "We didn't have that until Pamela Stephenson and French and Saunders came along. Beautiful women don't often get to play comedians, and even less so in the Sixties, so Sophie is sort of throwing over her beauty in order to mug up and allow herself to be funny.
Hornby was also inspired by a comment made by actress Rosamund Pike, who starred in his 2009 adaptation of An Education. Pike said "No one ever lets me be funny," returning his thoughts to dated notions that women exist on screen as supporting characters to men - never to be the main funny characters. The aim of the fictional world created in Funny Woman is in part to address and challenge such notions.
Related NOW TV Features:
Video of the Week
Lucy is a multi-award nominated writer and blogger with six years' experience writing about entertainment, parenting and family life. Lucy has contributed content to PopSugar and moms.com. In the last three years, she has transformed her passion for streaming countless hours of television into specialising in entertainment writing. There is now nothing she loves more than watching the best shows on television and telling you why you should watch them.