Has Bre Tiesi left Selling Sunset?
Has Bre Tiesi left Selling Sunset? Everything we know so far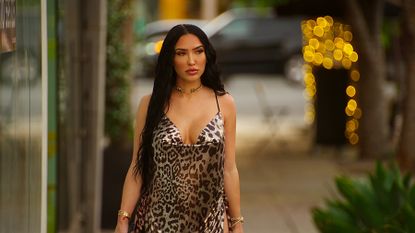 (Image credit: Netflix)
The dramatic season finale has fans wondering has Bre Tiesi left Selling Sunset?
Joining season six of Selling Sunset with Nicole Young, it's fair to say model-turned-realtor Bre Tiesi has had her ups and downs on the show after clashing with cast member Chelsea Lazkani after she admitted to finding Bre's relationship with Mariah Carey's ex-husband Nick Cannon – who is a father to 12 children – "rather off-putting".
Bre's good friend from the show was also absent for most of the latest season, so if you're curious as to why did Heather Rae El Moussa leave Selling Sunset, we have the answers.
Let's see whether Bre may follow suit.
Has Bre Tiesi left Selling Sunset?
Bre has not officially confirmed that she's leaving Selling Sunset, but fans are speculating an announcement of her departure before the next season drops.
In light of the Oppenheim twins' plans to expand their luxury real estate brokerage, the 32-year-old made it clear that she too was committed to building her empire, and questioned Jason Oppenheim on the 80/20 commission split each realtor receives at the group.
Bre said she'd "had enough" and "I don't want to continue to make money for a brokerage where I could make way more money somewhere else", so it's no surprise that viewers were left wondering whether this season of Selling Sunset would be her last.
Does Bre still work at The Oppenheim Group?
Although fiery feuds came to a head between cast members Bre and Chelsea in the season finale, Bre is still listed as a realtor associate on The Oppenheim Group website.
On a work trip to Cabo, it seemed as though Bre and Chelsea were able to put their differences aside, but things escalated between the two when newbie Cassandra Dawn appeared on the show at a listing.
Cassandra, a real estate agent from Los Angeles, claimed to know the former model well, and quickly befriended Chelsea, causing more friction between her and Bre.
Is Cassandra joining Selling Sunset?
Cassandra does not work at The Oppenheim Group, but during the Cabo episode, the 33-year-old made it clear that she wants to move into luxury real estate.
In the season finale, Cassandra explained how she would love to co-list on an impressive $29 million property with Jason, who said he would consider the offer.
If Bre's dissatisfaction with the commission split at The O Group continues, Cassandra may be the perfect candidate to take her place on Selling Sunset.
Is Bre from Selling Sunset still with Nick Cannon?
Bre is currently not in a romantic relationship with Nick Cannon, and she revealed that the two have had an on-and-off relationship over 10 years on the show.
According to US Weekly, Nick and Bre were friends for years before she announced her pregnancy with the Wild 'N Out star in January 2022.
In July of the same year, Bre gave birth to their son Legendary, and since then, Nick and Bre have shared photos on Instagram.
Most recently, Bre posted a funny video of the pair and Nick captioned the post: "The way women want you to act when they post a new picture".
In an exclusive interview with DailyMail.com, the mother-of-one said: "I'm definitely taking a break from The O Group. I think that I bring a lot of value, and I just had a baby, and there are a lot of things happening there that I don't really care to deal with, nor should I need to deal with.
"So, I think that at this point, I'm just reevaluating, and I'm going to take a step back and see how I feel after I have a little time."

The show has seen many cast exits – find out why did Davina leave Selling Sunset and why did Brett Oppenheim leave the Selling Sunset brokerage?
Parenting advice, hot topics, best buys and family finance tips delivered straight to your inbox.
Daniella is a qualified journalist specialising in fitness, nutrition and women's health. She has written for a number of consumer titles including Health & Wellbeing, Stylist, Women's Health UK, and Fit & Well.
With four years' experience in the wellness space, Daniella has tried and tested the best fitness kit on the market worth buying and has a keen eye for up and coming brands to look out for. She's also interviewed celebrities and co-produced a wellbeing podcast.