Who is Nicole Young from Selling Sunset? Everything we know so far
Everyone is intrigued about the latest cast member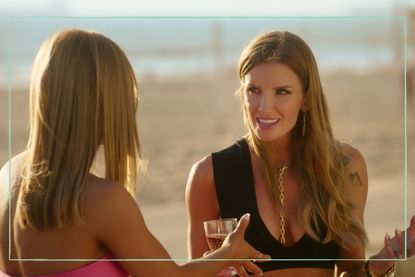 (Image credit: Netflix/Future)
The real estate brokers are back for season 6, and they have a new addition to the team. Here's what you need to know about Selling Sunset's Nicole Young.
Selling Sunset is back for its sixth instalment on Netflix, with popularity soaring as high as the house prices on offer on the show. While the lavish real estate to marvel over was the initial draw for many viewers, the complicated personal and love lives of the Oppenheim Group are now what keeps viewers coming back for more. different faces come and go from the Los Angeles offices throughout the seasons, and season 6 is no different. Joining the line up this time around are Bre Teisi and Nicole Young - but the latter is far from an Oppenheim newbie. Read on for everything you need to know about the woman often referred to as the brokerage OG.
Jason and Chrishell caused quite a stir when they confirmed their relationship on the show after keeping it a secret for a while - but what has happened now the pair have gone their separate ways? With an ongoing turbulent relationship, viewers often ask if Mary and Romain are still together - the pair recently shared some sad news to their followers. Leaving twin brother Jason at the brokerage helm, why did Brett Oppenheim leave Selling Sunset?
Who is Nicole Young from Selling Sunset?
Nicole is 37-years-old, and hails from Minneapolis, Minnesota. Nicole then found herself in Texas for college, attending Baylor University to study marketing and public relations.
Initially finding work as a marketing consultant, Nicole eventually found her way into real estate. According to her Oppenheim Group bio, Nicole moved to Los Angeles in 2007, and began working for the corporation in 2014. Due to having worked at the brokerage for the best part of a decade, Nicole is considered to an OG of the business, choosing to stay behind the scenes until now.
Eagle-eyed fans will have noticed that Nicole has appeared previously on Selling Sunset, where she officiated at Mary and Romain's wedding. Definitely a real estate veteran, Deadline reports her to be the longest-standing and highest earning realtor at the brokerage, accruing $100M in sales.
Speaking to People, Nicole discussed her feelings on finally appearing as a cast member in the show - specifically the amount of drama that will surround her. She said "I fully realize that's a large and unavoidable aspect of the show, but I have pretty thick skin. I'm not easily offended and I have no qualms about voicing my opinion, so I'm not too worried. It's going to be a fun, wild ride and I'm here for all of it!!!"
Turning to friend Mary for advice prior to filming, Mary's advice for the series newcomer was "Just be yourself. Don't try to be anything that you think people want you to be or say what they want you to say."
Who is Nicole's husband on Selling Sunset?
Nicole married husband Brandon, on April 17, 2017. He doesn't appear often on Nicole's social media, but she did share a celebratory post featuring him, on their sixth wedding anniversary.
Brandon Young's Instagram account is set to private, implying he wants to stay out of the limelight for now. Honoring her husband on their anniversary, Nicole wrote "5 years!! Happy anniversary my love! Time flies when you marry your best friend. 4.22.17 was the best day of my life, not because our epic wedding was the best party we've ever thrown, but because it was the day I became your wife and the day we became a family.
I am so proud to call you my husband and so grateful to have you by my side through thick and thin. The past 7 months have certainly tested our marriage through a horrifically painful tragedy, but we survived stronger and more bonded than ever. I would have crumbled without you. I love you even more than the day I married you…best decision of my life️. Now let's celebrate!!"
Does Nicole from Selling Sunset have children?
Nicole doesn't have children, currently sharing two dogs with her husband, rather than kids.
In 2021, Nicole's Brussels Griffon dog Frankie, went missing when being cared for by a dog sitter - as yet, the pup has sadly never been found. Speaking of Frankie as her daughter, Nicole shared multiple social media posts and began a Facebook group dedicated to the dog, in an attempt to locate her.
One devastating post read "PLEASE HELP US FIND FRANKIE. Our daughter, our everything. Our house of 3 is not complete without our 4th. We need her back. Our lives will never be the same without her and not knowing what happened to her, where she is or what she's going through is eating us alive. And please learn from our experience…it doesn't matter how incredibly anal and protective you are with your babies if you trust the wrong person to watch them while you're gone."
Later sharing a picture of herself and Brandon with two dogs to her Instagram page, some believed Frankie had been found. However, one fan asked if the pictured dog was the missing pooch, but sadly Nicole confirmed Frankie was still missing, adding "It's gut wrenching, heartbreaking and infuriating not knowing where Frankie is or what happened to her. But we haven't and won't give up until she's home."
An apparent friend of the couple commented "Love the dogs, but how about some kids?" Nicole responded that this was "on the to-do list", while Brandon appeared disgruntled at the intrusive question. He replied with an eye-rolling emoji, and "dude, ease up on the pressure."
Will Nicole be in season 7 of Selling Sunset?
Yes, when she agreed to take part in the show, Nicole also signed up to appear in season 7 of Selling Sunset.
She was originally due to be on the show from the beginning, but dropped out due to cold feet just before filming began. "Originally, I was a part of the main cast," Nicole revealed during a conversation with People. Opening up on her reasons for pulling out, she added "Honestly, at the time, I just got cold feet right before they were going to start filming. I just wasn't ready to expose my entire life, and even more so, my clients and business - which I'm very protective of - to the entire world."
On changing her mind and taking the plunge to appear on camera for season 6, Nicole added "I've grown personally and professionally a lot. At the end of the day, it's an incredible opportunity and a rise-to-the-occasion kind of moment."
Related Netflix Features:
Video of the Week
Lucy is a multi-award nominated writer and blogger with six years' experience writing about entertainment, parenting and family life. Lucy has contributed content to PopSugar and moms.com. In the last three years, she has transformed her passion for streaming countless hours of television into specialising in entertainment writing. There is now nothing she loves more than watching the best shows on television and telling you why you should watch them.