Is Consent on Channel 4 a true story? Cast and plot of the factual drama explained
How does it feel for young people in an environment where lines of consent are minimised?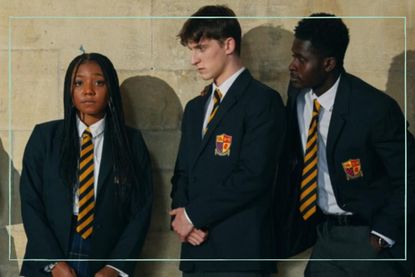 (Image credit: Channel 4/Future)
A one-off Channel 4 drama explores how modern sexual expectations of teens can become distorted with instant access to online sexual content - we look at the story behind Consent.
Bafta-winner Aysha Rafaele, the mind behind The Left Behind and Murdered by my Father, brings a powerful 60 minute film to Channel 4. First time writer Emma Dennis Edwards has produced the script for Consent, while up and coming filmmaker Nadira Amrani is at the directorial helm. Set in a fictional Private school, Consent is set to be both bold and provocative, as it dives into life for young people in an environment where sexual expectations can be distorted by readily available internet versions of sexual encounters, and where lines of consent can become blurred. As the cast of young talented actors bring the script to life on Channel 4 at 10pm on February 7, read on to find out who they are, and the story behind the film.
Elsewhere on Channel 4, the second series of Living Wild: How To Change Your Life (opens in new tab) is nearly here - Sophie Morgan travels the country meeting people changing their lives to do what they love. SAS: Who Dares Wins - Jungle Hell filmed (opens in new tab) in a different location this year. The reality show is well underway, and we delve into why there was a location change. Simon Bird's latest comedy Everyone Else Burns filmed (opens in new tab) in a Northern city - we reveal the locations of the series that follows puritanical Christians and their struggle to remain devout.
Is Consent on Channel 4 a true story?
Consent is not based on one particular true story, but on hundreds of testimonies of young people from both state and private school backgrounds, and their experience of consent. It is therefore a fact-based drama.
Executive producer Aysha Rafaele said in a statement "School should be a safe, nurturing space – the statistics however suggest that too often it can be a very toxic environment. We hope our bold, authentic depiction of the teenage experience will resonate with many young people and will start a conversation about what kind of education a generation entirely permeated by a relentless online reality might actually need."
Emma Dennis-Edwards, writer of Consent added "Whilst researching Consent I was shocked but not entirely surprised about the culture of toxic masculinity and misogyny explored within the drama. Whilst social media has proved to be an amazing tool for young people to express themselves socially and politically it must also take some of the responsibility for the misogyny and sexual harassment that has become almost commonplace in our schools."
She continue "I'm incredibly proud to have authored this single drama for Channel 4, a broadcaster well known for bold, boundary breaking, hard hitting Television, and telling this story and acting in it alongside some of Britain's finest upcoming talent has been a pleasure and privilege."
Consent on Channel 4: Plot
For years a fictional private school has been single sex - for the first time ever, female students are permitted to attend its Sixth Form.
Archie is said to be the embodiment of the school – rich, privileged and an academic high achiever. The rules of Archie's social media and online existence are set by a 'lad' culture he doesn't really feel he belongs to. Online sex videos dominate boys at the school talk about and describe imagined, exaggerated encounters with girls – yet most of them have not yet experienced sex in real life.
Natalie wins herself a scholarship to attend the school. With a background the total opposite to Archie, she is working class, but clever. Despite their differences, the pair instantly bond - Natalie is the outsider that Archie feels himself in part to be. One night at a party changes everything, when boundaries are crossed and trust is broken - nothing will ever be the same between Archie and Natalie again. But how will the school deal with the accusation Natalie makes against 'one of their own'? The film will explore these very difficult themes.
Consent on Channel 4: Cast
Tom Victor plays Archie, an over achiever from a privileged background. Consent is the up-and-coming actor's first lead role on screen. Lashay Anderson portrays Natalie, the working class student joining the elite school on a scholarship, and as one of the first female students permitted to enter.
Lashay Anderson has previously appeared in Rebel Cheer Squad, and will be seen in upcoming crime drama Black Cake, which is currently in post-production. The two lead actors are joined by Rhea Norwood (Heartstopper), Ty Tennant (House of the Dragon), Denzel Baidoo (Screw), and Alex Heath (The Serpent Queen).
Sharing some first-look images to Instagram, Lashay Anderson said "Channel 4, Tuesday 7th February 10pm. *Contains themes of sexual violence and language viewers may find triggering." Tom Victor echoed her statement about the triggering aspect of the film, while supporters in the comments congratulated the pair, wishing the newcomers luck.
What is being said about Consent?
Rita Daniels, Commissioning Editor of Consent said "Consent is drama that speaks to young people about one of the most urgent issues in their lives, and is told with an energy and style that will cut through and trigger debate across age groups. Emma's fresh and original writing brings to life an environment where themes of misogyny and sexual harassment, class and race, come together to form a toxic culture that will resonant with many."
The Times said "while this depressing drama by Emma Dennis-Edwards is set in an elite private school, its depiction of a misogynist, porn addled culture that normalises sexual assault is based on testimony from school children across the UK. Lashay Anderson and Tom Victor are excellent as the young leads.
Related Channel 4 Features:
Video of the Week
Lucy is a multi-award nominated writer and blogger with six years' experience writing about entertainment, parenting and family life. Lucy has contributed content to PopSugar and moms.com. In the last three years, she has transformed her passion for streaming countless hours of television into specialising in entertainment writing. There is now nothing she loves more than watching the best shows on television and telling you why you should watch them.