How many kids does Kylie Jenner have?
How many kids does Kylie Jenner have? Everything we know about the millionaire's family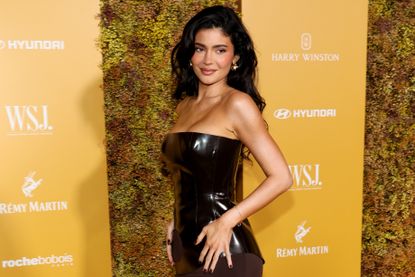 (Image credit: Dia Dipasupil/Getty Images)
It seems not a day goes by that Kylie Jenner isn't making headlines, and now people want to know how many kids does Kylie Jenner have?
As a celebrity mum, Kylie will be on the hunt for the Top Christmas toys this Thanksgiving, which is just days away, but no doubt she will be among the first to share her family's celebrations on her social media.
From being praised for her parenting skills to changing her baby son's name, there's a lot to keep up with.
In September 2021, Kylie confirmed she was pregnant with her second child with Travis Scott, but are they still a family of four? Let's take a look.
How many kids does Kylie Jenner have?
Kylie Jenner has two kids with American rapper Travis Scott. Their first-born daughter, Stormi, is currently aged five and will celebrate her birthday in February 2024. Her second child, son Aire, is 18 months old and was born a day after his sister's fourth birthday on 2 February 2022.
It's no denying that their children have unique baby names, and when choosing what to call her secondborn, Kylie said she "wanted a name for him that had meaning".
Originally, she called him Wolf but decided that it didn't feel right, leaving fans to wonder what she would choose next. Just weeks before his first birthday, Kylie announced the Hebrew name Aire is more suited to him.
On an episode of The Kardashians, the 26-year-old had some advice for the audience: "Find your name before your hormones start raging and you have the child.
"It was the hormones that took me out. It was like, I'm too emotional. He's so special to me. There's not a name good enough for him. I didn't realise the postpartum would hit me that hard. I never called him Wolf, ever."
According to the pregnancy and parenting site RollerCoaster, Aire is a unisex name that translates to lion of God.
Kylie and Travis broke up in 2013, and the reality TV star is now with actor Timothée Chalamet.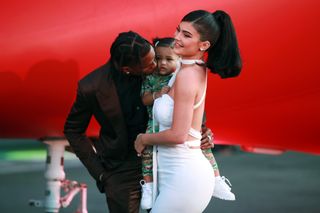 How many biological siblings does Kylie Jenner have?
Kylie Jenner has one biological sibling, Kendall Jenner. Their parents are Kris Jenner and Caitlyn Jenner, formerly known as Bruce. The two married in 1991 and shot to fame in 2007 when Keeping Up With The Kardashians premiered on E! – a reality TV show that delved into the lives of the Kardashian/Jenner family.
Kylie is also step-sister to Kim Kardashian, Khloé Kardashian, Kourtney Kardashian-Barker, and Rob Kardashian from Kris' previous marriage to Robert Kardashian.
What is Kylie Jenner's net worth?
According to Forbes, Kylie Jenner's net worth is estimated at $680 million and the media outlet declared her a billionaire in March 2019 when she was 21 years old, making her the youngest self-made billionaire ever.
Factoring in the pandemic and her recent decision to sell 51 percent of her company (Kylie Cosmetics) to beauty giant Coty, the mother-of-two has since been dethroned from her billionaire status, but she's still estimated at a hefty $900 million.
In other news about Kylie's famous family, Kourtney Kardashian reveals the gender of her unborn baby in summer 2023, and find out the meaningful birthday present Kim Kardashian gives her kids every year.
Parenting advice, hot topics, best buys and family finance tips delivered straight to your inbox.
Daniella is a qualified journalist specialising in fitness, nutrition and women's health. She has written for a number of consumer titles including Health & Wellbeing, Stylist, Women's Health UK, and Fit & Well.
With four years' experience in the wellness space, Daniella has tried and tested the best fitness kit on the market worth buying and has a keen eye for up and coming brands to look out for. She's also interviewed celebrities and co-produced a wellbeing podcast.