Is Daniel Radcliffe married and does he have kids?
Everything there is to know about the star's life at home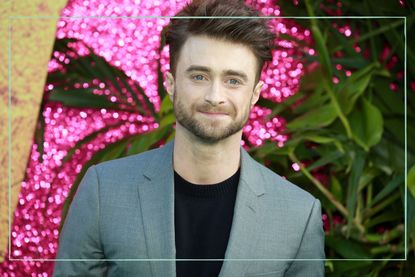 (Image credit: Alexi/Alamy)
Is Daniel Radcliffe married and does he have kids? The former child star is now grown up, leaving fans wondering about his marital status and life at home.
Harry Potter fans who have planned what to watch this month,will likely be tuning in to David Holmes: The Boy Who Lived. The documentary is produced by Daniel Radcliffe and focuses on former Harry Potter stunt double, David Holmes. When filming Harry Potter and the Deathly Hallows: Part 1 in 2009, David was left paralysed when a stunt went wrong. The show contains interviews with David's friends and family, covering his renewed take on life and ongoing friendship with Daniel.
Seeing the now adult Daniel Radcliffe has reminded viewers that their favourite Harry Potter stars are now fully fledged grown-ups. In the same way those who were Take That fans from the start have pondered whether the now middle aged Robbie Williams is still married, and those who've followed Jodie Foster's career from child star to multi-award winner have wondered if she is married with kids, the same is being asked about Daniel Radcliffe. Read on for everything we know about the actor's life away from the cameras.
Is Daniel Radcliffe married?
Daniel Radcliffe isn't married, but has been dating long-term girlfriend Erin Darke for over a decade after meeting her on the set of the 2013 film, Kill Your Darlings.
The couple began dating once filming for the movie was over, with Radcliffe telling Playboy it acts as a permanent capture of them flirting for the first time. He said "There's no acting going on - not from my end, anyway. There's a moment when she makes me laugh, and I'm laughing as me and not as my character. She was incredibly funny and smart. I knew I was in trouble."
Radcliffe went on to recount visiting Darke's house for Christmas one year at her parent's home in Michigan, where the actress is from. He recalled the phone ringing, and it was the Detroit Free Press calling about a something they believed to be taking place over the festive period. "They were calling about a rumour that we had gone there to get married on the shores of Lake Michigan," Radcliffe said.
He opened up about the hilarious way the publication had managed to get hold of Darke's family home telephone number. "What was great was they got his number because he's a subscriber. I suddenly had that moment of, oh, my weird life is now impacting your life. I felt really bad. Wonderfully, they found it funny," he explained.
Although Radcliffe has suggested he is happy with his relationship as it stands and has not alluded to marriage plans, he has previously opened up about the institution. According to Hello!, he said of marriage: "It seems like the most romantic thing you can do is stand up in front of all your friends and say that you love this person... At the same time, the amount of stress that goes with a wedding... I don't know."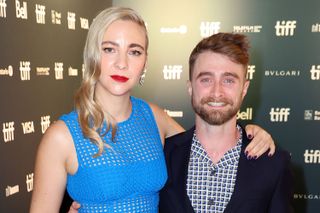 How old is Erin Darke?
Erin Darke is currently 39-years-old, and Daniel Radcliffe is 34. Darke has a well established acting career in her own right, having appeared in the Oscar-nominated Still Alice.
The actress has also had high profile roles in Good Girls Revolt, and The Marvellous Mrs. Maisel. Discussing the origins of her career, she told MTV "I graduated with my BFA in theatre, worked five jobs over the course of one summer to save up money to move to New York, and spent a lot of years doing off-off-Broadway theatre."
Darke elaborated "Theatre schools teach you how to act, but they don't teach you anything about the business, so I got to New York, had no idea what the hell I was doing, and just did anything I could for a really long time."
Speaking to People about Radcliffe's support of her career, Darke said "One of the first things we bonded over was how much we really love what we do and there's something that's really beautiful and really lovely about being with someone who just innately understands that about you."
She added "He helps me make self-tapes sometimes. He's a great reader, by the way. We're both incredibly supportive of the other person's career."
Also a firm feminist, Darke is known for taking on very feminist projects within her acting work. Speaking on the subject and how it can be wrongly hijacked for various causes, she once said "It's about people, men and women, coming together in a community to fight for the advancement of equal opportunity for both sexes. We need to take back the word 'feminism.'"
Does Daniel Radcliffe have kids?
Daniel Radcliffe and Erin Darke have one son together. The couple kept the pregnancy very low-key, not revealing a huge amount of detail about their child.
The proud parents were already fiercely protective of their private lives, and have unsurprisingly been even more so over their little one. The pair didn't reveal the gender of the baby until three months after his birth, and have still not divulged the name of the tot.
Radcliffe stepped away from work to spend time with his first born, and explained how lucky he felt to have this privilege. Speaking to ET, he said of the experience, "It's great. It's crazy and intense, but he's wonderful and Erin is amazing - it's a real privilege also to have this time with him."
He added, "I was always going to take some time off, which not everyone is able to do, and so I'm able to kind of just be here with him a lot, which is lovely."
Explaining that he'd likely be staying on the back step back from work until his son is a little older, he said "I will definitely be I think a bit more selective - not more selective, I've always been selective, but I think I'll probably work a little bit less for the next few years."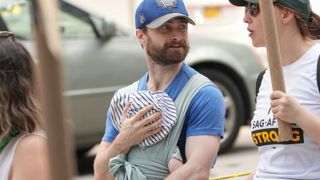 When was Daniel Radcliffe's baby born?
Although unconfirmed, it is believed Radcliffe's baby arrived sometime in April 2023.
Snaps of the baby boy are rare, but Radcliffe and Darke were spotted marching the picket line in July in support of the SAG-AFTRA strike, with the little one with them. Radcliffe carried his son in a baby carrier, with Darke wearing a SAG-AFTRA Strong t-shirt and carrying a banner supporting the action.
Speaking to Today, Radcliffe gushed over how much he'd enjoyed the first few months of fatherhood, after being told they might be very intense. "I think a lot of people said, like, 'Just get through the first six months, then after that it gets better.'
"But I've kind of really enjoyed the first six months. I don't know what I imagined, honestly. But it's great. He's incredible and I'm just, like, in awe."
He very sweetly concluded, "It's also the literal best thing that's ever happened, so it's great. I feel very lucky to be able to have this time with him. It's awesome."
For more on celebrity relationships, we've looked into whether I'm A Celebrity contestants Tony Bellew and Grace Dent are married with kids. With a new series of The Crown just around the corner, viewers have been asking whether Princess Diana actress Elizabeth Debicki is married with kids - we've delved into this one for you also.