Is Robbie Williams still married and has he split up with his wife?
Is Robbie Williams still married and has he split up with his wife? Why people are questioning the Take That star's relationship
(Image credit: Photo by Dave Benett/WireImage)
The English singer-songwriter is making headlines with his new tell-all documentary, but fans are wondering, is Robbie Williams still married and has he split up with his wife?
If you love Robbie Williams, you will have no doubt been googling Take That tour dates for 2024 and although he claimed his wife Ayda "saved my life", people have been questioning the couples' past ahead of his four-part Netflix series. Viewers tuning in are also wondering where does Robbie Williams live and where is Guy Chambers now - his former producer - and we reveal all.
Here's all the up-to-date information we have on Robbie's marriage.
Is Robbie Williams still married?
Robbie Williams is still married to his wife Ayda Field Williams, with whom he shares four children – Theodora (11), Charlton (nine), Colette (five) and Beau (three).
The couple have been married for 13 years, but their relationship has been under scrutiny this week as new details have emerged from Robbie's documentary that premieres tomorrow (8 November).
Aptly named Robbie Williams, Ayda posted the trailer on her Instagram and admitted that even she hadn't watched it yet.
The mother-of-four captioned the post: What a journey it has been! I'm so proud of you, @robbiewilliams.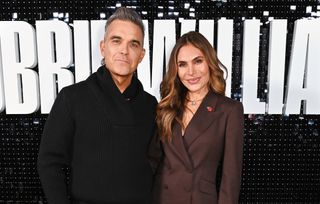 Throughout the emotional documentary, Robbie looks back on his younger self, and reflects on his long and incredible career as a global superstar. The Take That sensation also opens up about his problems with addiction, alcoholism and poor mental health, which took a toll on his relationship with Ayda.
Speaking about a particular phone call on the Netflix documentary, Robbie revealed that he had to break it off with Ayda over the phone after he discovered his team was sending him to rehab.
Reported by The Mirror, Ayda recalled more details about the upsetting phone call and said: "I remember it was 2am and I called him and I was like, 'I am just getting on the highway' and he's like, 'Are you driving? Call me when you get home.' "And he is like, 'I can't be in a relationship, I have to get better and I can't be with you. I have to break up with you."
Ayda continued: "And it was like, I understood it because I saw that he was unwell and I remember thinking, 'I just want you to get better.' He was my soulmate and then he was gone."
Despite having to deal with the tragic consequences of Robbie's addiction, the couple seem stronger than ever, according to Ayda's Instagram. She's always posting uplifting and cute videos together, giving fans a behind-the-scenes look into what their marriage is really like.
Did Robbie Williams date Geri Halliwell?
Robbie dated spice girl Geri Halliwell in the early 2000s. Arguably at the peak of their pop careers, Robbie said that he was "happy" in his relationship with the Wannabe hitmaker, and called it "magical" in his documentary.
But their relationship ended as the couple struggled to deal with the constant intrusion of the British press.
Robbie reportedly was led to believe that Geri was tipping off the paparazzi which, possibly, was the reason why their relationship was damaged beyond repair.
According to the Metro, Robbie shared in the documentary: "Wherever we went, the paparazzi were there before we got there. These very private personal moments became public property, and we were just dumbfounded how this could be happening."
Did Robbie Williams have a fling with Nicole Kidman?
Robbie dated Nicole Kidman after duetting with her on the famous track Somethin' Stupid, as well as Kylie Minogue with whom he made the song Kids.
He later revealed that both relationships left him "disappointed". Speaking to Paris Match about having the Australian A-listers in his life, he said: "Yes, well, we are repeatedly told that we must be in a monogamous relationship and that love will heal us and fill in the gaps
"And that's what I thought celebrity would do for me. Except that, in both cases [Kylie and Nicole], the reality was disappointing.
"I'm not saying that these women were disappointing, but the relationships you had at 20 are not public, mine are forever."
The four-part documentary, Robbie Williams, will be available to stream on Netflix from tomorrow.
In other Netflix news, discover what happened to Sage Sallone in Sylvester Stallone's new documentary, and if you're interested in sporting stars, you might be wondering if NYAD is a true story?
Parenting advice, hot topics, best buys and family finance tips delivered straight to your inbox.
Daniella is a qualified journalist specialising in fitness, nutrition and women's health. She has written for a number of consumer titles including Health & Wellbeing, Stylist, Women's Health UK, and Fit & Well.
With four years' experience in the wellness space, Daniella has tried and tested the best fitness kit on the market worth buying and has a keen eye for up and coming brands to look out for. She's also interviewed celebrities and co-produced a wellbeing podcast.