Love Island's Molly-Mae shares her daughter Bambi's 'really fussy' habit that she 'needs her to get out of'
"Today was ridiculous, we can't do that again"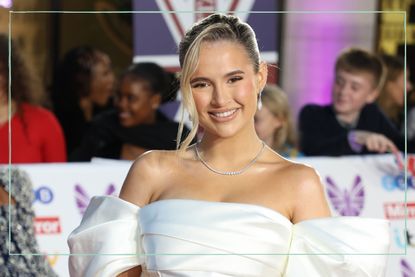 (Image credit: Mike Marsland/WireImage)
Former Love Islander Molly-Mae Hague has taken to Youtube to share how she and partner Tommy Fury are struggling to get their daughter Bambi to bottle feed.
Molly-Mae welcomed her first child, daughter Bambi, with partner Tommy Fury back in January this year and has shared her journey into motherhood with her millions of followers on both Instagram and Youtube. The new mum shared the heartwarming moment she first brought her baby home from the private maternity hospital she gave birth in but there have been cons to the star sharing so much of her life online. From receiving hateful comments about her £6k see-through cot, catching flack for her unique baby name that's divided fans, Bambi, which has Italian roots, and even being mum-shamed over Bambi's breastfeeding routine, the reality TV star has been criticised heavily.
But she remains unfazed and has continued to share her life with the masses. There have been ups and downs, as is expected with a newborn, but Bambi seems to have developed a 'really fussy' habit that causing the couple a lot of trouble.
According to Molly-Mae, her daughter refuses to take a bottle from dad and will only feed if it's her mum that's offering the milk.
Talking about the fussy habit, the 23-year-old shared on her Youtube channel earlier this week, "We really need her to get out of the habit of only liking to have her bottles with me - because that's not going to work."
"Bambi has got into the habit of not liking to take bottles from Tommy, she just gets really really fussy with him. We've been trying to figure it out, it literally could be anything.
"It could be the fact maybe I breastfed her and I do a lot of the bottles with her, so maybe she's kind of used to me doing it and kind of associates me with feeding time, obviously because we did start as a breastfeeding journey. This is not me being stereotypical or sexist in any way but when you're that baby's mum, you do have a bit of a different...how do I explain it, it's a mother's touch sometimes and she associates me with feeding time because we breastfed."
The solution for the pair was to simply keep trying to get her to take the bottle from her dad. Molly-Mae shared, "Tommy and I have said that from now he's going to do her bottles, a lot more bottles, because we really need her to get out of the habit of only liking to have her bottles with me, because that's not going to work. Today was ridiculous, we can't do that again."
Despite the struggles, Molly-Mae has used her social media presence to keep new mums motivated and encourage positive and candid conversations around motherhood. Just last week she shared a sweet picture of her and Bambi alongside the caption, "Being a mum consists of great days, bad days, normal days, overwhelming days, perfect days, sad days… a lot of days of just making it to the end of the day! But through it all, a crazy amount of love.

"To my new mums out there who are reading this… when people say 'it gets easier' it really isn't just a passing comment. You've got this."
Royal News and Entertainment writer
Charlie Elizabeth Culverhouse is royal news and entertainment writer for Goodto.com. She began her freelance journalism career after graduating from Nottingham Trent University with an MA in Magazine Journalism, receiving an NCTJ diploma, and earning a First Class BA (Hons) in Journalism at the British and Irish Modern Music Institute. She has also worked with BBC Good Food and The Independent.