Race Across The World series 3: Meet the contestants, and what happened to previous favourite participants
A reality competition show like no other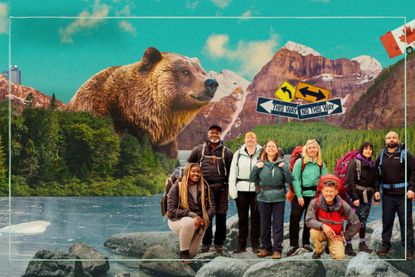 (Image credit: Mackenzie Walker/BBC/Studio Walker/Future)
The surprise hit show is back for series 3, and we have all the inside information you need about present and previous contestants.
When Race Across the World first aired in 2019, nobody thought it would become as popular as it did. The reality competition sees teams race across an area of the world in a bid to reach a destination first, with some major hold backs - they can use any means of transport apart from air travel, and mobiles, internet and credit cards are banned. The first two series aired on BBC Two, but soaring popularity sees series 3, airing on March 22, move to BBC One. This time around, contestants will be travelling across Canada, with the first team to arrive at a set destination the recipients of a £20,000 prize. Read on to find out who will be competing this year, and what happened to some previous fan favourite contestants.
Also on BBC One, Wild Isles with David Attenborough is underway, investigating how our woodland, grassland, freshwater and ocean habitats support wildlife of all kinds. For more animal television content, 24/7 Pet Hospital is bound to bring lots of emotion, as we look at where the series filmed. If food reality shows are more for you, the Great British Menu 2023 is showing, and we have everything you need to know about it.
Race Across The World series 3: Contestants
Here are the contestants who are set to begin their journey at Stanley Park, Vancouver and travel over 16,000km across six time zones to arrive at St John's, Newfoundland.
Ladi and Monique
Monique and Ladi are a father/daughter duo, and have been brushing up on their French for the trip. Monique is 25, and her father 52-years-old, and the pair admit they will be hugely out of their comfort zone. Event manager Monique said "I don't actually travel, I've never owned a backpack, I don't do the whole camping thing, that's not me but I want to be able to experience countries in a way I never would unless it was a show like this."
Ladi added "I know we're going to have an absolute ball. She is my Princess and I will protect her through hell and high water. We are close as father and daughter and I think this will cement our relationship even further. I'm old school so I'm used to cash. My life is busy and 24/7, I need a break away from everything where no one can contact me!"
Tricia and Cathie
Best friends Tricia and Cathie are aged 48 and 49 respectively. Cathie usually works as a company director, while Tricia is a bank clerk. The pair met at school, and have been best friends from the age of 13. Tricia suffers from sight loss, saying "For me it's to prove to myself that I can still do it. I'm not 'sight loss Tricia', I'm 'Tricia with sight loss.' It's about getting some of my confidence back."
Cathie spoke of one special item she has taken on the trip, saying "I've got my St Christopher that my husband Gareth gave me. His mum gave it to him when he was quite young to protect him when he went backpacking around the world so I've got that and that's very special to me."
Marc and Michael
Brothers Marc and Michael will be supporting each other through the challenge. Michael is the younger brother at 34, and is a manager in children's services. Older brother Marc is 36, and the pair hope to build on their relationship throughout the process. Michael said "I really want to take part with Marc because we'll get the opportunity to build a better relationship."
Marc added "I think we've got a lot we need to sort out to be honest. There's a lot we don't know about each other! Limited budget, tiredness, hunger and no coffee, it will be hard. Lack of food and sleep are quite a big challenge for me and we've both agreed it's going to be tough."
Mobeen and Zainib
Zainib is 32, and works as a psychiatrist, while 31-year-old husband Mobeen is an orthopaedic surgeon. Mobeen said "Our strategy is making sure we work as a team and to appreciate each other's qualities because we both bring different things to the table. I've packed a lot of compression boxers because I may have a bit of a chafing problem if I'm expected to be somewhere hot and sweaty!"
Zainib prepared by watching series 1 and 2 of the show, adding "I've taken notes and I've also been on backpacking blogs and read through tips and tricks of how to survive out in the wilderness. We need that sense of adventure. We've slipped into this life of nine to five, coming home, and watching TV. We're in our early 30s but we are living like we're in our 80s!"
Claudia and Kevin
Claudia is 27-years-old and is competing with 53-year-old father Kevin - the pair hail from Southampton. They are entering into the competition with no plan, with Kevin saying "I'd love to say we've thought that far ahead. But I think we're literally just winging it, seeing what's right at the time and deciding between the two of us."
Claudia added "Dad and I bring out the best and the worst in each other. Our ideas of key things to pack are very different! He's already questioned my choices of shampoo and conditioner. He's just packed a bar of soap. He drives me crazy but we have a similar passion for adventure."
Are Jen and Rob from Race Across The World still together?
Jen and Rob from Race Across The World are still together, and now share one-year-old twin boys.
Jen often shares pictures of their adventures as a family to her Instagram page. When the couple took part in series 2, the no-fly rule was forced to be abandoned after civil unrest in Ecuador made travel through the country unsafe. Instead, teams were flown from Colombia to Peru to continue the challenge. Shuntelle and Michael withdrew from the competition after losing half of their money during the second leg, and Jo and Sam withdrew after running out of money in leg 7. Emon and Jamiul eventually beat Jen and Rob to the final checkpoint by seconds to become winners.
What happened to Darron and Alex from Race Across The World?
Alex Speck-Zolte is currently listed on LinkedIn as working as a sales advisor for EE. His father Darron appears to be travelling the world but has a home in Bradford.
Alex shares some details of his life on Instagram, while his father regularly updates his Instagram page with beautiful images of his world travels. Alex has recently visited Nashville and Latvia, while Darron has travelled extensively. The pair have yet to share any photos of themselves together, however.
The father/son duo were estranged when they decided to take part in series 1. Their challenge consisted of traveling from the Old Royal Naval College in Greenwich, to the Marina Bay Sands hotel in Singapore. Jinda and Bindu withdrew due to family illness in episode 1, being replaced by Elaine and Tony. Sue and Clare were eliminated in episode 2, with Elaine and Tony going on to win.
What are Dom and Lizzie doing now?
Dom Slater works as Associate Creative Director for Soar With Us, a business offering bespoke marketing packages to businesses. Lizzie Slater is a Sales Executive working within the Influencer marketing space.
The brother and sister pair finished third in their series. Speaking to Leeds Live after the experience, Dom said "The experience was fantastic. It has brought us together, we definitely know each other better. When we got to the finish line it was just a relief more than anything."
Lizzie added "Lizzie added: "We were exhausted and happy to have made it to the finish line. I'm so glad we did it even though it was hard." Although Lizzie shares her life adventures on Instagram, Dom prefers to keep a lower profile, with his account set to private.
Related BBC Features:
Video of the Week
Lucy is a multi-award nominated writer and blogger with six years' experience writing about entertainment, parenting and family life. Lucy has contributed content to PopSugar and moms.com. In the last three years, she has transformed her passion for streaming countless hours of television into specialising in entertainment writing. There is now nothing she loves more than watching the best shows on television and telling you why you should watch them.