Where is Kenneth Noye now? As 'The Gold: Inside Story' airs on BBC One viewers want to know the whereabouts of the notorious criminal
He isn't where you might think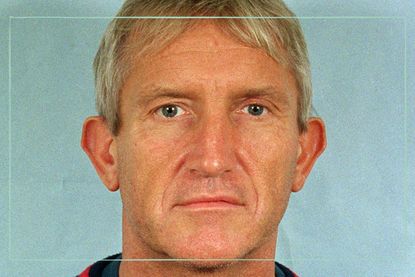 (Image credit: PA Images/Alamy/Future)
The BBC has dramatised the shocking events surrounding a famous robbery, and now there's a documentary out with more inside information about the Brinks-Mat theft.
The Gold has now finished airing, telling the true story of the 1983 Brink's-Mat robbery that saw £26 million worth of gold bullion, diamonds, and cash stolen from a warehouse near Heathrow Airport. When carried out, the crime was the biggest robbery in history at that time. As a follow up, the BBC are showing a documentary about events surrounding the robbery as a one-off companion to the series. The Gold: The Inside Story interviews detectives who worked on the case in its aftermath, exploring the pressure police were under to solve the case as the the gold was smelted and the cash laundered. Kenneth Noye was one of the criminals involved in the robbery, who has both faced and evaded justice throughout the course of his criminal career. As the documentary airs, we look at what Noye did, and where he is now.
Elsewhere at the BBC, the Better series 1 ending left fans divided - the crime drama had an intriguing plot that otherwise had viewers gripped. Another favourite crime drama also made a welcome return for a fourth season on the channel, and this time, The Bay filmed in some regular as well as new locations. For more crime-solving, a paranormal loving detective arrived to ITV for a third outing - Grace filmed also in some different locations, alongside the familiar.
Where is Kenneth Noye now?
Kenneth Noye was released from prison is 2019, and is now believed to be living in Sevenoaks, Kent.
Noye was born in Bexleyheath, Kent, with his father running the local post office and his mother managing a dog racing track. He began stealing from the age of 5, when he was caught taking money from a Woolworths till. While a pupil at Bexleyheath Boys' Secondary Modern School, Noye set up a protection racket - shortly after leaving school at 15, he was sent to borstal for a year for bike theft and other petty crimes. His first wife a few years after his release, was a barrister's legal secretary, Brenda Tremain.
The career criminal was to spend time in and out of prison over the course of his life, eventually being freed in 2019. In the summer of 2022, it was reported that Noye was living in a one bedroom flat in Sevenoaks, Kent. It was also reported that he has a close relationship with 48-year-old grandmother Michelle Budd, who runs stables near Dartford using horses as therapy for children with anxiety and emotional issues.
What did Kenneth Noye do?
Kenneth Noye was among those involved in the Brink's-Mat robbery by six armed men on November 26, 1983.
While police raced to find the perpetrators of the crime, Noye came under suspicion. He was put under surveillance as part of the investigation, and came across Detective Constable John Fordham carrying out surveillance at his home - Noye fatally stabbed Fordham on finding him at his property. However, in December 1985 Noye was acquitted of murder as he insisted he'd acted in self-defence.
In July 1986, Noye was eventually found guilty of conspiracy to handle some of the stolen gold, and conspiracy to evade VAT. Although he wasn't directly responsible for the robbery, he was brought into the fold by those who did, as they didn't have enough experience of concealing and laundering such an expansive amount of gold - they thought they were going to only find cash at the site.
Noye had melted down most of the gold he received, mixing it with copper coins as a disguise. When 11 gold bars were found at his home, he was sentenced to 14 years in prison and fined £500,000 with £200,000 costs. He was released 8 years later in 1994.
Kenneth Noye road rage
On 19 May 1996 while released from prison on licence, Noye murdered 21-year-old motorist Stephen Cameron in a road rage incident.
The incident took place on an M25 slip road near Swanley in Kent. The two became engaged in a fight, with Noye producing a 9-inch knife and stabbing Cameron to death. Noye fled the country assisted John Palmer, who had also been involved in the Brinks-Mat robbery.
Initially, police named the suspect of Cameron's murder as Anthony Francis. By December 1996, this name was found to be an alias of Noye's and his true identity was given in the search. First thought to have fled to Northern Cyprus, Noye was on the run for two years before being located in Spain - he was found in the resort of Barbate near Gibraltar and arrested on August 28, 1998. Cameron's girlfriend Danielle Cable had been the first person to see Cameron after the attack, and she was secretly flown to Spain to positively identify Noye.
Despite the personal risk of testifying against the criminal Noye, Cable opted to do so. Noye again claimed he had acted in self-defence, expressing that he'd escaped the country through fear of an unfair trial, rather than guilt. On April 14, 2000, Noye was convicted of murder and handed a life sentence. It was recommended that Noye serve a minimum of 16 years for the killing, and he was released in May 2019 at the age of 72, after serving 20 years for the attack.
What happened to Danielle Cable?
Danielle Cable remains in witness protection. She entered witness protection after fears testifying against Noye could result in a hit being taken out on her.
Cable was just 17-years-old at the time of her boyfriend's murder, and 19 when she testified. According to the Mirror, she told the court at the time "I saw Steve clutching his chest. "He said, 'he stabbed me Dan, take his number plate.' I saw blood on his chest. It was dreadful. I was screaming and crying for someone to help me. Then Stephen collapsed on the floor."
Still in witness protection, Cable was forced to cut contact with everyone from her life - she is allowed to see her parents twice a year. Noye has however, asserted that he's no danger to Danielle, reportedly saying "She is at no risk from me. I would be happy to assure her of that... It should never have happened. As I walk free, so should she."
Related BBC Features:
Video of the Week
Lucy is a multi-award nominated writer and blogger with six years' experience writing about entertainment, parenting and family life. Lucy has contributed content to PopSugar and moms.com. In the last three years, she has transformed her passion for streaming countless hours of television into specialising in entertainment writing. There is now nothing she loves more than watching the best shows on television and telling you why you should watch them.