Prince Harry and the Royal Family should 'take it slow' and 'set boundaries' if and when they begin to repair their relationship, says relationship expert
A relationship expert has shared her top tips for mending broken down family relationships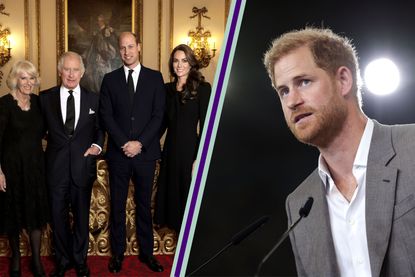 (Image credit: Chris Jackson/Getty Images and Chris Jackson/Getty Images for Invictus Games Dusseldorf 2023/Future)
Relationship expert Valon Asani from Dua.com (opens in new tab) has revealed the five steps Prince Harry (opens in new tab), and the Royal family must take to repair their relationship after the release of Prince Harry's tell-all memoir, Spare (opens in new tab).
Prince Harry has made it abundantly clear that his relationship with the rest of the Royal family is reaching un-mendable levels. As well as mentioning the fact in his scathing autobiography, Spare, the Prince has continued to detail the family break down in numerous TV interviews.
While there has been no comment from The Palace on Harry's claims, it is clear that the communication between both parties is becoming rapidly worse. In light of the souring relationship, Valon Asani, a relationship expert from Dua.com (opens in new tab), has shared her top tips for mending broken down family relationships and revealed the five steps Prince Harry and the Royal family must take when, and if, they decide to repair their relationship.
According to Asani, the first step the feuding royals must take in mending their relationship is to 'acknowledge each other's struggles' - and this will be one of the hardest steps to take. She said, "When being faced with a broken family, often we say, 'I don't know where to start' but what we actually mean is, 'I'm scared to start'."
"After a family fallout, one of the hardest aspects to deal with is to accept the idea that the other party feels wronged in some way by your actions, even if they were not intended to cause hurt. However, acknowledging how the other party feels, whether you agree or not, can show empathy and understanding that can then lead to more effective communication to be built.
"The struggles that Harry details in his autobiography appear to stem from a lot of childhood trauma and repressed emotions from the environment he grew up in, which many can empathise and relate to.
"An acknowledgement from the family, whether private or public, of the difficulties that the Duke feels he is facing could have a huge impact that could lead to a reconciliation. However, the same sentiment applies the other way round; Prince Harry should also acknowledge that the Palace may view events differently – as the late Queen famously said 'recollections may vary' - and their views are also valid."
Once an acknowledgement has been made, Asani says it's important to find some 'common ground' over which to bond. She said, "The first step to reconnecting in a family can often be to find something that either party can bond over, no matter how big or small. This common ground can present itself in many ways, such as an event you may both attend or just a shared interest. Using something that the both of you have in common can be used as a catalyst for building up communication again.
"In Prince Harry's case, causes that are close to his heart and the rest of the Royal Family's, such as the Invictus Games, are a chance to rekindle a relationship and begin communicating again."
Once relations are starting to improve, it's vital for someone to "take the first step and extend an olive branch," says Asani. "Reaching out to the other party and offering some sort of gesture, whether this is an invite for coffee, or a kind letter, can establish a platform for which the relationship can start to be rebuilt.
"It has been reported that Prince Harry and Meghan have been invited to King Charles III's coronation in May, which is an olive branch from the family to the couple. The occasion of the coronation is cause for celebration as we celebrate the beginning of the King's reign, and such a meaningful and happy occasion may be the perfect backdrop for reconciliation."
If all goes well and communication starts up again, Asani implores the family to 'set boundaries'. "It is important to ensure that boundaries are set to avoid another rift occurring," she said. "Establish with yourself the boundaries you would like to set so that the relationship stays healthy and positive for you and communicate those to the other party so that everybody is on the same page. Similarly, listen and respect the boundaries of the other party, whatever they may be.
"Prince Harry and the Royal family alike appear to have similar strict boundaries when it comes to the idea of privacy, however both parties' action this idea in very different ways. Therefore, when communication starts again, they should both immediately share the boundaries that they are and aren't comfortable with."
And finally, Asani shares, "It may be exciting or feel like a relief to have your relationship with your family begin to repair but remember to take it slow. The other party may be more hesitant than you are to jump straight back into the way the relationship used to be and acknowledging and respecting that is crucial to solving any and all problems.
"The Royal family, despite being extensive, are a very tight knit family, therefore, they may be hesitant to let Prince Harry and Meghan back into their circle after this fallout, which is something Prince Harry and Meghan must recognise. If the couple can recognise this hesitancy, they can more effectively communicate and build the relationship back up at a pace that suits everyone."
Related articles:
Royal News and Entertainment writer
Charlie Elizabeth Culverhouse is royal news and entertainment writer for Goodto.com. She began her freelance journalism career after graduating from Nottingham Trent University with an MA in Magazine Journalism, receiving an NCTJ diploma, and earning a First Class BA (Hons) in Journalism at the British and Irish Modern Music Institute. She has also worked with BBC Good Food and The Independent.