Who are the Pages of Honour at the King's coronation and what do they do?
Your guide to whose-who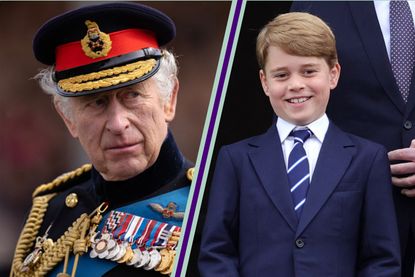 (Image credit: Future/Getty)
Wondering who the Pages of Honour are taking centre stage at King Charles' coronation? We've shared details of the chosen eight involved.
It's officially time for the coronation of King Charles and with it comes a lot of tradition and fanfare. From a carriage procession and a special Coronation flypast, to the crowning ceremony - there's a lot going on - and a lot to learn too, especially if you're not familiar with the usual rituals associated with such a stately event.
Viewers who are watching the coronation along at home have questions regarding the ceremony itself, including the presence of a certain eight smartly dressed young gentlemen. Known as the Pages of Honour, they've been chosen specifically by the King and Queen (as eight others were for Queen Elizabeth II's coronation). Here's all the details on who the Pages of Honour are and what the role entails.
Who are the Pages of Honour at the King's coronation?
There are eight pages of honour at the coronation. Prince George, Lord Oliver Cholmondeley, Nicholas Barclay and Ralph Tollemache are King Charles' pages. Whilst Gus and Louis Lopes, Freddy Parker Bowles and Arthur Elliot make up Camilla's four pages.
The pages of honour at the coronation were confirmed by Buckingham Palace on April 4, 2023.
1. Prince George
Unsurprisingly, King Charles' grandson Prince George will be stepping up as a page of honour at his granddad's coronation. Prince George, aged 9, is the son of Prince William, and is considered an important royal in his own right, now being second in the royal line of succession.
George is the King's oldest grandchild, followed by sister Charlotte, younger brother Louis and cousins Archie and Lilibet.
2. Lord Oliver Cholmondeley
Lord Oliver Cholmondeley has been selected as one of King Charle's page of honours. The 13-year-old is the current neighbour of Prince William and Kate, living closeby to their Norfolk residence, Anmer Hall. He's also reportedly a good friend of Prince George, who is also a page on Coronation day.
Oliver's dad is David, the 7th Marquess of Cholmondeley. He married Oliver's mum Rose Hanbury - who is 23 years his junior - at Chelsea Town Hall in 2009. The couple have three children, including Oliver, older brother Alexander and younger sister Lady Iris.
3. Master Nicholas Barclay
13-year-old Nicholas Barclay has been made King Charles' page of honour on the big day. He is the grandson of the Lord-Lieutenant of Wilshire, Mrs. Sarah Troughton, who is the second cousin (once removed) of King Charles.
Nicholas' grandmother is a firm friend of Camilla and was made one of the Queen's companions in 2022. His mum is Rose Troughton who is married to Peter Barclay. Nicholas has two other siblings.
4. Master Ralph Tollemache
Ralph is 12-years-old and will be a page for King Charles on Coronation day. His parents are the Honourable Edward Tollemache and his wife Sophie. He is the youngets of three siblings.
Ralph's dad is King Charles' godson and the heir of the 5th Baron Tollemache, Timothy John Edward Tollemache. Meanwhile Ralph's mum Sophie is the daughter of English broadcaster Iain Johnstone. King Charles attended the nuptials of Sophie and Edward in 2007.
5. Master Gus Lopes
13-year-old Gus Lopes is Camilla's page at the coronation. He is a twin, alongside brother Louis (also page), and one of Queen Camilla's five grandchildren.
Those watching the coronation will be able to identify Gus for being the page with a sling at the coronation. According to the Daily Mail, Gus broke his arm ahead of the big day, but will continue to perform his role at the ceremony.
6. Master Louis Lopes
Gus' twin brother, Louis - also aged 13 - has been named a fellow page of honour for Camilla at the King's coronation.
Louis' mum is Laura Lopes, an art curator and the daughter of Camilla, who married chartered accountant Harry Lopes in May 2006. Louis and his brother Gus, share older sister Eliza - who had her own moment in the spotlight in 2011 as a bridesmaid at Prince William and Kate Middleton's wedding.
7. Master Freddy Parker Bowles
Freddy Parker-Bowles is Camilla's youngest grandchild, aged 13. He's the son of Andrew Parker Bowles and his ex-wife Sara Buys. He has an older sister called Lola, who turned 16 last year.
Freddy's dad is food critic and journalist Tom Parker Bowles. He married Sara - a fellow journalist and former senior editor of Town & Country magazine - in September 2005. They welcomed Lola is 2007 and Freddy in 2010, before divorcing in 2018. Tom Parker Bowles is the oldest child of Queen Camilla and ex-husband Andrew Parker Bowles.
8. Master Arthur Elliot
Ten-year-old Arthur will be the Queen Consort's page at the coronation. He is the great-nephew of Camilla and the son of her nephew, Ben Elliot and his wife, Mary-Clare Winwood. His grandmother is Queen Camilla's younger sister, Annabel Elliot.
Arthur's dad is a businessman, who was previously co-chairman of the Conservative Party. Ben resigned from the role in 2022. Arthur's mum is the daughter of US musician Steve Winwood. The two wed in a Gloucestershire-based wedding in 2011, with then Prince Charles and Camilla in attendance.
What do the Pages of Honour do at the coronation?
All eight Pages of Honour are expected to wear matching scarlet uniforms and will form part of the procession through the Nave of Westminster Abbey. They are to be on hand to help the King or Queen throughout parts of the ceremony.
To carry out his duty, Prince George and his fellow pages are expected to wear knee-length scarlet coats with gold trimmings over a white satin waistcoat and lace jabot - a decorative ruffle or frill falling from the collar - white breeches, white stockings and black shoes with buckles.
Following the tradition, they will also carry a small ceremonial sword.
Related features:
Video of the Week
Emily Stedman is the former Features Editor for GoodTo covering all things TV, entertainment, royal, lifestyle, health and wellbeing. Boasting an encyclopaedic knowledge on all things TV, celebrity and royals, career highlights include working at HELLO! Magazine and as a royal researcher to Diana biographer Andrew Morton on his book Meghan: A Hollywood Princess. In her spare time, Emily can be found eating her way around London, swimming at her local Lido or curled up on the sofa binging the next best Netflix show.