Are Prince Harry and Meghan going to the coronation? What we know so far
Will the Sussexes make an appearance?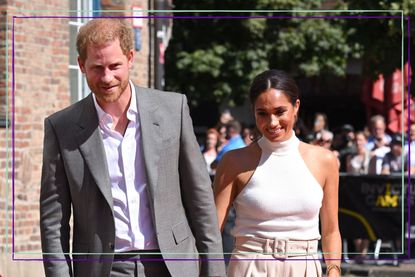 (Image credit: Future/Getty)
As the big day creeps closer, many are eager to know if Prince Harry and Meghan Markle are going to the coronation or not.
May 2023 brings with it the momentous and historic event of King Charles III's coronation. The ceremony will see the 74-year-old officially crowned as King of the UK and Commonwealth alongside his wife, Queen Consort Camilla. Members of the public are expected to come together and celebrate the event of national importance, as they did with Queen Elizabeth's coronation back in 1953. Falling on Saturday, May 6, those in the UK will be treated to an extra bank holiday on Monday, May 8, to commemorate the rare royal occasion.
Amongst details of the ceremony itself, such as what time is the coronation, is of course people wanting to know about the guest list. As heir to the throne, Prince William will be in attendance on the day, though questions have continued to arise around the presence of Prince Harry and his wife Meghan at proceeedings. Here we share the Sussexes decision and their reasons behind it.
Are Harry and Meghan going to the coronation?
Prince Harry will attend King Charles III's coronation by himself in May. His wife Meghan Markle will not be present and will instead remain in California with the couple's children.
"Buckingham Palace is pleased to confirm that The Duke of Sussex will attend the Coronation Service at Westminster Abbey on May 6th. The Duchess of Sussex will remain in California with Prince Archie and Princess Lilibet," read the statement.
BREAKING: "Buckingham Palace is pleased to confirm that The Duke of Sussex will attend the Coronation Service at Westminster Abbey on May 6th. The Duchess of Sussex will remain in California with Prince Archie and Princess Lilibet."April 12, 2023
See more
Royal expert Omid Scobie shared "that Archie's fourth birthday played a factor in the couple's decision". The coronation date falls on the same day as Archie Harrison's birthday. The couple's eldest child will turn four on May 6, when his grandfather is annointed king.
"Expect it to be a fairly quick trip to the UK for Prince Harry, who will only be attending the coronation ceremony at Westminster Abbey," Scobie tweeted.
It was The Times who confirmed that the couple had received an official invitation. "I can confirm The Duke has recently received email correspondence from His Majesty's office regarding the coronation. An immediate decision on whether The Duke and Duchess will attend will not be disclosed by us at this time," said a spokesperson for the Duke and Duchess, back in March.
The Telegraph revealed that Harry and Meghan's children, Prince Archie, 3, and Princess Lilibet, 1, however, had not yet been invited to the coronation. A royal source told the paper that Archie and Lilibet are "very young" which could be a reason why they weren't invited.
Prince George and Princess Charlotte will attend their grandfather's coronation, though Kate and William are still deciding if their youngest child, Prince Louis, will attend or not.
Oprah says that Prince Harry and Meghan "should do what they feel is best for them and for their family" when deciding whether to attend King Charles' coronation. https://t.co/GAGXph1ern pic.twitter.com/nCV3vEbq73March 15, 2023
See more
Speculation on whether Harry and Meghan would attend the coronation has been rife for months. Whilst awaiting confirmation, palace staff were told to factor Harry and Meghan into arrangements for the day, including cars, seating in Westminster Abbey, and dining. According to The Times, officials within the Master of the Household's Department (royal residences) and the Lord Chamberlain's Office (ceremonial and public events) were previously told to plan on the basis that Harry and Meghan are attending the coronation.
In March 2023, whilst appearing on CBS Mornings with host Gayle King, Oprah Winfrey gave her thoughts on whether Harry and Meghan will attend the coronation or not. A close friend of the couple, she clarified that she had not spoken to them about the matter.
"I think they should do what they feel is best for them and their family. That's what I think," she said. "That's what the bottom line comes down to: "What do you feel like is the right thing for you?' They haven't asked me my opinion."
Prince Harry certainly gave an ambiguous answer when asked if he would attend the coronation back in January. In his ITV interview with Tom Bradby, he responded: "There's a lot that can happen between now and then. But, the door is always open. The ball is in their court. There's a lot to be discussed and I really hope that they're willing to sit down and talk about it."
The Sunday Times' royal correspondent Valentine Low has said that the Duke of Sussex will only attend the coronation if he receives a private apology from the King and Prince William. Relations between Harry and Meghan and the rest of the family has been frought following the release of the Harry and Meghan Netflix documentary series in December 2022 and the publication of Harry's memoir Spare in January 2023.
In the latter, Harry detailed an alleged physical altercation with his brother Prince William. He also claimed that his step-mother Queen Camilla, leaked stories about him and William to the press in order to "rehabilitate her image".
Some publications are now seemingly correct to predict that Prince Harry would attend the coronation solo. The Times reported a palace source who said that staff were confident that Harry will attend, but were less certain of his wife Meghan coming.
Paul Burrell, a former butler and friend of Princess Diana, similarly voiced that Harry attending without Meghan would work.
"It's likely to be incredibly uncomfortable for them if they attend, particularly Meghan," he told Closer Magazine. "Are they prepared to face the music? I don't think Meghan's brave or strong enough to be there — she'd have to look in the eyes of a family she's pushed under the bus.
"But I think Harry may come alone and she's probably told him she won't be able to be by his side with him if he does attend."
Whilst no explanation has been shared as to why Meghan is not attending, royal experts agree that it's likely to be because of Archie's birthday being on the same day.
Does Charles want Harry and Meghan at the coronation?
Yes, several media outlets have reported that King Charles wants his son and daughter-in-law to attend his coronation on May 6, 2023.
A royal source told PEOPLE magazine in February: "It is such a momentous occasion for Charles, and he would want his son to be at the coronation to witness it. He would like to have Harry back in the family.
"If they don't sort it out, it will always be part of the King's reign and how he has left his family disjointed," they add. "He has had a reputation as a distant parent, and it would be awful for him for that to continue."
The Mail on Sunday report that King Charles even asked the Archbishop of Canterbury, Justin Welby, to 'broker a deal' between Harry and William and their resepective wives - which would allow Harry and Meghan to come to the coronation ceremony. Mr Welby maintains a good relationship with the Sussexes having officiated Harry and Meghan's wedding back in 2018.
Just last month, another source told Entertainment Tonight about Charles' wishes for Harry and Meghan to be in attendance. "Despite any issues in the past or difficulties that have arisen based on what was released in Harry's book, Charles loves his son. He wants both his children at his side for such a momentous occasion," the source says. "The family wants the king to be happy and having his son travel from America for such a pivotal moment in his life will make Charles happy."
Related features:
Video of the Week
Emily Stedman is the former Features Editor for GoodTo covering all things TV, entertainment, royal, lifestyle, health and wellbeing. Boasting an encyclopaedic knowledge on all things TV, celebrity and royals, career highlights include working at HELLO! Magazine and as a royal researcher to Diana biographer Andrew Morton on his book Meghan: A Hollywood Princess. In her spare time, Emily can be found eating her way around London, swimming at her local Lido or curled up on the sofa binging the next best Netflix show.