The Ultimatum's Riah and Trey reveal their birthing plan - and it includes an unexpected motivational prop
Riah and Trey talk us through their plans for the birth of their first child, the baby name 'Trey hates' and their upcoming baby shower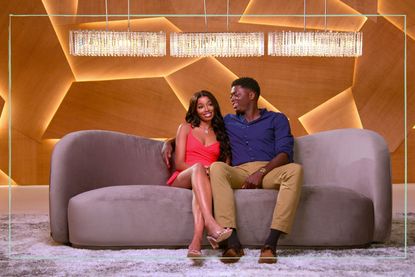 (Image credit: Netflix)
The Ultimatum's Riah and Trey have revealed details of their birthing plan and it includes an unexpected motivational prop that other mothers-to-be might not have thought about.
The couple, who starred on The Ultimatum Season 2, have been together for two years since they first met on a dating app. Their relationship started out long-distance before Riah moved into Trey's place and earlier this year Trey gave Riah an ultimatum, to either marry him or move on.
Having insisted at the time that she's never "seen a happy healthy marriage" and wouldn't commit to a wedding, she had a change of heart after appearing on the show, and Riah and Trey got engaged. They're currently on an exciting journey to parenthood after finding out Riah is pregnant following a previous miscarriage.
As a result, their wedding plans have been forced to take a back seat as they await the upcoming arrival of their 'rainbow' baby, who they revealed at their gender reveal party last month, is going to be a girl.
Riah fell pregnant two years ago but she suffered baby loss and despite coping with miscarriage it led to Riah expressing her fears about having children in the future. But they are now ecstatic about welcoming a baby into the family.
Riah and Trey are ready to talk about how they're preparing for parenthood, what life has looked like since the show and all things related to their upcoming wedding in Spring of 2025.
They told us, "Since we lost our first baby, we are blessed to try again and make it this far. We are looking forward to starting our family and we can't wait to see what the future holds."
And here's what else they had to say...
Riah, how's the morning sickness been?
Any other pregnancy symptoms? How have you dealt with them?
"Surprisingly, I haven't had much morning sickness. The first two months, I was a little nauseous but only threw up three times. I will say, that when it comes to brushing my teeth, I did gag a few times. I don't have any morning sickness at this time."
Have you had any unusual cravings yet?
"No unusual cravings just yet. The parmesan crust from Longhorn has been my daily craving. I go twice a week. A bowl of cereal with whole milk at night as keeps my tummy happy."
Have you bought any baby things yet?
If so, what's your favourite buys so far?
We have bought a warm baby onesie, a pair of muffin shoes, and a pack of socks.
Riah: "My favourite buy was the socks. That was the first item we bought. We wanted to wait until the halfway mark before we bought anything.
Trey: "My favourite buy was the warm fluffy onesie because I was able to picture our little one wearing it and wiggling around."
Riah, will Trey be by your side for the birth?
How do you feel about that Trey?
Riah: "Of course. Trey will be attached to my hip during birth LOL!"
Trey: "I'm all hands on deck when it comes to this birth. I want to be everywhere I can be honestly. Wherever Riah needs me, I'll be there. I will cut the umbilical cord."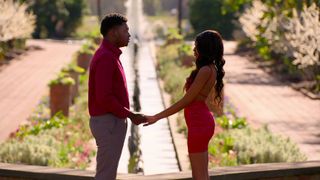 What's your birthing plan?
Home birth, water birth or hospital birth?
We will be having a hospital birth. The goal is a fully natural birthing experience. During the labour process, we want to include a birthing ball, a warm bath, massages, and breathing exercises. Atmosphere-wise, the lights will be dimmed and low soft music will be playing in the background. Our parents will be in the delivery room with us. Riah will be using a mirror to watch the delivery.
Have you read many how-to books on becoming parents?
And what's the biggest tip you've been given about having a baby?
We are currently reading Hunt, Gather, Parent by Michaeleen Doucleff, Ph.D. and The Whole-Brain Child by Daniel J. Siegel, M.D and Tina Payne Bryson, Ph.D.
Trey: "The most common advice people have told me was to not let the baby sleep in the bed."
Riah: "Sleep when the baby sleeps."
Who will get up to do the night feeds?
And will you let the baby sleep in your bed?
"We will take turns doing the nightly feeds.
"We will not let the baby sleep in the bed. Trey is anti-bed sleeping. The baby will sleep in a bassinet next to the bed. The goal is to have the baby sleeping comfortably alone."
Who's going to do the nappy changes?
And how will you juggle work with parenting?
"We both will."
Riah: "I will become a stay-at-home mom while working on my business. Trey will be working full-time."
Have you had a baby shower yet?
What will it be like?
"We haven't had the baby shower yet. It will be October 28th. We are currently looking for a venue. The theme will be 'We Can BEARLY Wait To Meet You.' The colours will be brown and blush with mini teddy bears all over."
How about your baby's gender reveal party - what were you hoping for? Girl or boy?
"We had our gender reveal on September 16 in Sumter, South Carolina. It was a chance for our families to meet. Trey was hoping for a boy and I was hoping for a girl. We're having a baby girl!"
Plan to have more kids before you get married?
"We will not have more kids before we get married. The wedding plans were pushed back a little to give us more time to plan as we prepare for the baby's arrival first."
Do you think you will feel pressure to go all out on the 1st birthday?
And will you be sharing your parenting journey on social media?
"There's no pressure at all. We won't have a huge first birthday but it will be a little extra special.
"We will share photos and videos of our journey. So many people have asked us and want to be a part of this journey with us. Trey is starting a YouTube channel showing our daily lives. We want to capture and share all the amazing moments."
Would you ever do your own family reality show - like the Kardashians?
"We would love to have our own family reality show if we had the chance! LOL sign us up. It would be interesting and hilarious to see both of our families together on a regular basis. It would show our real lives."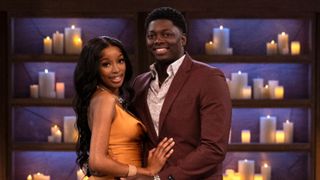 What kind of parent do you think you will be?
Who will be the strictest and who is your celeb parenting inspiration?
Trey: "I will be an overprotective and strict parent."
Riah: "I will be the easy breezy nice parent. Trey will be the strictest parent because he's more firm than I am."
"We don't have a celeb parenting inspiration at this time. We haven't looked into much celebrity parenting."
What age do you feel is right for your child to be dating?
Will this be different if a boy or girl?
"Age 16 would be an adequate age to date regardless of gender. The child will be in high school. Having that open conversation will make the decision easier on all parts."
Where have you looked for baby name inspiration?
What are your shortlist of names? What names are a complete NO WAY!? How do you feel about people who call their kids after luxury brands like Dior, Bentley etc?
"So far we have only used our brains for baby name inspiration. Naomi, Nova, Luna, Kinsley, Aria, Jenavicia, Harmony, Layla.
Riah: "Jenvacia - Trey hates the name. I joke with him all the time about calling the baby "little Jenny".
"We don't mind people naming kids after luxury brands. Everyone has the right to name their child whatever comes to mind."
Are you worried about your relationship changing after the baby arrives?
How do you plan to maintain it?
"We are not worried about our relationship changing after the baby arrives. We know there will be some changes and we will continue working together through anything that comes our way."
Who's being lined up for babysitting duties?
And how do you feel about traditions like Christenings/naming ceremonies and Godparents?
"The first week we have our parents on babysitting duty. After that, we're on our own. Currently seeking babysitting applications."
"We want to keep both of our family traditions of Christenings, baptisms, and godparents. Traditions are a great way to pass along important pieces of our history, religion, and values."
How have you changed as a person since learning that a baby is on the way?
Riah: "I think about our daughter before anything else. My thought process and decision-making have been less about me and more about our little one. As I'm carrying the baby, I've been trying to be more self-conscious about my health. Making sure I am healthy keeps the baby healthy. "
Trey: "My thoughts are a lot less selfish now. Every decision I make now is to make sure our daughter has everything she needs."
The Ultimatum is available to stream on Netflix.
In Family news, there's a wonderful memory making break as Shrek's 'swamp' is on Airbnb, and we're already booking our stay or if you're wondering will it snow in the UK in 2023? Predictions are in. And if you're looking for a bargain, try these Prime Day toy deals for some early Christmas shopping or these October Prime Day deals elsewhere.
Parenting advice, hot topics, best buys and family finance tips delivered straight to your inbox.