Where was Queen Charlotte: A Bridgerton Story filmed? Locations featured in the Bridgerton spin-off
The backdrop is opulent and beautiful, as expected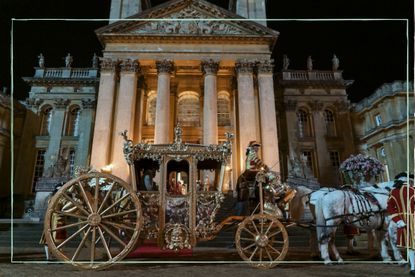 (Image credit: Liam Daniel/Netflix)
As expected, the backdrop to Queen Charlotte: A Bridgerton Story, is lavish and opulent - but where can the locations be found in real life?
Bridgerton fans rejoice: Queen Charlotte: A Bridgerton Story is finally upon us. Gracing Netflix on May 4, viewers can feast their eyes on the backstory of the iconic Queen Charlotte, and her marriage to King George III, which was sadly marred by his illness. Based on a real Queen thought to be the first Queen of Black ancestry, the Bridgerton writers have reimagined Queen Charlotte's story with their own brand of thrills and sumptuous feels. Read on to find out where the stunning backdrops that offset the acting action for the latest Bridgerton instalment can be found, and if you are able to visit them.
Other burning questions viewers have about Queen Charlotte include what happened to Reynolds, the King's secretary, while others are wondering if Queen Charlotte's story acts as season 3 of Bridgerton but fear not, it is a standalone series and season 3 will arrive shortly.
Where was Queen Charlotte: A Bridgerton story filmed?
Queen Charlotte: A Bridgerton Story filmed in Wiltshire, Somerset, Lincolnshire, and Oxfordshire, with internal shots filmed in Shepperton Studios, London.
In Wiltshire, cast and crew of Queen Charlotte: A Bridgerton Story were reportedly spotted at Wilton House. This is unsurprising, as the house has featured extensively in Bridgerton before, as home of the Hastings' and Lady Danbury, as well as Queen Charlotte herself. Being over 450 years old, the house is home to The Earl and Countess of Pembroke, and is open for the public to visit. No stranger to appearing on screen, Wilton House has featured in Emma, and The Crown.
In Somerset, Bath was used for filming - another location used extensively in the previous Bridgerton series. Actors from the show were spotted outside Bath's Assembly rooms, wearing protective clothing over their costumes in between takes. Although speculation at the time pointed to Bridgerton season 3 filming, the timing coincides with Queen Charlotte being in production.
Doing a walking film and TV tour of Bath and see people in very regal costume coming out of the Assembly. #Bridgerton season 3? 😉 pic.twitter.com/v2eU9EGsqvMay 18, 2022
See more
In Lincolnshire, Belton House near Grantham found itself being used as a backdrop to the action. An eagle-eyed Twitter user managed to snap crews at the National Trust property, despite those behind the show keeping locations shrouded in mystery. The house and grounds are open for the public to visit, boasting the National Trust's largest outdoor adventure playground.
Queen Charlotte spin-off is filming right now in BELTON HOUSE#queencharlotte#Bridgerton pic.twitter.com/PEhUMjCg6lAugust 12, 2022
See more
Blenheim Palace in Oxfordshire, was reportedly the location for scenes involving Queen Charlotte arriving at the Palace. The birthplace of Winston Churchill, Blenheim Palace is also open for visitors. It has also been used as filming location multiple times, featuring in Harry Potter, James Bond, and Mission Impossible.
When was Queen Charlotte: A Bridgerton Story filmed?
Queen Charlotte: A Bridgerton Story began filming in February 2022, and wrapped in August 2022.
In March 2022, director Tom Verica shared a picture of the script for the show, alongside one of production underway. He also shared snippets from filming to his Instagram account, along the way.
Thrilled about this next chapter! @shondarhimes @BeersBetsy @shondaland @netflix pic.twitter.com/VqU4fyupvUMarch 31, 2022
See more
On August 30, he shared a tweet simply saying "That's a wrap. This production, this cast, this crew…just wait." An excited follower replied "If you're directing or acting, I already know its going to be good." Another equally excitedly added "Charlotte's story is fantastic in the history books so I can't wait to see what you've created."
That's a wrap. This production, this cast, this crew…just wait. pic.twitter.com/VnkWJFgSz0August 30, 2022
See more
Queen Charlotte: A Bridgerton Story: Cast
Golda Rosheuvel (Dune, Death in Paradise) as Queen Charlotte
India Amarteifio (Sex Education, The Midwich Cuckoos) as young Queen Charlotte
Adjoa Andoh (Line of Duty, The Witcher) as Lady Danbury
Arsema Thomas (One Touch, Redeeming Love) as young Lady Danbury
Ruth Gemmell (Utopia, Penny Dreadful) as Violet
Connie Jenkins-Greig as young Violet
Hugh Sachs (Benidorm, Father Brown) as Brimsley
Sam Clemmett (The Muskateers, Endeavour) as young Brimsley
Michelle Fairley (Gangs of London, Game of Thrones) as Princess Augusta
Corey Mylchreest (The Sandman, Mars) as young King George III
Richard Cunningham (Rogue One, Gold) as Lord Bute
Tunji Kasim (Shetland, Nancy Drew) as Adolphus
Rob Maloney (Coronation Street, Eastenders) as the Royal Doctor
Cyril Nri (Death in Paradise, Jellyfish) as Lord Danbury
Katie Brayben (Vera, The Wheel of Time) as Vivian Ledger
Keir Charles (Man Up, Green Wing) as Lord Ledger
Freddie Dennis (The Nevers) as Reynolds
Actress Golda Rosheuvel spoke to Harper's Bazaar about the series seeing Charlotte embrace her role as a mother, which isn't seen much in Bridgerton. She said "That was great for me because, in Bridgerton, I always made sure that in every scene, I think of George. I had one moment where I think of George and one moment where I think of family and what that means."
She continued "In Bridgerton, it's always in the background of my thoughts because we never see them, and we see George very briefly. The fact that we got to have 13 actors physically in front of me there and put faces to the imagination was indescribable. It was a unique experience, and seeing her complex relationships with the kids made her human.
Queen Charlotte is a very intimate look at this character and the Bridgerton world. Bridgerton is all about the glitz and glamour, but Queen Charlotte is tiny and intimate. It's very delicate in its darkness yet still under the same banner. I found that really fascinating and really thrilling to have 13 children in front of me."
Related Netflix Features:
Video of the Week
Lucy is a multi-award nominated writer and blogger with six years' experience writing about entertainment, parenting and family life. Lucy has contributed content to PopSugar and moms.com. In the last three years, she has transformed her passion for streaming countless hours of television into specialising in entertainment writing. There is now nothing she loves more than watching the best shows on television and telling you why you should watch them.