Where is Better filmed? Filming locations used in the new BBC thriller
The crime thriller promises to be the new Happy Valley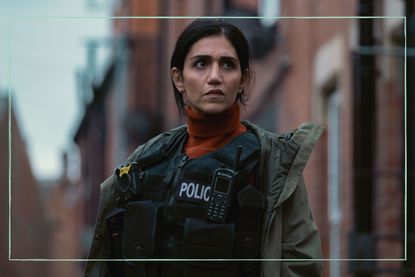 (Image credit: BBC)
The highly anticipated BBC crime thriller has arrived - let's take a look at where Better is filmed.
A new five-part series has landed on the BBC, coming from award-winning content studio SISTER, which was behind hit dramas Chernobyl and This Is Going to Hurt. The latest release is being hailed as the perfect show to fill the hole left by Happy Valley season three ending (opens in new tab), and just like viewers wanted to know where Happy Valley was filmed (opens in new tab) - along with another upcoming BBC drama Beyond Paradise (opens in new tab) - now the same is being asked of Better.
The thriller follows corrupt DI Lou Slack, as she tries to take down Col McHugh - who is both the head of Leeds criminal underworld and Lou's friend - after the pair struck up a deal 19 years ago that changed their lives forever. The BBC says of the show, "Everyone has their own version of right and wrong. A corrupt copper and a Leeds gangster are bound together by decades of dishonesty. To break the ties, there's only one way out." Keep reading to find out where Better is filmed...
Where is Better filmed?
Better is both set and filmed in and around Leeds, West Yorkshire. Recognisable locations featured in the series include the Corn Exchange in the city centre and Plumpton Rocks in Harrogate.
Co-writer of the series Jonathan Brackley said, "It was very important for us to set it somewhere with its own distinct identity. Somewhere that could become sort of a character, a part of the show in its own right."
He added: "Plumpton Rocks up near Harrogate was an amazing location to shoot. We shot there twice, once in the day and once again overnight, which serves as the finale of the show. It's such a striking, wonderful place with these amazing rock formations and a manmade lake which felt like an evocative place to set the emotional finale of our show."
Leading actress Leila Farzad spoke to the BBC about filming in Leeds, saying: "It's such a beautiful city. Being able to see the town hall every day, filming in places like the Corn Exchange, there's wonderful places to eat and being by the canal... it's a real mixture of old and new.
"It was incredible to immerse myself in it for the time that I was shooting there. Ninety per cent of the crew were based in Manchester or Leeds so talking to them every day really helped fuel the motor of Lou Slack and imbued me with an extra something."
Andrew Buchan, who stars in the show as Col, added: "Leeds is a brilliant place, it's such an amazing city. It's so vibrant and full of life with brilliant people and the banter's class!"
Better filming locations
The Capitol Building, Bond Court, was used as the set of the Central Yorkshire Police Station
The old Weetwood Police Station was used as a production base
The Queens Hotel bar was the filming location of the series' opening scene
Sheesh Mahal, Kirkstall Road, is Col's favourite restaurant
Victoria Hotel, Great George Street, was used as the set of a drug deal
Plumpton Rocks, Harrogate, was the location for the show's finale
The Corn Exchange, Call Lane
Hidden Wardrobe, The Concourse Corn Exchange
Sir Fred Hoyle bypass, Bingley
Kirkstall Road, Allerton Street, and Cardigan Lane, Burley
What is Better about?
Better follows DI Lou Slack (Leila Farzad), who has built her career on corruption and is finally deciding to find redemption, following a family crisis. But that will mean taking down a man she has come to love like a brother.
That man is Col McHugh (Andrew Buchan), who Lou helped place at the head of Leeds criminal underworld following a deal the pair struck at the start of both their careers.
The BBC synopsis reads: "19 years ago, when Lou was a young police officer at her lowest ebb and Col a low-ranking but ambitious newcomer to the Leeds underworld, their paths crossed, and they struck a deal that changed their lives forever.
"The bargain allowed Col to become very rich and very powerful, and Lou to turn around her failing career. A complex but special bond between the pair was forged, and so began Lou's gradual slide into corruption. But now, when Lou's family is brought to the brink of a tragedy, she must put right the wrongs that she has spent years rationalising and excusing, to have a second chance at a new, better life."
Co-creator Sam Vincent said when describing the show: "It is about good and bad. It is the exploration of a bad person trying to become good and how difficult that is.
"And if that's even possible, really, and what good and bad means, how people feel about themselves in different ways."
He added: "Better is absolutely not a police procedural, certainly not a whodunit, because the person who 'done it' is the hero."
Better cast
Leila Farzad (I Hate Suzie) as DI Lou Slack
Andrew Buchan (Broadchurch, The Crown) as Col McHugh
Samuel Edward-Cook (Peaky Blinders) as Ceri Davies
Carolin Stoltz (Maternal, Shetland) as Alma
Zak Ford-Williams (Wolfe) as Owen
Kaya Moore (Waterloo Road) as Noel Wilkes
Anton Lesser (Game of Thrones, Andor) as Vernon
Ceallach Spellman (Cold Feet) as Donal
Olivia Nakintu as DC Esther Okoye
Joseph Steyne as Joleon
Anthony Lewis as DC Niall Ibbotson
Junade Khan as DS Pritam Khan
Gavin Spokes as DI Phil Cowper
Charley Webb as Elise
Gary Cooper as Peter 'Bulgey' Donovan
Mark Monero as Lord Roy
Mor Bar-El as Artem
Leading lady Leila Farzad told What To Watch (opens in new tab), "Better is a brilliant fresh take on the morality tale. I'm excited to have the opportunity to play Lou Slack, the vehicle through which we explore the multivalent layers of good and bad. A complex, flawed yet utterly human character. I feel very lucky to be a part of such a wonderful show with an incredibly talented team attached to it."
Writers and executive producers Jonathan Brackley and Sam Vincent have said: "We're delirious and feel incredibly fortunate to have assembled - with Sister and the BBC - such a gifted group of people to tell this story in the great city of Leeds, with a wealth of local Yorkshire talent on and off camera. This incredible cast are exciting us every day, pushing the show's exploration of morality and redemption to ever more thrilling, surprising, and yet darkly funny places. With any luck, we've got enough brilliant people to make ourselves look good."
How many episodes of Better are there?
There are five episodes of Better in total. The series premiered on BBC One on Monday 13 February, and there will be one episode broadcast every Monday until the finale on 13 March.
However, the entire series is already available to stream on BBC iPlayer - so you can binge the whole thing whenever you want.
Related BBC features:
Video of the Week
Ellie joined Goodto as a Junior Features Writer in 2022 after finishing her Master's in Magazine Journalism at Nottingham Trent University. Previously, she completed successful work experience placements with BBC Good Food, The Big Issue and the Nottingham Post, and freelanced as an arts and entertainment writer alongside her studies. In 2021, Ellie graduated from Cardiff University with a first-class degree in Journalism.