Happy Valley season 3 ending explained: Everything that happened in the finale of the BBC crime drama
It's being described as the perfect ending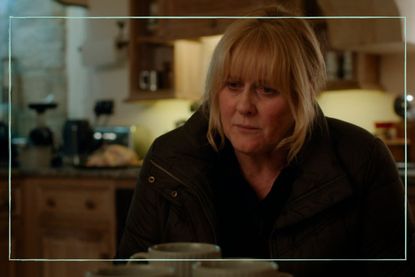 (Image credit: Screen Grab/BBC/Future)
It was years in the making, but Happy Valley fans saw the moment they'd been anticipating for so many years, when the season 3 finale aired - here's everything that happened.
Viewers were ecstatic when the announcement came that excellent police procedural Happy Valley, would be making a comeback for a third and final season - a whopping seven years after season 2 aired. Over the course of 6 incredible episodes, Sergeant Catherine Cawood (Sarah Lancashire (opens in new tab)) built up to the moment fans really did wait a long time for - a showdown with the evil criminal Tommy Lee Royce. Halifax's finest police officer and the entire cast of both new and returning faces, put everything they had into bringing what is set to be record breaking viewing figures. Writer Sally Wainwright needs all the awards for the script that brought everything together - the character development and suspenseful, realistic world she created, should add to the previously accrued BAFTAS. Let's now delve into everything that happened, when Happy Valley season reached its dramatic season 3 conclusion and we say goodbye to Catherine and co for the final time.
For those looking for more addictive BBC drama, The Gold TV series (opens in new tab) is set to deliver - the show will tell the story of one of Britain's most infamous robberies, and lands on screens shortly. For culinary enthusiasts, Great British Menu 2023 (opens in new tab) has made a start, and there are plenty of episodes to be found in this season's run. Stacey Solomon's Sort Your Life Out (opens in new tab) has also made a return, for those who love some decluttering tips.
Happy Valley season 3 ending explained
The episode began with Matija and Ivan being arrested for false imprisonment, money laundering, and helping Tommy escape from prison. The focus then switches to Ryan, reflecting on his conversation with his escaped father the night before.
As Ryan had visited his father multiple times in prison, he's summoned to Halifax to be questioned by police about Tommy, and is escorted there by Catherine. Detective Superintendent Andy Shepherd mistakenly believes Ryan is a new police recruit when their paths cross at the station, which brings a smile to the teen's face as he follows Catherine with a spring in his step to his interview. This might've been the encouragement Ryan needed to tell the officers everything they needed to know about his dastardly dad's plans.
While Ryan is being questioned, Tommy is being moved to another location by Zeljko - he's agitated by the change of plan and not knowing where he's going, or if he'll see Darius. Such is his anger, that Tommy kills both Marco and Viktor from his seat at the back of the car. This results in a fight with Zeljko, where both men pull out knives and Tommy's life looks monetarily threatened when he is stabbed and injured. Tommy however, manages to regain the upper hand, and murders Zeljko. He leaves the bodies of the three men abandoned in a field before fleeing the scene in the car.
Catherine begins to see visions of Becky, urging her to return home, despite several warnings to the contrary. Making the decision to follow Becky's desires, Catherine sobs while looking at old photos of Ryan. Crying herself to sleep, the reason she was warned against returning to her house becomes apparent, when Tommy appears at the window, right behind her. Carrying a can of petrol, he climbs into the house through a window in the basement window. However, just as he makes his way into the kitchen, Catherine receives a call from Ryan that prompts her to leave the house and out of harms way.
In an emotional conversation with Ryan later, he confronts Catherine about her treatment of her sister Clare. He reminds her that when he was born, everyone in his life abandoned him, and only Clare who remained to stick by Catherine and support her. He tells his grandmother "Clare's always been there, ever since I can remember... So you can't fall out with her, not because of me." This prompts Catherine to have a heart-to-heart with her sister, where Catherine admits she should never have been frightened of Ryan meeting Tommy. She voices all the worries she's ever had about Ryan turning out like his father, but accepts that actually, Ryan is happy and well adjusted.
Catherine then returns home to find her window smashed and sensing danger, gets out her taser. Tommy is inside drinking and swallowing pills, looking like a man who has nothing, and no other direction to go in his life. Asking him if he needs an ambulance, Catherine sends a code zero to the station, alerting them to her whereabouts and the danger she's in. Tommy proceeds to admit to Catherine that eight years previously, Darius killed Gary Gaggoski - he confesses to lying for him. She later uses this information to get Darius arrested - his entire crew is disbanded when everyone involved are sent to prison, releasing their hold over Calder Valley.
Despite this useful admission, Tommy then goads Catherine with the news that Ryan visited him in prison. Catherine already knew about the visits, telling Tommy she was aware of his plan to run away to Spain with Ryan. With a turnaround in his behaviour, Tommy tells Catherine he forgives her for not letting him know about Ryan's existence, and no longer hates her. He continues to say that he's realised what a great life she's managed to give his son. An announcement of forgiveness clearly enrages Catherine, who responds "you forgive me, you delinquent f**k." Reminding him what he did to Becky, the pair exchange a very sweary round of insults, where Tommy appears to really not be able to take responsibility for the monstrous crimes he's committed. Tommy ends the fight by covering himself with petrol and setting himself on fire.
He tells Catherine not to taser him, as it could set fire to the house and he only wants to kill himself - he wants her to be there for Ryan. Unable to bring herself to watch him burn, she instinctively throws one of Clare's crochet blankets around him. The police arrive, and Catherine is seen walking from the house as he is presumably taken away to hospital. In the final scene, Catherine visits Becky's grave, before she hands in her badge and sets off on her retirement adventures.
Faisal and Rob also see their stories conclude. While it appeared Rob was in the frame for Joanna's murder, he is actually charged with possessing indecent images - it transpires he'd blackmailed a student at the school to send them to him. Catherine also tells Andy that Faisal has been dealing drugs from his pharmacy. Pointing out that Joanna lives just yards away from Faisal, who had been buying drugs from him, viewers assume that he will arrested on drugs charges and nailed as the perpetrator of her killing.
Did Tommy Lee Royce die in Happy Valley?
Yes, Tommy Lee Royce was revealed to be dead at the end of Happy Valley. As Catherine was packing up her office in readiness for her retirement, it was revealed that Tommy was in a coma.
However, when Catherine was visiting Becky's grave to say goodbye, a final message from Mike confirmed Tommy had died from his injuries. With a smile creeping across her face, Catherine finally had closure, and could begin her well deserved retirement adventures. Fans had been frantically theorising how the series would end, right up until the finale aired. However, to prevent spoilers, even the cast were unsure how the conclusion would play out, as they'd filmed several different endings.
Speaking on the Obsessed with... Happy Valley (opens in new tab) podcast, Faisal actor Amit Shah confirmed this, and said of his own character's ending "I still don't know how it all ends up for him because we filmed the final scenes in various different ways. Sally [Wainwright, creator] was actually directing those. So it's quite open and we did different options, so I'm not entirely sure how he's gonna end up."
Happy Valley finale: Reviews
The critical response to the Happy Valley finale was overwhelmingly positive.
Anita Singh from the Telegraph (opens in new tab) offered 5 stars, saying "Happy Valley, episode 6, review: a finale of understated, heartbreaking brilliance. Sally Wainwright and Sarah Lancashire gave Catherine Cawood the denouement she deserved – a sensational end to a truly great drama."
Michael Hogan from The Guardian (opens in new tab) was equally enthusiastic, adding "Sarah Lancashire is utterly monumental. What an absolutely electrifying ending. Sally Wainwright masterfully wrongfooted viewers, while the show's star was outstanding. Baftas surely beckon."
Louisa Mellor from Den of Geek (opens in new tab) was equally enthused, saying "Happy Valley's captivating finale delivered everything you could wish for. For all the brutality this drama has shown us over the years, what this emotional, optimistic finale left us with was the fact that what endures is love. What weapon brought down afeared villain Tommy Lee Royce? Not a gun or a taser but a self-adhesive 6 x 4 photo album filled with days at the park, holidays, birthdays and ordinary love."
Happy Valley reaction: What did viewers think?
Although most viewers were happy with the ending, some responses to the Happy Valley finale were mixed.
One viewer wrote on Twitter "Still thinking about #HappyValley this morning. Perfect ending. The forces of evil are no match for a nan with a crocheted blanket." Another added "Wow what an ending! Happy Valley the best thing on TV for a long time! #SarahLancashire absolutely fabulous actress & #JamesNorton brilliant as the baddie! Great ending just sad it's finished."
Still thinking about #HappyValley this morning. Perfect ending. The forces of evil are no match for a nan with a crocheted blanket.February 6, 2023
See more
One viewer shared disdain for the ending, by tweeting "All the hype about Happy Valley ending…. It ends trying to gain sympathy for a lunatic rapist … pathetic." In response to viewers disgruntled that not all storylines were tied up on screen, one viewer came out in defence of this, writing "Folk are complaining about not seeing Rob and Faisal punished in #HappyValley. They will be, off screen. Do you know why? It's not their story. It's Catherine's & it's Clare's. The return of their unconditional respect & love for one another is all we needed for a happy ending."
If you loved Happy Valley you'll love producer Jessica Taylor's new work on Fool Me Once (opens in new tab) thriller adaptation coming to Netflix.
Related BBC Features:
Lucy is a multi-award nominated writer and blogger with six years' experience writing about entertainment, parenting and family life. Lucy has contributed content to PopSugar and moms.com. In the last three years, she has transformed her passion for streaming countless hours of television into specialising in entertainment writing. There is now nothing she loves more than watching the best shows on television and telling you why you should watch them.