Where is Desperate Measures filmed? Locations featured in the Channel 5 thriller
The real filming location might come as a surprise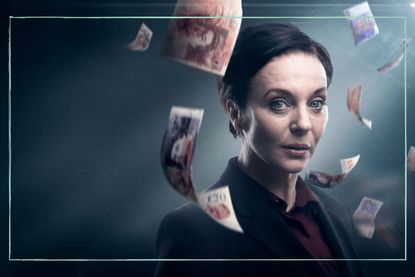 (Image credit: Channel 5/Future)
As well as the thrilling action, fans have been very interested in the backdrop for the action during Amanda Abbington's Desperate Measures on Channel 5.
Desperate Measures began airing on Channel 5 on February 21. Amanda Abbington takes the helm as bank clerk Rowan, who has been forced to raise her teenage son Finn on a dangerous estate after being pushed into debt by her father. Rowan's life looks set to spiral totally out of control, when a local gang coerce Finn into taking part in a drug deal that goes badly wrong. With Finn's life is at risk and a violent gang leader closing in on the mother and son, Rowan has no choice but to scrape together the money Finn lost. With no options left, Rowan commits to a dangerous heist at the bank she works in, with the hope this will put her problems behind her. As well as some tense action, there are some intriguing filming locations featured in the series - read on to find out exactly where they are.
Another Channel 5 thriller has kept viewers hooked, with many asking what is The Catch based on (opens in new tab)? Some were surprised to find The Catch filmed (opens in new tab) somewhere entirely different to where the series is set, and we take a look at where. Similarly, light hearted Channel 5 drama The Madame Blanc Mysteries filmed (opens in new tab) in some beautiful locations, but they aren't in France where the action is said to take place.
Where is Desperate Measures filmed?
Despite being set in Manchester, Desperate Measures actually filmed in Budapest and has been used as a location for other Channel 5 dramas.
Speaking to Radio Times (opens in new tab), Sunetra Sarker who plays Varisha on the show, said that Budapest shared a lot of tonal similarities with the UK. She continued "We were in Budapest. Budapest is a beautiful part of Hungary that I'd never been to. It's full of history that I knew very little about. We went to so many locations and in every place there's a plaque and some information and I'd think, 'Wow.'"
Speaking on The One Show, Amanda Abbington and Sunetra Sarker explained in further detail about the decision to film in Budapest, and how the production team managed to make it look like the UK. Abbington said "We had a very good locations manager. It was in the winter, we were filming in February and we found all the dark places of Budapest."
Sarker added "When you get outside, Budapest has got so many amazing buildings that are really helpful for film sets and stuff." Abbington continued "So the bank looked amazing. We found this abandoned building in a beautiful square in Budapest and we were just there for about a week"
Speaking to Radio Times about the same bank set, the actress added "It was a real bank with a proper vault and when the production team went on the recce, they got locked in, which would have terrified me because I'm really claustrophobic – I am not good with small spaces at all. They were there for about an hour and a half; I would have had a meltdown. But I always love filming in places like that where it's really authentic. It makes the job a lot easier."
Budapest's well known Arndale centre 🤥😂 @SimonPeggThey filmed Desperate Measures in Budapest?! 🤯 🇭🇺@ChimpsInSocks and @Sarker explain why their Manchester based series is filmed abroad! 🛫#TheOneShow 👉 https://t.co/W1kpjcYZDt pic.twitter.com/vUSdNsrGFlFebruary 20, 2023
See more
Is Desperate Measures based on a true story?
Desperate Measures isn't based on a true story, and written purely as a fictional script for Channel 5. The series is directed by Anthony Philipson (Coppers, Our Girl) from a screenplay penned by Michael Foott, co-writer of Vardy v Rooney: A Courtroom Drama.
Amanda Abbington told Radio Times that a mother's love is the central theme of the story. She said "It's a really compelling, exciting series and a good story to watch, but it's really about a mother's love and I hope that's what people take away from it."
The actress added "It's about what she'll do for her child and whether she gets away with it or not, and it's up to the audience to draw their own moral conclusions. If people go away talking about that, then I'll be very happy."
Desperate Measures: Cast
Amanda Abbington (Mr Selfridge, Sherlock) as Rowan
Sunetra Sarker (Ackley Bridge, Cold Feet) as Varisha
Warren Brown (Hollyoaks, Luther) as Patrick
Jesse Cescatti-McFarlane (Choose or Die) as Finn
Francis Magee (Game of Thrones, Brassic) as Mal
Gábor Nagypál (Monte Carlo, The Company) as Kristof
Harry Rose as Conor
Seb Cardinal (Spartan, Cardinal Burns) as Clive Powell
Jonathan Nyati (Bodyguard, The Creeping) as Detective Simmons
Mike Benson, Managing Director of Clapperboard who are involved wit the series, commented on the casting in a statement. He said "We're delighted Amanda has come on board. We know the warmth, relatability and nuance she will bring to Rowan - an ordinary woman forced to take extreme measures...She will have viewers rooting for her every step of the way. Amanda is joined by a very talented cast including the brilliant Warren Brown who seems to be in every hit show at the moment so we were thrilled he agreed to be part of the project."
Adam Barth, Head of Development, Acquisition and Co-production at Eccho Rights added "From an international perspective, this casting is very exciting, with Amanda and Warren in particular being so familiar to worldwide audiences from their starring roles in globally renowned shows like Mr Selfridge and The Responder. News of their inclusion in the series will be a huge boost to the international profile of Desperate Measures."
Desperate Measures: Reviews
The response to Desperate Measures, has been a little mixed. The critics don't appear to be impressed with the show, whereas audiences have responded more positively.
Michael Hogan from The Telegraph (opens in new tab) offered 2 stars. He said "Amanda Abbington is too good for this fag-packet thriller. A frankly implausible plot and sketchily drawn supporting characters let this bank-job drama down, despite Abbington's best efforts"
Ed Power from iNews (opens in new tab) was in agreement. He said "Desperate Measures functioned best as a tale of a woman who was fed up and wasn't taking it any more. Condescended to by her boss, and let down by her loving but irresponsible son, she had her back against the wall and passed into a moral grey zone without noticing she had stepped over the divide. It's just a pity that this tale of a woman on the verge was shackled to a cliché-ridden tale of drug dealers in flash cars and gangsters with foreign accents."
However, one Twitter user took to the platform to praise the performances, and the entire show. They said "Christ, that was SO GOOD!! Intensely thrilling! Believable characters - utterly invested already. Desperate for more! Insanely proud of you, @CHIMPSINSOCKS! Insanely proud - you're exquisite as Rowan. That last scene - MY GOD! #AmandaAbbington #DesperateMeasures!
Christ, that was SO GOOD!!🔥 Intensely thrilling! Believable characters - utterly invested already. Desperate for more! Insanely proud of you, @CHIMPSINSOCKS! Insanely proud - you're exquisite as Rowan. That last scene - MY GOD!🔥 #AmandaAbbington #DesperateMeasures pic.twitter.com/tDsyll9H9uFebruary 21, 2023
See more
Another fan added (opens in new tab) "#desperatemeasures ….wowzer this is soooo good!! Recent tv dramas have been very disappointing, but NOT this one.. I'm so scared…what's going to happen to Finn???"
Related Channel 5 Features:
Video of the Week
Lucy is a multi-award nominated writer and blogger with six years' experience writing about entertainment, parenting and family life. Lucy has contributed content to PopSugar and moms.com. In the last three years, she has transformed her passion for streaming countless hours of television into specialising in entertainment writing. There is now nothing she loves more than watching the best shows on television and telling you why you should watch them.