Where is Dreamland filmed? Locations features in the Lily Allen Sky Original comedy
The locations might be recognisable to some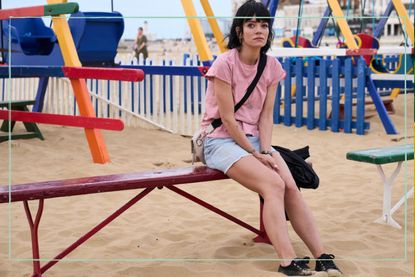 (Image credit: Natalie Seery/Sky UK/Future)
Named for the iconic Dreamland park in a certain coastal town, did the cast of crew of the namesake series actually film in the area?
Dreamland is a new comedy-drama firmly putting women at its centre. The cast is largely female, as are the show's writers. The dark comedy is set to explore multi-generational family dynamics, and the complexities of female friendships. Lily Allen is also bringing a fair amount of attention to the comedy, shining in her first time in a leading role. Allen is joined by in impressive line up of thespian talent - look out for Peaky Blinders' Esme Shelby (Aimee-Ffion Edwards) looking completely different and also demonstrating a brilliant acting range. With a typical British seaside backdrop, viewers are asking where Dreamland was filmed, and we are here with the answers.
Another recent Sky comedy-drama had viewers wanting to know the real life shooting locations - Funny Woman filmed in a totally different area to where it's set. Gemma Arterton is excellent in the series as a beauty queen turned TV icon, causing those tuning in to ask who her character was based on. Also on the streamer, viewers are eagerly awaiting the arrival of season 5 of Brassic, another fantastic comedy-drama worthy of your time.
Where is Dreamland filmed?
Dreamland is indeed filmed in Margate, the home of the titular amusement park that really features in the series.
Viewers can also expect to see the Winter Gardens, Margate Sands and Tidal Pool, Margate Harbour Arm, The Dalby Cafe, the Harbour Arms Micropub, the Sunset Rock Shop on Marine Drive, Cinque Ports restaurant, and Sands Hotel and at the Old Kent Market.
Dating back to the 1870s, Dreamland is thought to be the oldest surviving amusement park in the UK. The site nearly closed for good in 2003, but was saved and the rides and attractions restored. Offering a truly vintage seaside amusements experience, Dreamland now also hosts a plethora of contemporary music and other events.
The Margate Winter Gardens is an ornate music hall, that is currently closed. Although it features in Dreamland, the future of the theatre remains uncertain, with campaigns to re-open it popping up.
The Walpole Bay Tidal Pool was built and opened in 1937 and now Grade II listed. It is thought to be the UK's biggest tidal pool, and has become increasingly popular for sea swimming, with fresh water springs rising from the beach.
The south facing Margate Harbour Arm is a stone pier built between 1812 and 1815, with a lighthouse at the end rebuilt in 1955. The area is lined with restaurants, cafes and bars. The famous Dalby Cafe that features in the show has remained largely unchanged since opening in the 40s. Boasting huge breakfasts along with other delicious sounding food, Freema Agyeman's character in the show can be seen there with her on-screen husband.
The Harbour Arms Micropub, the Sunset Rock Shop on Marine Drive, Cinque Ports restaurant, and Sands Hotel and at the Old Kent Market will all make brief appearances in the series. Margate residents shared pictures of Lily Allen in and around Margate to Twitter, some depicting raucous scenes from the series being filmed.
Margate's film industry is back in business with Lily Allen filming on the Seafront today .New comedy drama from Sky called (Dreamland) with Lily in her first leading role. Only just found out she's married to Stanger Things actor David Harbour !. Welcome to Margate Lily. pic.twitter.com/CoAw5IxuveJuly 11, 2022
See more
What is Dreamland about?
Dreamland is predominantly about the dreams and hopes of four sisters, with one harbouring some big secrets.
Eldest sister Trish is expecting her third baby with partner Spence. With her existing children both boys, Trish is desperate for a girl. She kicks off the show's action by inviting sisters Clare and Leila to join her in Margate along with their mum and nan, to help her manifest a daughter into existence at a "mani-festival."
But when Allen's character and fourth sister Mel arrives unexpectedly, after living in Paris for many years, her return threatens serious implications for the entire family. Her knock at the door and could symbolise the end of the sisters' "Dreamland."
On taking the role of Mel and filming in Margate, Lily Allen said "I had just moved to New York, but I bring my kids back to the UK for summer to spend time with their dad, so when this landed on my desk, and I heard it was shooting in Margate - and I love Margate – I was instantly hooked.
Of course, I thought the script was amazing and this being a Merman production was a big pull for me too. I trusted their instinct with it, and I loved the short that I had seen of it in its previous incarnation. I rented a little house in the square and brought my kids across. It was excruciatingly hot. But it was lovely, it's steeped in summertime history, that town."
Is Dreamland based on a true story?
Dreamland isn't based on a true story, but on Sharon Horgan's 2018 BAFTA-winning short film of the same name.
Comic actress Morgana Robinson played the role of Trish in the short film, who is now replaced by Freema Agyeman. The character of Trish is described a happy family woman, and the core of her family unit. Married to Spence with two sons, she appears especially desperate for a daughter.
With a third child on the way, audiences discover Trish has actually endured a lot of trauma, including three miscarriages in two years. Determined, she is also described as a fighter - bruised and vulnerable, but still holding on to her aspirations and dreams.
Dreamland: Cast
Freema Agyeman (Doctor Who, New Amsterdam) as Trish
Lily Allen (Elizabeth, How To Build A Girl) as Mel
Kiell Smith-Bynoe (Ghosts, Stath Lets Flats) as Spence
Gabby Best (Switch, I Want My Wife Back) as Clare
Aimee-Ffion Edwards (Skins, Peaky Blinders) as Leila
Frances Barber (Cold Feet, Casualty) as Mum
Sheila Reid (Benidorm, Call The Midwife) as Nan
Samantha Bond (Cold Blood, Downton Abbey: A New Era) as Orla
Related NOW TV Features:
Video of the Week
Lucy is a multi-award nominated writer and blogger with six years' experience writing about entertainment, parenting and family life. Lucy has contributed content to PopSugar and moms.com. In the last three years, she has transformed her passion for streaming countless hours of television into specialising in entertainment writing. There is now nothing she loves more than watching the best shows on television and telling you why you should watch them.