Where is Heart of Stone filmed? Locations featured in the Netflix thriller
Everywhere the cast and crew were spotted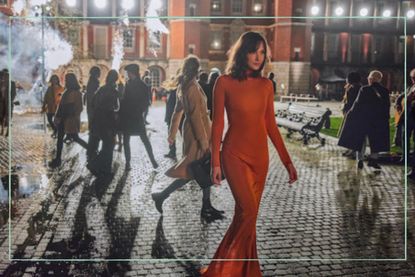 (Image credit: Chris Baker/Netflix/Future)
Goodto Newsletter
Parenting advice, hot topics, best buys and family finance tips delivered straight to your inbox.
Thank you for signing up to GoodTo. You will receive a verification email shortly.
There was a problem. Please refresh the page and try again.
Where is Heart of Stone filmed? We reveal the locations featured in Netflix's latest thriller starring Gal Gadot and Jamie Dornan.
Netflix is enjoying a run of excellent thriller content recently, with plenty of both films and series in the genre making their way to the platform. Gal Gadot and Jamie Dornan are at the helm of the latest offering - Heart of Stone. Gadot stars as international intelligence agent Rachel Stone, who is on a mission to protect a mysterious artificial intelligence system referred to as "The Heart." With Stone tasked with preventing the mysterious object falling into enemy hands, the action flits between the Italian Alps, London, Lisbon and multiple other spots - but did the cast really film in these areas? Read on to find out the real locations featured in the Heart of Stone shoot.
For viewers who like to know where their favourite movies and shows were filmed, we have the lowdown on locations featured in Channel 4's Becoming Elizabeth, as well as Prime Video's hit new series The Lost Flower of Alice Hart. Fellow Prime show The Summer I Turned Pretty filmed in some beautiful beach locations, and we take a look at where they can be found in real life.
Where is Heart of Stone filmed?
Heart of Stone really did film in the locations depicted in the film, namely, the Italian Alps, Portugal, Iceland, London, and the Sahara Desert.
In the Italian Alps, the opening scene depicting a high-speed chase ending with Gadot parachuting off a cliff, was filmed at the Glacier Hotel Grawand in Senales. According to Netflix Tudum, the hotel sits at an altitude of 10,538 feet, making it Europe's most elevated hotel. According to the hotel's Instagram account, other scenes in the area were filmed at Alpin Arena Senales, the valley station of Funivia Ghiacciai and the winter sports resort of Maso Corto.
More chase sequences took place in Portugal's capital of Lisbon. Tudum reported that years ago director Tom Harper was visiting the city when he thought: "God, this would be a great place to shoot a car chase." Achieving his dream, he recently told the publication "[We] got amazing access, I never thought that we'd be able to speed cars through the central square, throw cars off steps, and crash into things."
He added "But they were wonderfully accommodating. It's a heritage city as well, so you have to really make sure that you are not damaging anything. I mean, we did damage things. We damaged cars and we broke a lot of cameras. But we left Lisbon in one piece."
In Iceland, the Reykjavík landmark of Harpa features in the film, which is a concert hall in the capital. Since opening in 2011, the venue won awards for both architecture and it's work as a concert and conference centre. Reykjavík's Hallgrímskirkja Church can also be seen in the film, which is the tallest structure in the country. The Lutheran church was completed in 1986 and stands at 244 ft tall. The place of worship is recognisable not only for its height, but the distinctive curve of its spire and side wings.
In London, the Royal Albert Hall would have been instantly recognisable to some viewers when it made its entrance into the action. The orchestra seen in the background of the film is the real Philharmonic Orchestra, playing a piece written specifically for Heart of Stone as reported by Tudum. No stranger to being used as a film set, the Royal Albert Hall has featured in over 100 films.
The Sahara Desert scenes were filmed at Morocco's Erfoud part of the desert. According to Space.com. Erfoud has appeared on screen in The Mummy and Aquaman - the area acts as the primary location for National Geographic's Mars series due to the area's resemblance to the surface of Mars.
Research projects testing robotics technologies for future planetary exploration, use Erfoud as a testing ground as the rocks and dunes so closely resemble the geology of Mars; a plethora of other space agencies have staged simulated missions in the same area.
Heart of Stone: Reviews
As with a lot of thrillers, Heart of Stone is on the receiving end of mixed reviews from both critics and audiences.
Wendy Ide from the Guardian offered a reasonable 3 stars, saying "There's very little that's original in this Bond-alike adventure. The screenplay is a rudimentary thing – scaffolding to support the set pieces – that starts to creak whenever it attempts any depth of character. But the action is terrific, with a screaming, tyre-shredding extended car chase around Lisbon's tight, cobbled alleys a breathless and exhilarating highlight."
Clarisse Loughrey from the Independent was less impressed, offering 2 stars. Her review stated "These characters are universally severe, minus the one 'quirky' support guy (Paul Ready) who owns a cat and occasionally mentions the cat. Outings to Portugal, Senegal, and Iceland see local citizens treated as cannon fodder, with barely a glint of recognition. And, most frustrating of all, the entire film looks like it was lit by a bedside lamp."
One enthusiastic audience member wrote "The intro to the film was absolutely killer and the action tied into it, absolutely mind blowing. Watching this film had me on the edge of my seat, it's definitely a film I'd recommend to others. They couldn't have picked a better cast to display such personality in the characters."
However, another added "I don't even know where to begin. Do I start with how bad the acting was? Or how about there's no 'feeling' in the movie. It's just a snooze fest of basic action sequences mixed in with AI/green screen stuff. To be fair, I only lasted about 40 minutes before I wanted to watch something better."
Will there be a Heart of Stone 2?
Although no Heart of Stone 2 has been announced, Director Tom Harper hopes to build a franchise of movies from the first one.
Speaking to EW, he spoke of Rachel's character, saying "Even the strongest amongst us still need to work as a team to overcome the odds, and it's not just about being by herself," which is why he hopes to develop the character in the future. He added "There's plenty that I'd like to explore more with Rachel in that regard. There's plenty of rich territory with Rachel, with the Heart, with the Charter. Ultimately we have to see how well it does and see how people like it, but I'm excited about it."
One Twitter user hoping for a sequel wrote "Wow @GalGadot is clear. Heart of Stone is a masterpiece. 10/10. I hope the sequel comes, and quick too. One of the best on Netflix this year."
Wow @GalGadot is clear. Heart of Stone is a masterpiece. 10/10. I hope the sequel comes, and quick too. One of the best on Netflix this year. #HeartOfStone #HeartOfStonexfreenbecky #GalGadot #Netflix pic.twitter.com/qTr8GUxs8aAugust 11, 2023
See more
Another added "Just finished watching #HeartOfStone was a great movie! Very cool action and the story was cool too! Loved Stone, Kaya and the charter team! Hopefully there is a sequel!"
For more filming location reveals, we have the lowdown on where controversial survival series Alone filmed. In other reality show news, we show you where both The Traitors Australia and Celebrity Masterchef 2023 were filmed.
Parenting advice, hot topics, best buys and family finance tips delivered straight to your inbox.