Where is Scared of The Dark filmed? Bunker location of the Channel 4 reality show
Which celebrities are scared of the dark?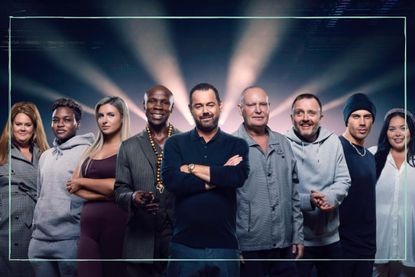 (Image credit: Channel 4/Future)
Scared of The Dark on Channel 4 has taken the UK by storm, with viewers gripped by the innovative reality series. But where can the infamous bunker featured in the show be found?
In what is described as a world first, celebrities have entered a pitch black bunker where they will live, eat and sleep in total darkness. Scared of The Dark sees the famous faces locked in the dark for 180 hours as they take on challenges - made even more tough when undertaken with the loss of a major sense. Should they fail a challenge, privileges are lost and life gets even harder. A win signals treats, and some time spent in the much-needed light. If anyone decides the tough conditions are too much for them, they can halt the challenge or opt out of the show altogether by saying "I'M SCARED OF THE DARK". But where is the mysterious bunker where the celebrities have been locked up and deprived of their sight? Read on to find out everything you need to know about the location featured in the show.
For reality show fans, we have everything you need to know about the upcoming I'm A Celeb... South Africa series, including the line up and start date. Viewers have also been quick to ask why has Rylan quit Strictly Come Dancing: It Takes Two? The presenter has opened up about the reasons behind his decision to leave the popular show. Also on the BBC, Anton & Giovanni: Adventures in Sicily filmed the reality series in places fans of The White Lotus might recognise.
Where is Scared of The Dark filmed?
Scared of The Dark is filmed at the Cardington Airship Sheds, near Bedford. Originally forming part of Cardington Airfield, the huge Cardington Sheds have dominated the landscape in the area since 1915.
The second shed, or Hangar 2, now forms the Cardington Studios. The Studios have been used for filming huge movies such as Rogue One, Christopher Nolan's Batman films, Fantastic Beasts and Where To Find Them, and Justice League among many others. As one of the largest indoor spaces in Europe, Cardington Studios is also a top choice for stadium tour rehearsals, with stars from Paul McCartney and the Spice Girls, to One Direction and Take That having used the space to rehearse from.
The Scared of The Dark Bunker found at Cardington Studios, is a purpose-built living space designed to block out any light. To enable audiences to see what the celebrities get up to, the bunker is rigged with 50 infrared cameras.
Speaking about the premise and hosting the show, Danny Dyer said "Being the host of it is beautiful, because I get them in and then I just watch it all unfold. I think that it's really simple, and there's just something really funny about watching people walking around in the dark banging their shins on things. It's really simple and bloody funny."
He continued "And of course the brilliant twist is, Chris McCausland, who is a blind comedian, is also in there, and the way that pans out with a man that in everyday life has to depend on a lot of people in the light. But in the dark, of course he's the hero of the piece. So clever, and a really good mix of celebrities. And it's a very emotional show, I'll tell you."
Who is in Scared of The Dark?
Alongside host Danny Dyer, the celebrities entering the bunker are:
Paul Gascoigne
Scarlett Moffatt
Chris Eubank
Chris McCausland
Donna Preston
Chloe Burrows
Max George
Nicola Adams
Speaking about why she agreed to take part in Scared of The Dark, Scarlett Moffatt said "To be honest, all of my career in this mad industry has been made up of fun and quirky opportunities. Whether it's going to Namibia, or doing I'm a Celeb, or watching the TV with my family, it's all been a little bit outside the box. So I think, whenever I get given an opportunity I just grab it with both hands, because I think, 'Who else is ever going to get to do this?' Do you know what I mean? So I always just go, 'Yeah, of course. Yeah.'"
On whether she's actually scared of the dark, Scarlett replied "I'm not scared of the dark, well, I'm scared of what's in the dark. If that makes sense. So I'm not scared of night time. You know when you turn the light off in your bedroom, and then you run to your bed? I feel like I still do that. So I feel like I'm not scared of the dark, but I'm not a massive fan of it."
Scared of The Dark: Review
Reactions to Scared of The Dark have been mixed, with both critics and audiences either loving or hating it.
Lucy Mangan from The Guardian was totally unimpressed, offering the series only one star. Calling it "The stupidest reality show of all time," she went on to add "Boring, derivative and occasionally downright horrible, this series convinces celebrities to spend a week fumbling around a pitch-black bunker. It's tedious in the extreme."
Benji Wilson from The Telegraph was in agreement, also only offering one star. He said "It would be too easy to use people stumbling around in the pitch black as a metaphor for whichever executives came up with Scared of the Dark, but in the spirit of grabbing at the very first idea that comes in to your head, let's do it anyway. Picture the scene, if you will: Gazza, Scarlett Moffatt, someone from Love Island whose agent has been hammering the phones till the lines burn and a few other D-list factotums enter a house without light and have to stay there for eight days while we watch them on infrared cameras. And that, really, was that."
However, Nick Hilton from The Independent had an entirely different opinion, offering awarding the show a whopping four stars. He said "I'm not sure the show's creators had Plato in mind when they conceived of Scared of the Dark but it does have a primal, almost metaphorical, appeal. There are all the expected observations about the subversions of normal social structures, about overcoming phobias and learning to live a less materialistic life. But then there's also the appeal for the viewers of seeing a group of celebrities slowly descending into madness. The psychological torture of being locked in a room with Chris Eubank is TV gold."
Disagreeing with The Guardian only offering the series one star, a Twitter user expressed their enjoyment of the show by saying "Another bad TV take from The Guardian... I hate to admit it, but Scared of the Dark is actually very entertaining. The best thing Channel 4 have put on in ages. Even if it rips off Total Blackout... Danny Dyer gives it identity + brings it to life."
Another bad TV take from The Guardian ...I hate to admit it, but Scared of the Dark is actually very entertaining. The best thing Channel 4 have put on in ages. Even if it rips off Total Blackout...Danny Dyer gives it identity + brings it to life.https://t.co/VvT4ARjgUEApril 17, 2023
See more
With reference to some of the known mental health challenges faced by some of the contestants, another Twitter user was concerned about their welfare. She said "I hate to be all po-faced about it, but subjecting a man with ongoing mental health issues and a history of psychosis to sensory deprivation seems like a pretty bad idea #ScaredOfTheDark."
Related Channel 4 Features:
Video of The Week
Lucy is a multi-award nominated writer and blogger with six years' experience writing about entertainment, parenting and family life. Lucy has contributed content to PopSugar and moms.com. In the last three years, she has transformed her passion for streaming countless hours of television into specialising in entertainment writing. There is now nothing she loves more than watching the best shows on television and telling you why you should watch them.