Where is Anton & Giovanni: Adventures in Sicily filmed? Locations featured in the reality show explained
Where can the heart warming duo be found?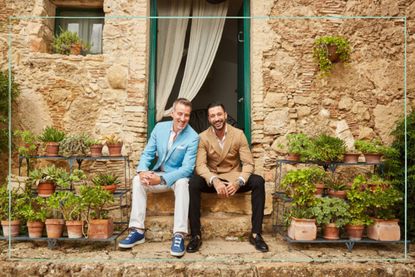 (Image credit: BBC/Future)
One of TV's most loveable duos take to our screens, to show off all things Sicily. But exactly where will Anton and Giovanni be found?
Strictly Come Dancing stars Anton du Beke and Giovanni Pernice are packing their bags, and heading to sun drenched Sicily in brand new series, Anton and Giovanni: Adventures in Sicily. The three part BBC One entertainment travel series will see Giovanni act as a personal guide to Sicily as he shares his home town with friend and fellow dancer, Anton Du Beke. Together, the pair will discover the best the stunning Mediterranean island has to offer, taking in the incredible sights and cuisine, and even bringing some dance moves into the mix. Keep reading to find out where their Mediterranean adventure will take them, as we offer a definitive guide to the Adventures in Sicily filming locations.
For viewers asking is Giovanni Pernice in a relationship, we have everything you need to know about the star's romantic life. We also have the lowdown on Anton Du Beke's wife, and whether the dancing guru has children. We can also reveal The White Lotus season 2 filmed in two of the locations Anton and Giovanni visit during their series, if they looks familiar to eagle-eyed viewers.
Where is Anton & Giovanni: Adventures in Sicily filmed?
Anton & Giovanni: Adventures in Sicily filmed in Syracuse, Sciacca, Catania, Mount Etna, Taormina, and Palermo - Gino's home city.
During the first episode, the duo fly through the streets of Sciacca in an organised taxi race, before trying their luck with the more sedate pastime of octopus fishing. Unable to leave their performing roots behind, Anton can even be found performing the rap from Wannabe by the Spice Girls, before being introduced to the coastal town of Catania - where Giovanni first began to follow his dancing dreams.
The second episode of the series sees Anton and Giovanni heading to Taormina, a town that featured heavily in The White Lotus. Here, they introduce viewers to traditional Sicilian music, before making a disastrous attempt at paddleboarding.
They later travel to the active volcano Mount Etna, where they take on trekking with alpacas, although their new furry friends turn out to be difficult travel companions. As their journey continues, Anton surprises Giovanni by flying in his Strictly-winning partner from 2021 by helicopter. Former EastEnders star Rose Ayling-Ellis then joins the men as they enjoy traditional Sicilian spa treatments, and take a terrifying high speed zipwire ride.
In the third and final instalment of their adventure, Anton and Giovanni reach the coastal city of Palermo, where Giovanni grew up. Palermo was also a strong feature of multi award winning The White Lotus. On their way to the final destination, the pair attempt pasta making pasta, and spend the night in a monastery. A quick round of golf is topped off with Giovanni introducing Anton to his favourite Sicilian street foods.
Concluding the show at Giovanni's Palermo childhood home, a big party gets underway to celebrate his 32nd birthday. Rose Ayling-Ellis rejoins for the party, bringing with her Anton's wife, Hannah, and their children, George and Henrietta - this is quite the emotional moment for Anton, who was unaware his family would be joining him.
Anton & Giovanni: Interviews
Anton and Giovanni have been eager to share their huge excitement at appearing in the travel show.
Anton said "When I first heard about this trip it was pretty irresistible. What's not to love? It's all my favourite things, great food, great country and spending time in the sunshine with Giovanni. Marvellous!"
He added "I've been to Italy many times, but never to Sicily. The food's amazing, the people are lovely, and the heat is extraordinary - we were filming in July and August! Paddleboarding was a low. There's an expression that people say about balance, 'you're a dancer, you'll be fine' - that doesn't apply to paddleboarding."
Giovanni said "To say this has been a dream project is an understatement! Taking Anton to my much-loved home of Sicily was simply Bellissima! We danced, we laughed, and had the time of our lives - with great culture, food and company. I cannot wait for viewers in the UK to come on this journey with us. See you in the Sicilian sun! Ciao."
Anton & Giovanni: Adventures in Sicily: Reviews
Reviews for Anton & Giovanni: Adventures In Sicily, have been somewhat mixed.
Lucy Mangan from The Guardian loved the show, offering 4 stars of of 5. She said "Anton and Giovanni's Adventures in Sicily provides something a little better and a lot more charming than most of the products out of the travel series factory. At the end of the first leg of their journey, Pernice says: 'I love this place with a big smile on my mouth.' Hardhearted be the viewer who cannot say the same."
Gerard Gilbert from iNews, wasn't impressed. Offering 2 stars, he said "Despite Du Beke's attempt to play the entitled Englishman abroad – leaving Giovanni to carry the luggage, for instance, and pay the bar bill – it all seemed a bit confected. An early sequence of Du Beke attempting to explain to a barista, in his terrible Italian, how he liked his coffee prepared, didn't bode well. This was cringe without the comedy."
On Twitter, one enthusiastic viewer said "Watched part 2 & 3 of BBC's Anton and Giovanni's adventures in Sicily....superb/fantasico....hope they get a second series (insome other location perhaps)..."
https://t.co/6y9qlNG5eW seriously Guardian? This is appalling self indulgence and epitome of celebrity love-in dirge while masquerading as a travel show. So much to see and admire about Sicily which is ignored for gabbling about nothing. @guardian @bbcpressMarch 21, 2023
See more
However, reacting to The Guardian review, one angry viewer wrote "seriously Guardian? This is appalling self indulgence and epitome of celebrity love-in dirge while masquerading as a travel show. So much to see and admire about Sicily which is ignored for gabbling about nothing."
Related BBC Features:
Video of the Week
Lucy is a multi-award nominated writer and blogger with six years' experience writing about entertainment, parenting and family life. Lucy has contributed content to PopSugar and moms.com. In the last three years, she has transformed her passion for streaming countless hours of television into specialising in entertainment writing. There is now nothing she loves more than watching the best shows on television and telling you why you should watch them.