Who is Sylvester Stallone's wife? All we know about Jennifer Flavin
The couple's marriage has been bumpy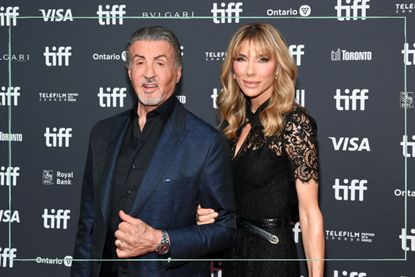 (Image credit: Ryan Emberley/Stringer/Getty Images)
Who is Sylvester Stallone's wife? With a Netflix documentary about Sly airing, here's all we know about Jennifer Flavin and the couple's marriage.
It's incredible that for nearly 50 years Sylvester Stallone has graced our TV screens, bringing a number of iconic character and franchises to life. From Rocky and Rambo, to his most recent charismatic turn in Tulsa King at the age of 76, the Oscar-nominated actor-writer-director-producer is not slowing down. Netflix are celebrating the life of a legend by taking a look at the actor's inspirational underdog-story and characters he's made so famous, in the documentary Sly - for what to watch this month inspiration, add it straight to you watch list.
With the personal portrait comes interest in Stallone's personal life, and his marriage to Jennifer Flavin, which has been, erm, rocky - excuse the pun. Recently, we've looked at the personal lives of Emily Blunt and Rebekah Vardy, and we've also looked at what happened to Sage Stallone, Sylvester's son who tragically died at 36 years old. Now it's time to take a look at what we know about Jennifer Flavin, with Sly piquing the interest of her marriage to Stallone.
Who is Sylvester Stallone's wife?
Jennifer Flavin is currently 55-years-old, and well known for her modelling career and being the founder of skin care brand, Serious Skincare.
Flavin met Stallone at a restaurant in Beverly Hills when she was just 19-years-old, and he was 41. He had already been married twice, to Sasha Czack between 1974 - 1985, and to actress Brigitte Nielsen between 1985 - 1987. Stallone and Flavin went public with their relationship at a Los Angeles gala in 1990, and continued dating steadily until 1994, when Stallone broke up with her via a letter.
The letter devastated Flavin, and brought their relationship to a crashing end. Although the handwritten note was said to be six pages long, Flavin remained unsure regarding the reason for the sudden split - a few days later she found out it was because Stallone had been engaged in an affair with supermodel Janice Dickinson, who was thought to be pregnant with his child.
When Dickinson gave birth to a baby girl, Flavin told PEOPLE "It hit me like a ton of bricks. I had no idea this was going to happen. We talked about us having children, about when I was going to get pregnant. We were already picking names, marking down names that he liked and I liked."
She added "I was disappointed. You can't just write somebody off in a letter after six years. It's not like I was going to try to beg him to come back to me or anything. I just wanted to talk." However, a paternity test later proved Stallone wasn't the baby's father, and he promptly ended his relationship with Dickinson. In 1995, he and Flavin were reunited, welcoming first daughter Sophia Rose Stallone, in 1996. The couple married in 1997, and went on to have daughters Sistine, and Scarlet.
Outside of being Stallone's wife, Jennifer Flavin appears with her husband and daughters on reality series The Family Stallone, documenting their life together, and is the founder of Serious Skincare. According to the brand's website, Jennifer Flavin battled acne when working as a model, and after trying numerous topical and prescribed products, she found a treatment that worked. The treatment came from a little-known shop in northern California called Serious Skin Care, and wanting to share its effectiveness with others, Flavin joined with the original creator to bring national attention to the brand.
Why is Jennifer Flavin divorcing Sly?
In 2022, Flavin and Stallone announced their divorce. However, they later called it off stating they had reconciled.
The shock divorce announcement came just after Stallone and Flavin celebrated their 25th wedding anniversary. He wrote on Instagram to honour his wife, saying Happy 25th anniversary to my amazing wife. There is not enough words to describe what this incredibly selfless dedicated, patient, woman has meant to our lives and I only wish they could be another 25! Thank you sweetheart!"
Flavin then issued a statement to PEOPLE, reading "I'm sad to announce that after 25 years of marriage I have filed for divorce from my husband Sylvester Stallone. While we will no longer be married, I will always cherish the more than 30-year relationship that we shared, and I know we are both committed to our beautiful daughters. I ask for privacy for our family as we amicably move forward."
A month later, reports were issued suggesting the couple had called off their divorce, and they remain together currently. Flavin has since posted a multitude of family photos to Instagram, and pictures of her taking date nights with her husband. For their 26th wedding anniversary, she wrote "26 years married!! Fabulous day launching The Family Stallone! Family & good friends is my everything."
Did Sylvester Stallone cover his wife's tattoo?
Stallone reportedly covered up two tattoos depicting his wife, with the first taking place just prior to news of their divorce breaking.
According to Page Six, the first tattoo of Flavin was transformed into a portrait of Butkus, the dog from Rocky, and Stallone's own beloved pet. He then returned to the same tattoo artist have a second one of Flavin covered, a short time later. However, Stallone denied that he'd intended to have the second tattoo covered, and simply wanted it refreshed; he suggested he'd been forced to change it permanently after the refresh went wrong.
Stallone has been vocal about his love for Butkus over the years, at one point sharing their story together on Instagram. He wrote "This is myself and Butkus as a puppy, we were both thin, hungry and living in a flophouse above a subway stop. There was not much to do except spend time with each other and that's where I started to learn the craft of screenwriting. Since I never went out, I relied on his companionship, and actually it was his idea to write Rocky, but don't tell anyone…."
He continued the heart warming story with "Years later when things got even worse I had to sell him for $40 in front of a 7-Eleven store, because I couldn't afford food. Then like a modern day miracle, the screenplay for Rocky sold, and I could buy and buy him back. But the new owner knew I was desperate, and charged me $15,000 … He was worth every penny!
We've also looked into whether Vicky Pattison is married with children, and similarly answered whether rugby star Owen is married and does he have kids. Seeing iconic actor Stephen Graham pop up in many different shows has also prompted interest in his life, and we've looked into his personal life too.
Parenting advice, hot topics, best buys and family finance tips delivered straight to your inbox.