Will there be a That '90s Show season 2? Speculation, and everything we know so far
Fans need more of the nostalgia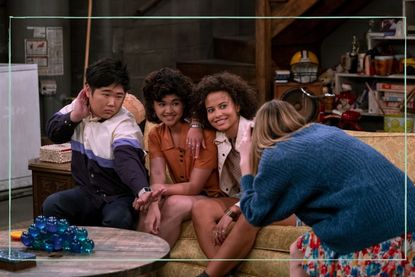 (Image credit: Patrick Wymore/Netflix/Future)
Fans were delighted to see the sequel to That '70s Show land on Netflix, and now have one key question they need answers to.
When That '90s Show arrived to Netflix on January 19, the ongoing gloom of January was instantly brightened. Just to make us feel old, That '90s Show is billed as a "period" teen sitcom, because it's set all the way back in the summer of 1995. Centred around Leia Forman, the teenage daughter of Eric Forman and Donna Pinciotti, the story depicts her forming friendships with other teenagers as she spends the summer of 1995 with grandparents Red and Kitty, in Point Place, Wisconsin. With Ashton Kutcher and Mila Kunis returning (opens in new tab) along with other characters from the original That '70s Show, audiences binged the new iteration in their droves. They now need to know if there will be a season 2, and we weigh in on the current speculation.
Elsewhere on Netflix, Ginny & Georgia season 3 speculation (opens in new tab) is also rife - we have all the evidence about this possibility also. The renewal has been confirmed, but when is Wednesday season 2 coming out (opens in new tab)? We have the latest news to get you up to date on this, too. Fans are also demanding a Firefly Lane (opens in new tab) season 3 - Netflix have made the end date clear for the relatable and heart breaking show.
Will there be a That '90s Show season 2?
Netflix are yet to make an official announcement about That '90s Show returning for season 2. However, series creators Bonnie Turner and Mark Brazil have been quick to discuss the future of the show with the cast - and it looks positive.
Cast members Reyno Doi and Maxwell Donovan spoke out about how the conversation with Turner went down, and how the future of the show has been envisaged. Speaking to Collider (opens in new tab), they were asked whether season 2 would jump ahead another year to the following summertime. Doi was quick to respond to this, saying "I think their plan was to do it every season in the summer. I think they [the Turners] said that in the interview". Donovan agreed, adding "That's what I've heard, too, from the Turners. Yeah"
I swear Netflix better renew That 90s Show for a season 2. I loved it way more than I thought I would. A lot of shows nowadays don't have filler episodes to help get to know the characters on a deeper level. I feel like this show did a great job of having those moments pic.twitter.com/8vibQdiyzLJanuary 20, 2023
See more
Fans taking to social media certainly appeared keen for a season 2. One fan wrote on Twitter "I swear Netflix better renew That 90s Show for a season 2. I loved it way more than I thought I would. A lot of shows nowadays don't have filler episodes to help get to know the characters on a deeper level. I feel like this show did a great job of having those moments."
Another added "if Netflix doesn't renew that 90s show for season 2 I'm cancelling my subscription", while another was quick to assert "#That70sShow was one of my favourite shows and #That90sShow is a reboot done right! The same vibes, the same laughs, and the best nostalgic moments. I need a season 2 ASAP!"
How many episodes of That '90s Show are there?
The first season of That '90s Show had 10 episodes. This is far fewer than its predecessor, that had between 22 - 27 episodes per season.
The same fans asking for a second season of That '90s Show , were also keen to ask for more episodes per season. One fan said "#That90sShow was smart to end the season with a swerve/cliffhanger. Now people will be tweeting Netflix about a season 2. On that note: Hey @netflix, we gonna need that season 2 next year. And imma need 15-20 episodes. Thank you."
Some viewers also criticised the fact that Netflix doesn't have the original show available to watch, branding this a ridiculous error. All seasons were originally available on Netflix, until moving to Peacock in 2020. Even for those with a NOW TV subscription, Peacock will still not allow UK viewers to view That '70s Show.
Why is Hyde not in That '90s Show?
Danny Masterson did not return to That '90s Show as Steven Hyde, due to an ongoing rape trial.
In June 2020 the actor was charged raping three women in separate incidents that were said to have occurred between 2001 and 2003. Masterson denied all charges, and was initially released after posting bond on a $3.3 million bail. He was tried in a Los Angeles court that ended in a mistrial in November 2022, when jurors were unable to reach a unanimous verdict. A retrial is scheduled for March 2023.
According to EW (opens in new tab), despite Masterson's status as a main character for the entire That '70s Show run, he isn't mentioned at all in season 1 of That '90s Show, nor is his absence explained. Don Stark who played Bob in the original, alluded to the incident in a comment, saying "I think I was the last one to come back. Everybody was back on the show except for Danny, given the circumstances."
That '90s Show: Reviews
Both critical and audience response to That '90s Show has been generally favourable, although a little mixed.
Erin Allen from Tell-Tale TV (opens in new tab) was very positive about the show. She said "Having the format of That '90s Show echo its predecessor's with that live-from-a-studio-audience environment is a carry-over that works surprisingly well -- not a lot of sitcoms can pull that off in this day and age."
Kevin Fallon from The Daily Beast (opens in new tab) was not impressed with the series. He said "There's double nostalgia in Netflix's latest reboot for those with fond memories of That '70s Show and those who loved - or at least lived through -the '90s. It fails at both."
One viewer wrote "That 90s show is a fun faithful visit back to point place. Kitty and Red Forman anchor the new kids in the cast and most all of the show's original cast return in some capacity or another. This show works for me as both a nostalgic revisiting and as sweet look back at the 90s which I remember all too well. The kids are grounded and fun. Representation is there and not all heavy handed. At its core the show is exactly the same, kids coming of age together with their dear friends. My only regret for the show is that there are only 10 episodes per season. I miss the good old days of 24 episodes."
Another disgruntled person added "I honestly wanted to really like the show but the the writing is so bad almost like watching a kids Disney show. Kitty and red are the only ones that still have the humor of the old show but the kids do not know how to act and are not funny! So sad that the revivals of almost every show just do not have as good of a script as they used to have. Also it didn't really feel like it's really in the 90's!"
Related Netflix Features:
Video of the Week
Lucy is a multi-award nominated writer and blogger with six years' experience writing about entertainment, parenting and family life. Lucy has contributed content to PopSugar and moms.com. In the last three years, she has transformed her passion for streaming countless hours of television into specialising in entertainment writing. There is now nothing she loves more than watching the best shows on television and telling you why you should watch them.