I'm a mum of three and I rate the archery set - tried by the Royal kids - in my top 5 buys
Prince Louis, Princess Charlotte, and Prince George tried their hand at archery - and we bet this is on their garden toys wish list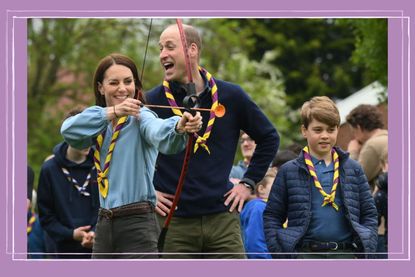 (Image credit: Getty)
The Prince and Princess of Wales took their three children, Prince George, Princess Charlotte, and Prince Louis, to volunteer with the Scouts.
During their day out, each family member was spotted trying their hand at one of the best toys money can buy. As well as helping the Scouts to renovate their Scout Hut, the Wales family had a go at soft archery before toasting marshmallows over a campfire and eating s'mores. The event, part of the Big Help Out initiative, was Prince Louis' first official engagement - and the first time we've ever heard Kate Middleton's nickname for Prince Louis.
The young Royals have been enjoying a variety of public appearances to mark the coronation of King Charles III. The Duke and Duchess of Cambridge were accompanied at the Coronation Concert by Prince George and Princess Charlotte, while Prince Louis joined his siblings for the coronation ceremony at Westminster Abbey.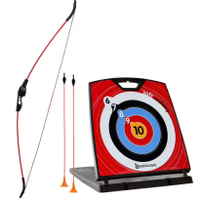 Soft Archery Set - £39.99 | Decathlon
Take inspiration from the royal kids and treat your own prince or princess to an archery set of their own.
As a Consumer Editor, parenting specialist - and mum of three - with over a decade of experience writing about and reviewing the best toys, I'd recognise that archery set anywhere. It's the same one that's lurking in our garage waiting for a sunny day so that we can set it up in the garden and practice our own archery skills just like the royals.
In fact, this soft archery set is one of those outdoor toys that I massively underestimated when I was first asked to review it for a newspaper article several years ago. Firstly, the price tag prompted me to think that it wouldn't be up too much. At £39.99, I certainly didn't think it would cope with my own little princess and her two princely but rambunctious brothers putting it through its paces in our garden.
How wrong I was - one of the most impressive things about this particular archery set is just how robust it is. As well as taking a hammering from family members both young and old, this has been dragged through more than one house move over the years and yet it still looks like new.

That's thanks, in part, to my favourite feature of this archery set - the whole thing is cleverly designed so that the archery target itself doubles as a storage box for the bow and suction arrows that come with it. Which means no chance of losing them - hurrah! (But if you do lose them - or just want to add more arrows to your set, Decathlon also sells the suction arrows separately.)
Another brilliant feature is how easy it is to set up. As any parent knows, any garden toy that requires lots of faffing before use is a bad idea. The parents get frustrated, the kids get bored waiting to be able to play with it, and tempers generally fray before the fun can even begin.
Not so with this soft archery set - you open it up, remove the bow and arrows from inside and then the target is designed to stand up on its own. This is ingenious as it means you don't need to find a wall to prop it up against, plus it's brilliant for bringing to the park or the beach.
With a leftie among my kids, I love that the ergonomic bow is suitable for both right and left-handed archers - unlike lots of other outdoor toys, this means one kid doesn't end up being disadvantaged.
But best of all, what really sets this soft archery set apart from other similar toys, is how powerful the bow is - and yet how safe the suction arrows are. 'But do the suckers actually stick to the target?' asked our Senior Entertainment Writer when I started singing the praises of this unlikely toy. 'The cheaper ones are always a let down for me, haha...'
Once I'd recovered from the thought of my colleague spending the weekend playing with kids' archery sets, I was delighted to report that yes, the suckers stick. And boy, do they stick. The first time I had a go, I was amazed at how 'pingy' the bow is, not to mention the speed with which the suction arrows flew through the air. They hit the target with a very satisfying THWACK. The whole thing is satisfyingly solid, in fact, whilst not being too heavy - as evidenced by Prince Louis, who is only 5 years old, having a go.
The only problem, as the royal kids encountered, is that the set is so cool that even mums and dads want to play with it - and getting them to put it down and let the kids have a go, especially after a difficult day, can be harder than you might imagine.
Mark my words. This soft archery set stands a good chance of finding itself on the wish lists of some Royal children. And if you're looking for an affordable bit of summer play gear to add to your own arsenal of outdoor toys, you'd be mad not to snap up this soft archery set before everyone else figures out where to buy it too.
Just remember that you heard it here first...
Looking for more ways to keep the kids entertained? We've tested the very best outdoor toys and jumped around to find the best trampolines around.
As a parenting specialist for more than 15 years, Heidi has written for most national newspapers and for a wide range of consumer magazines, including Mother & Baby where she was the Shopping Editor for six years, looking after regular consumer features including buying guides and gift roundups.