I've tried and tested Ninja air fryers and this one is £110 cheaper this Prime Day (and it's worth every penny)!
Ninja Kitchen is proving a popular choice among air fryer shoppers this Amazon Prime Day, here's why...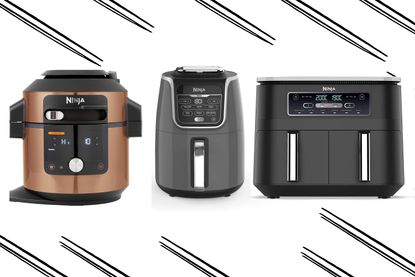 (Image credit: Amazon / Ninja)
If you're looking to jump on the air fryer bandwagon or upgrade your current model, when better to do so than on Amazon Prime Day?
Yes, it's that time of year again when Amazon gives Prime customers exclusive access to a range of different deals across kitchen appliances, baby gear, you name it - and once again, some of the best air fryers are proving a popular choice among Amazon shoppers.
Right now you can save £110 on the Ninja Foodi MAX Multi Cooker with SmartLid Air Fryer at Amazon - by one of the most sought-after Prime Day air fryer brands Ninja Kitchen. Ninja is the forefront, go-to air fryer and we can see why with a great range of savings across a variety of different Ninja air fryer models.
As the air fryer enthusiast over here on Goodto, I certainly know a thing or two about the best air fryers for families on the market, and here I've pulled together my top buys - all of which are available at a discounted price on Tuesday 11th July and Wednesday 12th July 2023 as part of Amazon Prime Day.
Other brands offering great air fryer deals this Prime Day include Tefal, Tower, and - my personal favourite - a small but mighty machine courtesy of Lakeland, believe it or not. The majority of these air fryers and brands have been tried and tested by the Goodto team when we put a range of the best air fryer recipes to the test in each machine.
Without further ado, here are the best air fryer deals on Amazon Prime Day 2023…
Best Ninja air fryer deals on Amazon Prime Day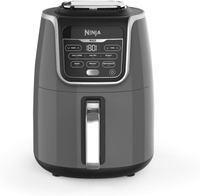 Ninja Air Fryer MAX AF160UK - £169.99 £149 Save £20.99 - Amazon
Tried and tested! This family-sized air fryer has been given 4.5 stars by Goodto's Feature Editor Ellie, who put this stylish machine to the test. The Ninja air fryer MAX isn't just an air fryer either, it's a multifunctional model with options to air fry, max crisp, bake, roast, dehydrate, and reheat. Quick, easy, and ready to use as soon as it's out of the box.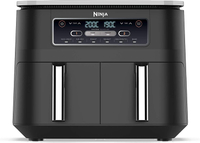 Ninja Foodi Dual Zone Air Fryer AF300UK - £219.99 £169 Save £50.99 - Amazon
A highly rated machine among Amazon customers, this dual two-drawer machine is just perfect for simultaneously cooking two separate foods at the same time and is a great option for families with a 7.6-liter capacity. Like the Ninja Air Fryer MAX, this machine is a multifunctional model with a range of preset functions like roast, bake, and reheat.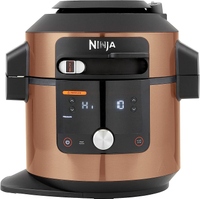 Ninja Foodi MAX Multi Cooker with SmartLid - £309.99 £199.99 Save £110 - Amazon
Not just an air fryer, this multi-cooker has a 7.5-litre capacity, making it ideal for larger families. Exclusive to Amazon, this air fryer has an impressive, modern copper/black finish making it an eye-catching machine you'd happily sit on your kitchen counter. The dishwasher-safe cooking pot and crisp basket make it a doddle to clean which is great for those busy midweek meals.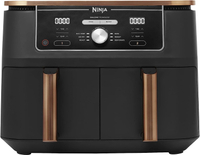 Ninja Foodie Dual Zone Air Fryer MAX - £269.99 £169.99 Save £100 - Amazon
A Prime Day Exclusive, this stylish dual air fryer by Ninja Kitchen has a 9.5-liter capacity, ideal for cooking an average of eight portions of food in one go. We love how this air fryer comes with a range of accessories too including tongs, a crisper plate, and a recipe guide - ideal for beginners or those looking for more inspiration on what to cook in your new appliance.
More Prime Day air fryer deals not to be missed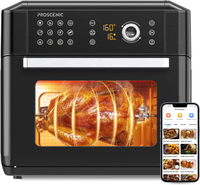 Proscenic T31 Air Fryer Oven - £179 £109 Save £70 - Amazon
Tried and tested! A favourite for our Deputy Editor, Heidi who claims that this extra large, 15-liter air fryer has changed the way she cooks dinner for her family of five. It features 12 preset functions, plus a handy app that can be accessed to preheat the when you're out and about - so it'll be ready for cooking as soon as you get in the door.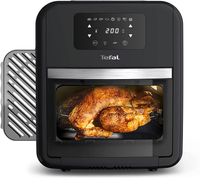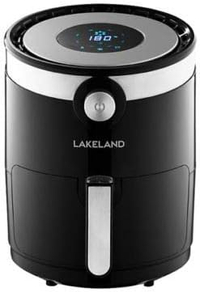 Lakeland Digital Display Air Fryer - £109.99 £59.99 Save 45% - Amazon
Tried and tested! My favourite, the the Lakeland Digital air fryer with eight preset functions and an easy-to-use touchscreen. It makes the perfect potato wedges and I've even managed to make cookies in it without fail. A smaller machine than the rest, but the round basket and 3-liter capacity make it ideal for cooking sides.
Related Features:
Air fryer bagels, air fryer doughnuts, air fryer chicken - you name it we've got it. We've also rounded up our best air fryer cookbooks for those of you looking for more recipe inspiration.
If you're looking for more Amazon Prime Day inspiration, particularly the parents among you, take a look at our best Amazon Prime Day baby deals for a range of baby gear discounted - from highchairs to monitors and more.