How old is Prince George and when is his birthday?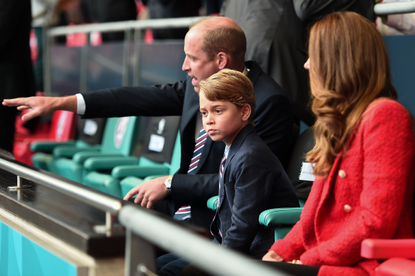 We can't believe how old Prince George is getting. It seems like only yesterday that William and Kate stood outside the Lindo Wing with their firstborn to introduce him to the world.
It's never easy growing up in the public eye, especially when you're the future King of England (opens in new tab). Yet Prince George seems to be taking it in his stride.
As third in line to the throne (opens in new tab), George is and will be an incredibly important Royal Family member in the future. Which is why we've compiled the important need-to-know facts about Prince George (opens in new tab) including his birthday, age and full name below.
How old is Prince George and when was he born?
Prince George will turn eight-years-old on 22nd July 2021.
The Duke and Duchess of Cambridge welcomed their first son at 4.24pm on that hot summer day in 2013. With Kate giving birth at the Lindo Wing, a private maternity ward at St Mary's Hospital, London.
Two days later the couple announced Prince George's full name as George Alexander Louis. His first name is believed to be a sweet tribute to the Queen's father King George VI. Whilst his second name directly honours the Queen Elizabeth herself. As Alexander is the male version of Alexandra - Her Majesty's middle name.
Last year, the Cambridges marked George's seventh birthday with two sweet photos of their son. Eager-eyed fans noted a striking similarity between George and Prince William in the pictures - with the young royal looking more and more like his dad each day.
Kate is known for going all out for her children's birthday celebrations. Prince George's party plans (opens in new tab) for his sixth birthday reportedly included his favourite food (opens in new tab), a magician and a bouncy castle.
How tall is Prince George?
Whilst we don't know his official height, Prince George is believed to be around four feet tall.
Fans were surprised at how much the young royal has shot up in recent years. In a Cambridge family outing to a pantomime last Christmas, photos showed George coming up to his dad's waist.
Genetics play a big role in a child's height and considering Prince William's height (opens in new tab) and Kate standing at 5 foot 9 inches - we reckon George will grow up to be a tall young man.
It's possible that George will one day tower over his great-grandmother too. Queen Elizabeth II (opens in new tab) is 5 foot 4 inches and is significantly shorter than her grandsons Prince William and Prince Harry.
How much older is Prince George than Princess Charlotte and Prince Louis?
As the first-born Cambridge, Prince George is older than his sister and brother.
George is just under two years older than his sister, with 650 days between George and Princess Charlotte (opens in new tab).
The seven-year-old is also older than his little brother Prince Louis, who was born on 23rd April, 2018.
There is about four years and nine months between the two Cambridge brothers.
The two boys share a close bond - and clothes apparently - with thrifty mum Kate keeping some of George's old outfits for her youngest to wear. Royal fans noticed Prince Louis wearing George's old jumper (opens in new tab) in a family photo shared last Winter.
As for Prince George and his sister Princess Charlotte, the two siblings share a passion for dance. George has weekly ballet lessons, whilst Kate revealed Charlotte 'loves to dance' too.
Does Prince George know he will be king one day?
According to royal biographer Robert Lacey, yes - Prince George was told by his dad that he will be king around the time of his seventh birthday.
Prince William chose a 'controlled moment' (opens in new tab) to inform his first born of what his future holds. With the conversation alleged to have taken place last summer.
"Sometime around the boy's seventh birthday in the summer of 2020 it is thought that his parents went into more detail about what the little prince's life of future royal 'service and duty' would particularly involve," Lacey writes in his book Battle of the Brothers (opens in new tab).
Fellow royal expert, Katie Nicholl revealed that George has known that his life has a different path than that of his siblings.
She told OK!: "I think George understands, like William did from a very early age, that he's different from his younger brother and sister and that he'll have a different future. After all, he gets taken away to do photoshoots with Her Majesty the Queen, so he must notice he's been singled out."
It is thought that when George takes the throne he will keep his birth name (opens in new tab). This indeed will be a sweet nod to the Queen's father King George VI.
However, it's not uncommon for a monarch to chose a different regnal name when the occasion occurs. With King George VI himself christened Albert yet choosing his middle name George as King.
It's also been reported that both Prince William and Prince George could stray from royal tradition (opens in new tab) when monarchs in the future.
As it currently stands, the Queen has two birthdays (opens in new tab) each year. The double celebration is one that dates back to King Edward VII, who reigned from 1901 to 1910. His birthday fell in November – and since it's a month known to forecast bad weather, he opted to publicly celebrate his birthday in the summer instead.
The Queen, whose birthday is in April, has followed this historical practice. And it's thought that Prince Charles will follow suit as his birthday is in November.
However, with Prince William and George's birthday already falling in the summer months, they could forgo the tradition.