How to keep your kids entertained at home when you're self-isolating
It can be tricky...!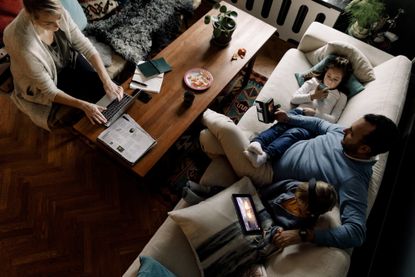 (Image credit: Getty Images)
Goodto Newsletter
Parenting advice, hot topics, best buys and family finance tips delivered straight to your inbox.
Thank you for signing up to GoodTo. You will receive a verification email shortly.
There was a problem. Please refresh the page and try again.
Let's face it - being stuck indoors with our little ones can be challenging at the best of times.

Don't get us wrong - we all love our kiddos. But spending every day with them at home, trying to keep them entertained with indoor activities for kids, and all whilst working from home, is a tough prospect.
Julie Morgenstern, New York Times best-selling author of Time to Parent, said that it's vital to keep up some sort of a routine, no matter what is on it, in order to maintain some normality during these odd times. She explained, "In a time of chaos, organisation, structure and routine where you can create it is critical to your mental and physical health and your relationships as a family. Sit down to figure out some order in your home - what rooms will be used for work , what rooms are for 'school or kid activities', what rooms for phone calls (for noise pollution), and what spaces are purely for family relaxation.
"Or, put up a large white board and create a structure for the day so that everyone can see it. It doesn't have to be perfect, or adhered to perfectly everyday (there are too many unexpected obstacles as we adjust to the new situation), but the visual and goal will ground everyone."
It's important then, during this time, to try and keep things fulfilling, productive and fun - both for you and the children. But it's also vital we don't put too much pressure on ourselves to play all roles - teacher, parent, friend - perfectly.
Julie said, "Kids crave order, and consistency. Just be sure to involve the kids in the process."
Of course there are some children who will still be able to go to school, if their parents are deemed to be key workers who still need to physically go out to work.
How to keep your kids entertained at home
But, if you and your kids will all be at home, we all know a key part of making the days bearable is staying busy, even if that does only mean doing so within the four walls of your house. By this point in quarantine, however, you may be fresh out of ideas. So here's our guide to some fun, home-based activities for when inspiration runs dry...
Baking
Because who doesn't love rustling up some yummy treats, even when we're not on lockdown? Baking cakes, biscuits, or even savoury treats is a great way to engage your children at home (and stay sane), because of the fun, interactive nature of the activity, the need to concentrate, and of course, the tasty outcome to look forward to at the end.
Try a couple of these easy baking recipes for kids, which aren't overly technical and don't take too long! With the likes of cake pops and iced fairy cakes on the list, your kids will be delighted to pitch in...
Easter is also right around the corner, so you might like to take a crack at these Easter cake ideas, with everything from a croissant ring cake to a chocolate fudge cake. We're drooling just thinking about it...
And, if you find you've run out of some essential ingredient due to supermarket shortages, these handy food swaps are here to help!
Homeschooling
There's no doubt that the recent announcement has sent parents with school-ages children into somewhat of a tail-spin.
With many kids now missing crucial exams and months of learning, many parents will be keen to keep up with normal education as best they can.
Nicola Anderson, Head of Customer Support at leading online tutoring service MyTutor, reassured that there's no need to panic, firstly. "If you have to homeschool your child, don't panic. We're more set-up than ever before to manage a situation like this. Remember, lots of parents (about 50,000!) choose to homeschool their kids regardless of coronavirus.
READ MORE: The best FREE educational resources online and tips for homeschooling
Nicola also advised that if you are home-schooling, it's vital to keep an eye on how your kids are dealing with the change, and adjust accordingly. "What is important is to look out for signs that your child isn't coping mentally with a home set-up," she said. "Despondency and withdrawal or anger and higher-than-usual levels of irritability can all point to stress. There are lots of great services you can call on for support such as Kooth and YoungMinds."
Craft activities
There's never been a better time to get your little'uns involved in all the arty projects you all never had time for before.
Our 14 craft ideas and activities for kids to do at home should keep you going for a little while, with puppet theatres ready to be built and pebble people easy to make too.
Paper mache never fails to go down a treat with kiddies too, and these glitter jars come highly recommended for any children who may be feeling a little anxious at this uncertain time.
Encourage good exercise habits
Getting the kids active and moving everyday is an important activity, not only for their own health, but for burning off a little steam as well! Plus, it helps to save your sanity when it comes to coping with the kids at home.
And one exercise that the entire nation seems to be taking part in this week is Joe Wick's 9am P.E session, primarily aimed at kids but great for the whole family.
Every weekday this week (and hopefully, for the foreseeable), Joe has been live-streaming at half an hour workout on YouTube - and so far, six million households have tuned in across the world - impressive!
These exercises for kids will help the whole family stay fit altogether, although some activities (such as ice skating and skiing) won't be appropriate at the moment. Remember, it's good for your kids to know the current social distancing rules too, to keep everyone healthy.
But most things, such as dancing, running, walking and even hoola-hooping, can be done in the comfort of your own home or in relative isolation outside - so go wild!
In this time of staying inside, yoga can also be a brilliant way for children to stay active and relax, providing many mental and physical benefits.
Kyra Cruise, who teaches children's yoga in West Norfolk, told Lynn News, "Physically yoga builds strength and fitness, flexibility and balance skills, co-ordination and sensory awareness. It also it appeals to non-sporty kids as it's not competitive."
Also, "they get better at dealing with anxiety and stress because they learn to use relaxation and breathing techniques in their everyday lives."
There are plenty of kids workouts available on YouTube too, such as Joe Wicks' (The Body Coach) five minute videos that work best for little ones.
For the parents: how to cope when the kids are at home all the time
It's so important when you've got a full house to also take time for yourself. Do what you need to do for your own mental health - and don't feel guilty, because you need to get through this too!
Julie Morgenstern said, "These are intense and trying times. Parents need alone time everyday more than ever - time when they can get some distance (even if just for 20 minutes) where they are not taking care of others, and can focus on self-care to recharge and regroup to keep on going."
Mind encourages parents to do physical activity, spend time in nature, eat a healthy diet, and of course, having some 'me time. They said, "Try to make regular time for yourself with no external demands ('me' time) – even 10 minutes a day can help."
That may be half an hour of quiet in the morning to answer emails before the children get up, or 10 minutes at lunch to eat your own food uninterrupted - or perhaps an hours walk/run while the kids are occupied (and safe of course).
Remember, you can only parent well if you take care of yourself first.
How to avoid burnout when coping with kids at home
With the weeks ticking by, the pressure on parents to continue homeschooling their young children, potentially alongside full-time jobs, is ever-growing. Reports of burnout are also growing by the day, but instead of being able to take a holiday from work to cure the exhaustion, we are having to continue as normal.
Leon Hady, a former headteacher and worldwide leader in E-learning, says that parents should relieve some of the pressure on themselves. "We're not asking you to be teachers. My daughter finished everything that was set by the school in 40 minutes today. There's so much that's learnt at school that's not about academic work; relationships, doing things together, group work, breaks and communal lunches - really there's only a few hours of learnings.
"So for parents who are trying to recreate a whole timetable, you're really making a rod for you in your back."
Instead he suggests, "Aim for two hour's learning per day with no distractions. All that really matters is finding [those] two good hours to educate your child and you want to be in the situation where you never work more that 20 minutes on one thing. And sometimes it's about building skills more than subject matter.
"Parents really need to understand there's no judgement here. If you asked me to be a fireman, there would be a lot of damage."
Leon himself is also live streaming GCSE lessons every day from 9.45am until 12pm to help lighten the load and provide parents with homeschooling for their children.
Parenting advice, hot topics, best buys and family finance tips delivered straight to your inbox.
Amy is Senior Digital Writer across Woman & Home, GoodTo and Woman, writing about everything from celebrity news to health, fashion and beauty features. When she isn't obsessing over the latest dress drop from Marks & Spencer, you'll most likely find Amy out running, or with a cup of tea in hand ready to dive into a gripping new Netflix series.