Has Haris left Love Island? The fight video and surprise dumping explained
Viewers began asking questions after a video of him fighting emerged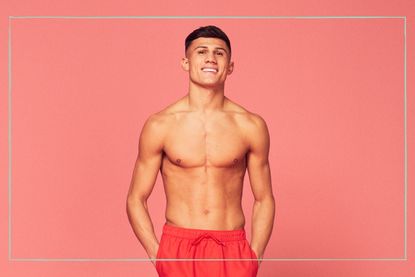 (Image credit: ITV)
Reality TV fans want to know if Haris is the latest contenstant who has left Love Island 2023 (opens in new tab).
The first week of Winter Love Island has already provided viewers with plenty of drama, and fans are keen to know more about the show, from where is it filmed (opens in new tab) to who is Will Young (opens in new tab) - the show's most talked about contestant.
The last couple of days, however, have seen Haris Namani take the spotlight among viewers. The Winter Love Island cast (opens in new tab) member first became the topic of conversation when he disappeared from a game of 'Never Have I Ever', then a video of him fighting appeared in the news and now he's at risk of being dumped. Some fans of the show think he's left already, so here's what we know so far and how likely it is that he'll be around for when Love Island 2023 finishes (opens in new tab).
Has Haris left Love Island?
Haris Namani has reportedly left Love Island after Tuesday's episode saw him at risk of being dumped from the villa. However, viewers will have to wait until the episode on Wednesday 25 January before finding out for sure.
During the episode that aired on Tuesday 24 January - which was filmed on Monday 23 - a public vote saw Haris appear in the bottom three boys, all of whom are at risk of being dumped.
The Islanders' fate is in Jessie and Aaron's hands... #LoveIsland pic.twitter.com/LuKHKPOTMBJanuary 24, 2023
See more
Viewers had already been questioning whether Haris had left the villa in the few days prior to the dumping, after he was seemingly absent from a game of 'Never Have I Ever', which led many viewers to speculate that he had already left.
One Twitter user wrote, "Has Haris disappeared this man gets no screen time." Another said, "I'm so confused why did Harris not attend never have I ever."
However, Haris reappeared on the show the next morning, when he could be seen in bed with Olivia.
Why has Haris left Love Island?
Haris has reportedly left Love Island after a video emerged that showed him involved in a fight. However, it's likely that if he does leave in Wednesday's episode, it will be part of the surprise dumping.
On Tuesday night, he became one of the vulnerable Islanders after a public vote. Alongside him in the bottom three were Kai and Tom for the boys, while Anna-May, Tanya and Tanyel were the three girls who received the least votes.
It's up to new Islanders Jessie and Aaron to decide which boy and which girl will leave the villa.
The episode aired shortly after a video emerged of Haris involved in a physical fight, leading to speculation that he had been deliberately dumped from the show. However, an insider has since told MailOnline (opens in new tab) it is "just a coincidence that his departure came hours after the video was unearthed."
A source told The Sun (opens in new tab): "Haris was booted off Love Island last night. There was a dumping and he got the chop.
"It is, in part, a relief for the show's bosses in light of the video of Haris in a street fight."
The footage emerged just days after he and fellow Islander Shaq Muhammad had a row following a comment Haris made about Shaq's partner Tanya kissing another Islander, which prompted Shaq to call him a "s**t stirrer".
The two men had to be forced apart by the other contestants on the show.
What happened in the video of Haris?
Haris was filmed punching another man after a night out. A source told The Sun that the footage had been taken on Snapchat last May and was filmed in Haris' home town of Doncaster.
In the video, Haris is seen punching the man twice, and shouts, "I'm not a bully, I'm not a f***ing bully," before turning away from his victim and saying, "On my mum's life."
After the video emerged, a Love Island representative said, "Language and behaviour in the villa is always closely monitored, and Islanders are reminded of what we consider acceptable during their time on the show.
"Extensive duty of care protocols for all Islanders includes video training and guidance covering language and behaviour."
In a separate statement, a Love Island spokesperson said: "We would never comment on dumpings or show formats to avoid ruining the show for the viewers."
Has Haris been dumped from the villa?
We don't know yet if Haris has been dumped from the villa, as Tuesday's episode finished on a cliff-hanger. We won't find out who Jessie and Aaron pick to go home until the episode on Wednesday evening.
However, fans are convinced they've worked out who will be leaving. One viewer wrote on Twitter, "Viewers pretending to be shocked when Haris is kicked out," and another fan said, "They gonna send home Haris and Anna-May, mark my words."
Related Love Island features:
Video of the Week
Ellie joined Goodto as a Junior Features Writer in 2022 after finishing her Master's in Magazine Journalism at Nottingham Trent University. Previously, she completed successful work experience placements with BBC Good Food, The Big Issue and the Nottingham Post, and freelanced as an arts and entertainment writer alongside her studies. In 2021, Ellie graduated from Cardiff University with a first-class degree in Journalism.