How to apply for The Great British Bake Off - including these money can't buy tips from producers
Producers 'knead' you!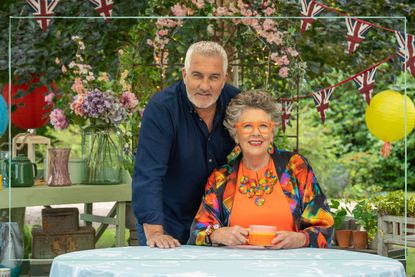 (Image credit: GBBO)
Fans of popular Channel 4 baking show might be thinking they could do better in the tent, and if this sounds like you or someone you know then here's how to apply for Great British Bake Off.
The show, which is currently in its 14th season has a batch of Bake Off contestants currently competing to impress judges Paul Hollywood and Prue Leith with their best bakes.
Each week for over nine weeks, bakers are tasked with rustling up their best signature bake, technical challenge and showstopper under the watchful eyes of presenters Alison Hammond and Noel Fielding.
After every episode someone goes home and viewers who forget to tune into the show wonder who left Bake Off last night - while more recently others are asking what happened to Tasha - and an outstanding contestant gets named star baker.
But instead of following all the Great British Bake Off recipes at home, you could be in with the chance of starring on the show, and here's all you need to know...
How to apply for Great British Bake Off
Keen bakers can apply for Great British Bake Off by either filling out an application form online at applyforbakeoff.co.uk, emailing the production team at applyforbakeoff@loveproductions.co.uk or calling 0117 456 8530 for an application form.
Producers are looking for the next batch of bakers for the 15th season and the closing date for application is 1pm on Tuesday 2nd January 2024.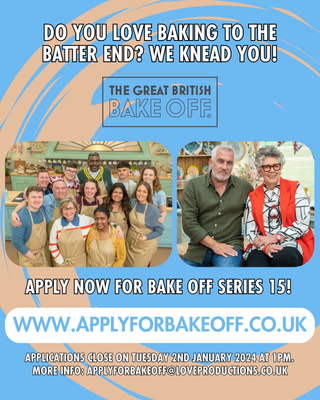 How do you get on Great British Bake Off
To be in with a chance of getting on Great British Bake Off, show applicants must be amateur bakers, fill out a lengthy form, and attend in-person interviews. But before you apply, you might want to know where is Bake Off filmed?
Applications are open to everyone, although you must be 16 or over on the 1st January 2024 and you must be a UK resident (including Isle of Man and Channel Islands). Full Rules of Entry can be found at www.applyforbakeoff.co.uk.
If an applicant has been successful to the next stage, they will contacted by a member of the production team. If an applicant has not heard anything by Friday 9th February 2024, then unfortunately the application has not been successful on this occasion.
What does GBBO look for in an applicant?
Top of the list is a love and passion for baking.
You need to have a broader baking repertoire than just baking cakes. Producers at Love Productions say, "We all love cake but on the show there is a bread, biscuit and pastry week etc. It is important to note though that it is completely ok people haven't made literally everything. There is always time to practice through the process and everyone has their own baking strengths and weaknesses."
Tips for filling out an application:
Producers say, "Include as much information about you and your baking in the application as possible! We want to get a sense of who you are and what type of baker you are as well as what you have made before.
"Include as many photos as you can, they are a great way to show off the bakes you have made before and visually photos are always great to look at!"
Do you get money for Great British Bake Off?
Fans or future applicants might be wondering do you get money for starring on Great British Bake Off and the answer is simply no. The winner of the show gets a cake stand and flowers, but not a major cash prize.
Previous Bake Off contestants and where are they now have gone on to land big money deals following their success on the show, with chefs like Nadiya Hussain releasing her own recipes and cookbooks such as Nadiya's simple spices.
In other Entertainment news, if you love reality shows you might be wondering Are Ella and JJ still together? MAFS UK season 8 update or Are Luke and Jay still together? Here's everything we know about the MAFS couple so far.
Parenting advice, hot topics, best buys and family finance tips delivered straight to your inbox.