Is A Small Light based on a true story? Everything we know about the truth behind the Disney+ series
It's an important part of history you might not know about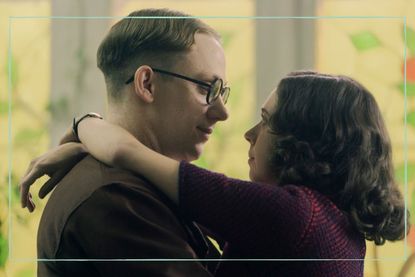 (Image credit: Disney)
While Anne Frank is a name familiar to most, A Small Light shines a light on a little known woman in history who played a big part in Anne's story.
An all-star cast are currently bringing a little known World War II story to life on Disney+. Many are aware of the devastating tale of Anne Frank and the plight of her family to stay hidden from Nazis during the war. While the Frank family story remains important and enduring, little is known about those who worked to try and shield them from their fate. A Small Light is now doing just that - taking a look at the run up to the family's capture, and those who helped hide them. With more viewers tuning in to watch the show as its popularity rises, questions are being asked about how much truth there is to this unknown part of the story - read on to find out.
For viewers intrigued by the inspiration behind movies and series they watch, the true story of fellow World War II drama SAS: Rogue Heroes, is quite astonishing. Those who weren't aware of Paddy Mayne and his huge part in the SAS history, certainly remembered his name when they'd finished the show. The countdown is now on, for the arrival of SAS: Rogue Heroes season 2.
Is A Small Light based on a true story?
Yes, A Small Light is the true story of Miep Gies, the secretary of Otto Frank who helped hide the Frank family from the Nazis.
Six years in the making, A Small Light is the work of showrunners Joan Rater and Tony Phelan, who visited the Anne Frank House in Amsterdam and realised many are unfamiliar with the people who helped the Frank family go into hiding. The person largely responsible for shielding the family, was Otto Frank's secretary, Miep Gies.
Miep Gies was born Hermine Santruschitz in Vienna, in 1909. Due to post World War l food shortages, her family were concerned they were unable to provide enough food for her, sending her to live with a foster family in the Netherlands at the age of 11. When the Nazis invaded Amsterdam in the 40s, Miep was working as Otto Frank's secretary - a job she had held for four years at the time of the invasion.
When Otto requested she help him and his family hide in the annex above his office, Miep agreed immediately. She spent the following 25 months bringing the family food, and keeping their location a secret. She even began hiding other Jews in the office, taking care to purchase food from a variety of shops and hiding it within her clothing to avoid suspicion, often using illegally obtained ration cards procured by her husband, Jan.
The Frank family were discovered by the Gestapo in 1944, and the identity of the person who gave them up has never been discovered. Incredibly, Miep eluded execution for her part in disguising the family, for one reason - her interrogating police officer also happened to come from Vienna, where Miep was born. On realising this fact, he decided not to arrest her and she went free.
When Miep returned to the annex two days later, she recalled the mess that had been made in removing the Franks from their hiding place. The New York Times reports Miep said that on re-entering the premises "And then we started searching. For what, I don't know, but we were looking for something." Finding an intact diary, she put placed it in a drawer for safe keeping - it turned out to be Anne Frank's diary.
Miep had thought a time would come when she'd reunite the diary with Anne, which was sadly never to be. She instead passed it to the sole surviving Frank family member, Otto. Miep's story didn't become known nationally, despite the publication of her own memoir Anne Frank Remembered, in 1987. She had involvement with the Anne Frank House, and still her story still remained private. Miep Gies died in 2010, just shy of her 101st birthday.
Speaking to the New York Times, A Small Light showrunner Tony Phelan said "When we started digging, we started putting together these pieces that I don't know that anybody had ever put together before." Of Miep's involvement, he added "She had no idea what she was saying yes to. And then she had to keep saying yes for two years."
The show's title comes from a quote once made by Miep: "Even a regular secretary, a housewife or a teenager can turn on a small light in a dark room."
Who plays Miep in A Small Light?
Miep is played by British actress Bel Powley, in A Small Light.
the 31-year-old actress was born Isobel Dorothy Powley, to actor father Mark Powley and Jewish casting director mother, Janis Jaffa. Her acting career began as a teen, with roles in CBBC series M.I. High, and period miniseries Little Dorrit.
She gained award nominations for later roles as Princess Margaret in A Royal Night Out, and Minnie in the coming-of-age film The Diary of a Teenage Girl. She starred alongside Pete Davidson in The King of Staten Island, and reached further global audiences with a role in Apple TV+ drama series The Morning Show.
Speaking to NME about her role in A Small Light, Bel said "I'm Jewish myself, so [I've] definitely grown up with the weight of this part of history running through my family. I knew that [A Small Light] was probably something that I wanted to be a part of, but I have tended to shy away from period dramas.
I often feel distanced from them when I'm watching them or doing them. But then when I read the pilot for this, I was so blown away by how connected to these characters I felt, and how 'now' it felt."
Of portraying Miep and what she thought of her, Bel added "Miep was a very modern woman for her time. She was very outspoken, she was quite feminist… I just found it easier to relate to her on those levels."
Did Miep have any kids?
Miep had one son named Paul, in 1950. Little in known about him, except that he is still alive and currently 72-years-old.
Miep married husband Jan on July 16, 1941, after dating for some time. When Otto Frank was liberated from a concentration camp at the end of the war, he turned up on Miep and Jan's doorstep in 1945, continuing to live with them until 1953. Paul Gies was born during that time, in July 1950.
It was while Otto was staying with the family in these post-war years, that Miep was able to hand over Anne's diary to him, and he saw it published in 1947. Jan and Miep lived in Amsterdam until Jan's death in 1993. Following this, Miep moved to the North Holland town where Paul was living at the time, to be closer to her son.
How many episodes of A Small Light are there?
There will be 8 episodes of A Small Light in total, with Disney+ releasing episodes weekly on the streamer, instead of all at once.
To watch on Disney+, viewers will require a subscription. A Disney+ subscription costs £7.99 per month in the UK, or £79.90 for the year. The majority of Disney+ content is available with a subscription, although Disney sometimes releases Disney Plus Premier Access titles requiring additional payment. However, such titles are usually added to the catalogue a short time later, becoming free to watch.
UK subscribers can stream on four screens simultaneously, and register up to 10 devices - the service supports 7 profiles. There is no free trial offered with Disney+ as the initial one week free trial offered during the streamer's 2020 launch, was discontinued after the first month and has not been reinstated.
Further Disney+ Features:
Video of the Week
Lucy is a multi-award nominated writer and blogger with six years' experience writing about entertainment, parenting and family life. Lucy has contributed content to PopSugar and moms.com. In the last three years, she has transformed her passion for streaming countless hours of television into specialising in entertainment writing. There is now nothing she loves more than watching the best shows on television and telling you why you should watch them.